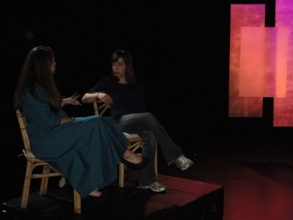 It's their last curtain call, their last hurrah, but as the purple lights dimmed and the crowd roared, Marilyn Reles and Bethany Davey capped off their college years with a bow to an audience of 67 who witnessed their last play.
It ended with Proof, a play completely run by students in the Theatre Department at the Peck School of the Arts.
Davey directed and Reles played the main character, Catherine. Both students will graduate in May with bachelor's degrees.
"This turned out to be my senior project. All the shows I've done before, this is the culmination of that," said Davey.
The project, called New Directions, gives students like Bethany the opportunity to script, produce and direct with the only faculty involvement coming form an advisor. With a budget of $500 that includes the royalties for the rights to the play upperclassman pull in their own actors, stage manager, sound and lighting designer and production stage manager.
According to Lopez-Rios, assistant professor of voice and speech, that is a tiny budget, but it is the same budget used for faculty-directed plays. The department takes care of advertising.
Lopez-Rios was the advisor to Proof. It ran from April 15-17.
Originally, there was the Player's Guild, which was independent from the Theatre Department and run with segregated fees. The Player's Guild performed in a tiny space called "The Attic" on the third floor of Mitchell Hall. Lopez-Rios mentored the program four years ago and gave them the choice to integrate themselves into the Theatre Department.
Bruce Brockman, the then Chair of the department, embraced the idea and decided to mesh it into the curriculum. The faculty mentors those who want to act and those who want to direct.
To direct, students need a 3.0 GPA and have completed both Stage Directing and Performing Arts Management. While Proof is a Tony Award-winning play, students can also enter original works.
The two open slots for next year are already filled. There is a production in both the fall and spring semesters.
Davey submitted Proof last spring. The following fall semester she cast her roles, worked on the script and designed the set: a simple setting of two wooden chairs and hanging glass windows to, according to Davey, "…represent the loneliness the main character, Catherine, portrayed."
"I pretty much had to produce it myself. That's different than what directing in the real world will be. I found a lighting designer at the last minute," said Davey.
There is no grade attached. Students have no professor to impress.
"It gives faculty a chance to step back and let students just simply learn," said Lopez-Rios.
"I love student-directed pieces because we all kind of get to work together. I actually think I end up learning more doing that, and we all get a lot closer because we're all learning, hoping we are doing the right thing…It's a bit more stressful, but I love it," said Reles.
Since transferring here from UW-Eau Claire, four out of the five productions Reles has acted in were student-directed.
"Theater is an interesting thing because you don't have to go to school for it…but personally I found my experience was very helpful. I've grown not only as an artist, but as a person. Without the college experience maybe I'd be successful, but I wouldn't be as fulfilled," said Reles
Davey knew she wanted to be in theater since she was 12, and had one simple response to the workload she encountered between directing and the rest of her daily life.
"It's just what we do. You just get used to it," said Davey
Several alumni from New Directions have gone on to write, direct and produce for Milwaukee's Youngblood Theatre.
Davey dreams of directing in either film or theater when she graduates, and Reles hopes to make it on the stage in New York City, but both said they will never forget the bonds they created and the struggles they overcame while producing Proof.
"My heart goes out to the student-directed ones. It's very personal to me," said Reles.
The New Directions plays and their dates for next year have not been announced.
"I hope more people get as excited about it as I do because when I saw Proof I was just tickled to death," said Lopez-Rios.