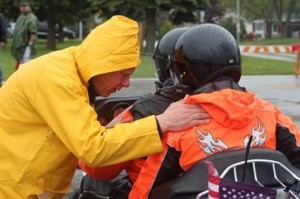 Standing in his yellow rain coat in front of a lane of cones, Reverend Marvin Ahlborn tightens the strings on the straw hat he has become known for over the past 20 years. As the next motorcycle approaches, he puts his hand on the rider's back, closes his eyes and speaks over the low hum of the idling engine.
While many spiritual leaders spent their Sunday inside a church, Ahlborn and two other ordained ministers spent their afternoons blessing the lines of motorcycles that filled the puddle-ridden lots at American Legion Post 434.
Each of the bike blessings asks for God's protection and care to bring the riders home safe after each ride, Ahlborn said. He said that he usually blesses thousands of bikes, but that attendance was likely lower because of the rain.
"I prayed for good weather," he said, "but I'm in sales, not management."
Bikes continuously poured in and out of the lot throughout the day, but a man who goes by "Dino" said it was the worst turnout he's seen in his 12 years of helping with the event. Last year about 3,500 bikes filled the large grass field, he said.
The bike blessing, which was started 27 years ago by RoadRunners M.C., has become a beginning of the riding season tradition for riders all over Wisconsin and even Illinois.
For Dino and his fiancé, Karen Kaczanowski, the tradition goes a step further. They both have a small guardian bell on each of their bikes, a good luck charm which they have blessed every year, and for good reason.
While riding one night, Dino saw a drunk driver coming up behind him. The driver swerved around him and slid on the curb, nearly hitting a parked car. Dino slammed on his brakes, forcing his bike to tip forward.
The impact was enough the shatter the guardian bell hanging above his front wheel.
"All that was left hanging was the striker," he said.
Dino said the bells may just be superstition, but he and his fiance bought three for their friends. Kaczoanowski said she was the one who bought Dino a new one after the incident with the drunk driver.
"The bells are something a friend has to give you," she explained. "You can't just buy one for yourself."
Not everyone believes as strongly in the bike blessing. Others, such as Joe Russel, are more interested in the camaraderie. Russel said he gets his bike blessed every year, but that it is more of a spring tradition. It doesn't make him feel much safer.
The same goes for Larry Boule, who after 12 years, has yet to get his bike blessed.
"I haven't crashed yet," Boule said, "and to be honest I don't want to jinx it."
Half of the proceeds from the bike blessing will benefit Milwaukee's Children's Hospital.