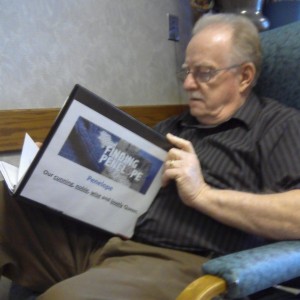 complete coverage: multimedia project
Using one myth to dispel another
How the mythic character Penelope brought UWM students and Luther Manor residents together in a battle against Alzheimer's disease and dementia
When University of Wisconsin-Milwaukee student and acting major Maggie McGwin first set foot on the Luther Manor campus to begin her work for the play Finding Penelope she described the feeling as "awkward."
Now, nearly five months after she began participating in the project at Luther Manor Senior Living Community in Wauwatosa, she is sad that it has all come to an end.
Even though she was initially just looking to increase her visibility in the acting realm, McGwin quickly struck up intimate friendships with some of the residents in the senior community, something that was new to the 18-year-old.
"A few people individually I really connected with and it was really special for me because I never knew my grandparents ever, I never had a relationship with senior citizens," she said. "So it was really special for me to be with this group of people."
The play was part of a much larger effort called the Penelope Project, which aims to improve the quality of life for people who live in and work at long-term care facilities like Luther Manor, and specifically for those who suffer from Alzheimer's disease or dementia.
The project aimed to engage the minds of residents in a creative fashion. It asked them to describe their personal feelings about the mythical tale of Odysseus and Penelope, instead of pressuring them to delve into their failing memory banks.
The play guided the audience on a literal and figurative journey throughout the living quarters of Luther Manor with the help of a disguised Odysseus in search of his queen, Penelope. Odysseus is also helping Mira, a wayward daughter battling her fears about reconnecting with her mother, Penelope, who lives in Luther Manor and suffers from dementia.
According to 2011 statistics from the Alzheimer's Association, the disease is the fifth leading cause of death among Americans 65 and older. Of the 5.2 million people who are currently diagnosed nation-wide, over 45,000 reside in southeastern Wisconsin, a number that is estimated to jump to just over 68,000 by 2030.
Anne Basting, executive director of the UWM Center on Age and Community and Finding Penelope playwright, said that the prevalence of dementia only increases once you step into the long-term care facility at Luther Manor.
"In the nursing home, truly, 75 to 80 percent of the people have dementia and it is going to be normal in a place like that, that people have memory loss," she said.
It is with these residents in mind that Basting and theater professor Robin Mello created the Penelope Project, a year-long endeavor that connected Luther Manor residents with UWM students and professional actors through mythic and personal storytelling.
The individual stories residents shared with UWM students like McGwin were then recorded and used to sculpt much of the content and dialogue in the production.
"Our cunning, noble, wise and lovely queen"
In addition to engaging in the initial storytelling process and, in a sense, helping Basting write the script, many residents of the senior living complex were also the stars of the show.
Residents from the Health Care Center in Luther Manor, which houses seniors who are battling various stages of dementia from early-onset to advanced, were asked to make up the chorus, a group that was responsible not for singing, but for consistently echoing "Our cunning, noble, wise and lovely queen" anytime the name "Penelope" was spoken during the play.
This idea of repetition, which also included a series of hand gestures, throughout the play was one method that Basting employed to help blend together emotion, narrative and movement to trigger the memories of residents.
The residents were not only able to learn and remember the repetitive movements, but they used them outside of rehearsal to communicate, Basting said.
"All these different hand gestures that they learned and that they knew from week to week and they started telling stories with those hand gestures," she said.
However, the members of the chorus were not the only residents of Luther Manor to be involved in the play.
Making their acting debuts
Finding Penelope gave two Luther Manor residents a chance to make their acting debuts.
Self proclaimed "extravert" Rusty Tym and Joyce Heinrich both got the chance to test their acting chops in the final productions of the show.
Tym, along with a professional actor from the Sojourn Theater, played half of the 108 suitors the mythical queen was forced to fight off while she waited for Odysseus to return from his journey.
Fifty-four different roles may seem like an overwhelming task for even the most experienced of actors, but Tym pulled it off by donning a white t-shirt which featured 54 blue stick men on the front and a bold "54" in the same color on the back.
Playing half of the 108 suitors was a role that Tym took seriously; he even signs his emails with the number "54."
"It's been a tremendous experience having been in on the ground floor and not only being able to act in the play but also to see how it developed and how it has carried on since then," he said.
Heinrich said that she got more heavily involved in the project through her natural curiosity but admitted that by playing the role of Mira's mother, Penelope, she was able to check something off of her "bucket list."
"As the play went on we just had fun with the whole thing, he [Tym] had fun, I had fun and the students had fun," she said.
More than just a working relationship
Not only were Tym and Heinrich able to have fun acting in the play, the two struck up a close friendship as they got wrapped up in the production.
Tym also formed a special bond with McGwin, something that is evident by the smile on his face when he talks about her.
"Maggie is just such a cutie, she is just a sweetheart," he said, noting how she reminded him of his grandchildren.
"There is a vulnerability in youth that is only evident when seen through the eyes of an older person… and you begin to realize that you were there yourself at one time." Tym continued.
"I won't say that I saw Maggie as a reflection of me but I certainly saw Maggie and a reflection of my grandchildren."
McGwin has the same type of admiration for Tym.
"[Rusty] really wants me to come back and visit and I think that I will because I really enjoyed being there and building those relationships," she said.
Beth Meyer Arnold, director of adult day services at Luther Manor, said that this type of bond between students and residents was not uncommon.
"Some of the students became very attached to residents because when the students would sit down next to them and listen to them and give them that time and let them know how important it what they had to say was, then they heard very personal stories," she said.
Meyer Arnold said that sharing these stories with students was a way for the residents to connect with the students, and help those who suffer from memory loss.
"If you came back and told [the residents] the right information they told you the previous week, even if they had advanced dementia, then they would remember you," she said. Basting knows this first hand.
Even after the performances were over, Basting walked the halls of Luther Manor and brought smiles to the faces of the residents as she greeted them by name and many of them did the same.
Hope for the future
It is exactly this type of positive reaction by those who suffer from dementia that has Meyer Arnold, Basting and everyone involved in the project excited for what is possible in the future.
Meyer Arnold sees the project as a way for those with Alzheimer's disease or dementia to improve their quality of life.
"After you see that play, if you are someone who works in long-term care, how on Earth could you ever go back to a bingo game with a microphone with 50 people… and think that is something you want to do every day," Meyer Arnold said.
The next step for Basting is to prepare a theoretical model of the project to share with members of the health care and academic communities.
Basting said that the end of the play will not mark the end of the UWM and Luther Manor collaboration.
Creating an adaptation of the book Little Women or centering a storytelling project on the lunar landing, an iconic moment in the lives of current seniors, are two possible options for projects in the future, Basting said.
In the meantime, Tym has taken it upon himself to ensure that the bond that he and McGwin have formed over the past five months is one that will keep them together. He welcomed her into his family.
"I told her, I said well listen let me just simply adopt you, you need a grandpa and if you need someone to talk to you give me a call," he said. "So she thought that was kind of nice, and I meant it. I wasn't just being flowery or anything like that."