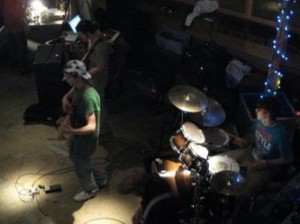 complete coverage: multimedia project
"I'm a little sharky, swimming in the water, you better watch out, you better hide, won't find me swimmin' with the fishies, CUZ' I'M A SHARKY," sang the Wee Be Kids pre-school class.
They were accompanied by the acoustic sounds provided by their teacher, who sported a black curved brim Pokémon baseball cap. A late April snowfall accumulated on playground equipment outside as the teacher brought the daily warm-up song to an end.
With the ability to play 15 different instruments, the pre-school teacher balances between his passion for music and love of working with children. James Cochrane, a 24 year-old musician and songwriter is a native of California currently living in Waukesha. Cochrane has been surrounded by music his whole life, and has a long-term goal of becoming a full time performer.
"My choir teacher in elementary school really helped open my ear to a variety of different music," said Cochrane. "My father was also a drummer in the band Z-Fusion; I feel he rubbed off on me quite a bit as well."
Milwaukee Music Scene
Milwaukee's music scene attracts a lot of out-of-town concert-goers, and at the same time many Milwaukeeans travel out of the city to see their favorite local Milwaukee bands play somewhere other than their home turf.
Bands such as Undercover Organism, a Milwaukee-based progressive jam-rock funk-tronica band, will play a free show as an opener for a local band in Madison to draw a larger fan base to Milwaukee. Then in turn they will host a show in Milwaukee and be the headliner for the traveling Madison band, therefore drawing in their existing fans as well as the new ones who saw them in Madison.
Rick Carlson, the drummer for Undercover Organism, says they network with other bands such as Steez and Wook, two local Madison bands, to gain a larger fan base and widen opportunities to play more.
"We try to keep it fresh and continually advance our name," said Carlson. "We are currently scheduled to play at Ifdakamp, and the Cosmic Railroad Festivals this summer, and have the opportunity to play at Summerfest and Jammin' on the Wolf providing we prevail at the upcoming battle of the bands competitions."
Local music venues such as the Jazz Estate, Mad Planet, Crisp, the Miramar and others are giving these talented young artists a place to practice, play, and flourish. These smaller venues are the heart of the music scene. They help build artists' reputations and network them together.
Miramar owner William Stace said venues such as the Miramar allow for bands and individual artists to collaborate more, and more often.
"Venues like this have less of an intimidating commercial feel," said Stace. "They allow for more improvisation than larger halls. From what I have seen people seem to be more relaxed and try incorporating more new ideas here."
Milwaukee has live music every night of the week. There are certain venues that host the same acts on a weekly basis, some that revolve, and some that allow for individuals or groups new to the scene to get recognized during open mic nights. These events range from free to $100.
Bands such as Erotic Adventures of the Static Chicken hold down a regular slot at the Jazz Estate every Tuesday night. Other venues experiment with theme nights such as "The Get Down," and "Friday Night Retro Dance Party" events at Mad Planet.
Milwaukee provides its' musicians with many different venues to choose from. Bands play at larger renowned venues such as The Rave, Turner Hall, Pabst Theater, and Riverside Theater. Many bars and clubs will also host local bands to draw a larger customer base and create a unique atmosphere for them to socialize.
Milwaukee street festivals such as Jazz in the Park are also becoming a hot spot for bands to set up stage. The Milwaukee Boat Line even began to hold concerts on cruise boats while taking a voyage around the waters of Lake Michigan.
"Our river boat cruise show was one of my favorites to play at," said Carlson. "It was so awesome to be able to play on the water, and it allowed for our fans to dance and party in a different environment than they are used to. This was one thing we did to keep our band indifferent and keep our supporters happy."
Support for the Scene
The Cultural Alliance of Greater Milwaukee program manager, Shairah Apple, said Milwaukee has a vibrant music scene full of support groups and community activists who want to see the scene thrive.
"The music scene in Milwaukee provides outsiders with tourist attractions," said Apple. "People used to always go to Madison and Chicago to see music, but now they are coming to Milwaukee instead, which is kind of neat. Maybe Kings Go Forth and two other local bands that signed on with national record labels last year brought some new interest to the city."
The Cultural Alliance center works behind the scenes to advance Milwaukee's artistic side.
Cochrane and His Music
Preschool teacher James Cochrane yearns to be a prominent part of the Milwaukee music scene and retire his job as a teacher, but for now he continues to educate his students on the world of music as well as the importance of education.
Cochrane's love for music rubs off on his students, and opens the door early for something pre-schoolers aren't normally introduced to. He purchased a piano and keyboard for his students to use in the classroom.
"My influence can be beneficial to these children at a young age because kids aren't as developed and can adopt new principles faster than adults," said Cochrane.
A few times a week they make up new children's songs, incorporating the instruments donated by Cochrane.
Help for Milwaukee Musicians
The Milwaukee Artists' Resource Network has been assisting professionals in developing a creative class since 2000 to display Milwaukee's talent regardless of an individual's musical background or experience. Executive Director Melissa Musante said that the organization provides services for business, similar to the tasks of a life coach. They assist their musicians with business needs such as proposals, contracts, and taxes.
"We network musicians and all sorts of artists to adapt new musical collaboration to create more connections in the community," said Musante. "We have finally reached national level funding now, the NEA is going to partially fund our program, but it will only be a fraction of the cost of what it takes to run an organization. However, the volunteers help cut costs as well; we could not maintain without them."
MARN provides a raw approach to coaching techniques by using acoustic instruments rather than incorporating computer generated alterations and enhancements. They offer services for musicians, visual artists, filmmakers, performers, and writers. They pair up artists with coaches or mentors.
"Milwaukee is an interesting place," says Musante. "There is plenty of crossover media here to spread the word about the scene, and some say it becomes a home very quickly. Some people live here, some were born here, and some move here to play music; there is a strong scene, and the city provides an affordable cost of living. Artists can do their craft without having to work six jobs to pay the bills."
National Recognition
Kings Go Forth, a ten-piece psychedelic soul band from Milwaukee, signed on to national record label Luaka Bop in 2010 and released their full length debut album The Outsiders Are Back.
"My cousin plays in the band Kings Go Forth," said Musante. "They are on tour a lot, especially since their new album release. They say it is pretty hectic sometimes and challenging because sometimes club promoters don't want to pay for musicians, since there are so many willing to play for free. However, they still call Milwaukee their home base, and love the genuine crowds the local scene brings."
Cochrane holds a collection of recent solo tracks including "Jenni," "Take Me Away," "I Wasn't There," and "Only Words," that he hopes will soon be heard by the right person.
The Dream
At age ten Cochrane received an Ibanez six-string acoustic guitar for Christmas, and began to imitate certain melodies played by his favorite band, 311. Today, aside from teaching, playing shows, and bartending, Cochrane enjoys taking his instruments outdoors to locations in downtown Waukesha and Brady Street to entertain the locals and make a few bucks.
"If I could take off with my guitar and tour, I would," said Cochrane.
"Have a few gigs lined up, some fall back cash, and a car I would drop everything; but sometimes that just isn't the case. My time is coming, I can feel it."
He has been working to get more of his music recorded for people to sample; but he says it is hard to find someone with a studio to record him at a reasonable price. For now he relies on word of mouth, his personal website, www.jamescochranemusic.com, and social networking sites such as Facebook, MySpace, Pure Volume, and Twitter to advance his recognition.
Cochrane said that when he used to play with a progressive jam band, the Cravens, they were always swapping instruments, playing with other bands, and having fun without following a strict routine.
However, many of the members went their separate ways: moving, or raising a family. The economy wasn't as bad, people had more time for entertainment, and the scene was not as divided as it has become, he said.
"In more recent years some of the changes I have noticed are that people group into social cliques," said Cochrane. "The same people follow the same bands weekend after weekend and there is not much new engagement or unity. The scene is lacking organization and repeat bands play similar sets at similar places."
People flock to what is familiar, convenient, and where their friends will be. Not enough new bands form that people are interested in for them to break their routine.
"You know, I do see to see a lot of the same faces around here week after week," said Miramar owner, Stace. "It's nice that people want to return, and with the way we schedule our shows, we usually stick to the same genre on the same day of the week; it just works for us that way. Plus, the venue is located just off of the UWM campus so I assume a large number are students."
Economy
Music seems to be one branch of entertainment that no matter the financial situation of individuals, the state, and the country people will still go out and see music. The frequency of the events attended may vary, but the supporters have a passion for it, and many will still be present
"We try to keep the cost of our shows at or fewer than five dollars to be fair to our followers because we know most of them are in the same financial positions we are," said Undercover Organism drummer Rick Carlson.
"Sometimes it just doesn't work that way; if we are playing with a well-known band at a legit venue it is almost out of our hands. We agree though that a ten dollar cover can deter potential fans that haven't seen us before, but it's not free for us either to run a band and book gigs."
Cochrane caught a drumstick at his favorite band's show, 311, as they harmonized in the rain. He was on stage for Blink 182, he has played in a live band, he plays children's songs with his preschool class, he plays instruments on the street, and he has the dream of one day solely playing music as a profession.
The Milwaukee music scene will always be an unfinished project; however, so will every other city's scene. There will always be elements of music to learn from, embrace, and advance, but the bands that are stationed in the city of Milwaukee call it home and will work with what they are given.