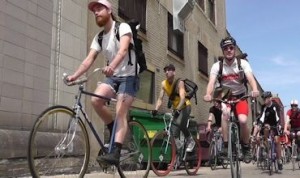 complete coverage: multimedia website
Tucked away behind a back alley off Wells Street hides Breakaway Bike Couriers, a company at the heart of Milwaukee's bike messaging scene. Inside, a weathered pool table sits next to a fish tank in the middle of a sparsely lit waiting room. A dispatcher behind the counter takes orders and directs messengers around the city.
Rufio and the rest of The Lost Boys would feel at home here: the walls burst with color, and paintings, graffiti, and posters dominate almost every square inch of the interior. This is not the typical office, but then again, bike messaging is far from the typical job.
"It's like punk rock boy scouts," says Tom Guenther, a messenger for Breakaway Bike Couriers. "A lot of the guys are really DIY. We're talking through radios, we can change a flat on the fly, and we've got Mohawks."
Guenther's Mohawk is hidden underneath a grey knit cap, the majority of his face obscured by an impressive beard and sunglasses.
On any given day, people in the city depend on bike couriers to deliver everything from tax filings to wedding cakes, and couriers ride up to sixty miles a day no matter the weather.
"You're so ingrained in this town, you're such a part of the arteries and you pump the blood. And that's a big thing," says Guenther. "We're not paper pushers, we're like gun runners you know. Get ready to do anything and everything."
"It is all about the adrenaline," says Matt Koss, a messenger for Brew City Couriers. "Just having a package and going as fast as you can to get it there, just blowing through the city, it's fun. No rules really."
Riding Out the Economy
Milwaukee has felt the effects of the nation's economic woes, and according to the Bureau of Labor Statistics, unemployment has risen over the past 12 years by 5.4 percent. Yet despite the down job market, there are still people going a different route and creating work outside of the traditional markets, just like 12-year-old Edward Steichen did when he started the bike messaging industry in Milwaukee in 1891.
Steichen began delivering messages for Western Union after convincing the manager that he could deliver them faster by bike than by horse or on foot.Word spread about Steichen's speedy method of delivery, and other courier companies soon adopted bike messaging. Steichen pursued other talents and went on to become a famous photographer and painter.
More than a century later, others still follow in Steichen's entrepreneurial footsteps as bike courier companies continue to sprout up in Milwaukee, such as Brew City Couriers. Founders Nick Costanzo, Sean Nyary, and Matt Koss recently opened their shop in hopes of finding work that is meaningful to them after becoming frustrated with inconsistent work opportunities, incompetent bosses and the slacking economy.
"For me it was just part time job after part time job in custom framing, Jimmy Johns, and maintenance jobs around downtown," says Koss. "I just wanted to do something that I loved and would get satisfaction out of, and starting out our own company, I'm loving it."
The correlation between hard work and income is an exciting concept for a new business owner, because there are so many jobs found in the traditional market that do not allow employees to see big picture results.
"Any other job I ever worked, I still got paid the same amount no matter how much I worked, or how much I slacked off," says Nyary. "Really it's a result of how much work you put into it, and it's really interesting to see the kind of feedback you get."
Bike messengers are typically paid per delivery, but there are some couriers who earn a salary and enjoy full benefit packages. According to theEconomic Research Institute, couriers typically earn $24,000 annually.
"This job is not for slackers," says Guenther. "The busy part of the year is usually the dead of the winter. When we get pounded with snow and stuff, people don't feel like getting out of their buildings to deliver stuff, so they call us."
The Holland Occupational Themes are designed to sort people's personality traits into six types: doers, thinkers, creators, helpers, persuaders, and organizers.
According to Holland's Occupational Themes method, 41% of bike messengers fall under the category of doers. Personality traits for doers include being independent and realistic, while also having an affinity for the outdoors and working with your hands.
"It takes a certain kind of person to do it," says Nyary. "You have to be completely dedicated. You have to love to do it."
Staying Local and Keeping it Green
While cars have now replaced horses as the main source of transportation, bikes are still the fastest mode of delivery in the city. And because bikes do not rely on gasoline, the prices for delivery are competitive, and the business model is eco-friendly.
"Being green is what it's all about, and the truth is that we are faster than automobiles and everything that isn't green," says Guenther. "We're dirt cheap and we're fast as all hell. It's never like we have ever undercut people's prices, but were riding bikes you know. We can afford to do that stuff."
The reason bike messengers can move about the city so quickly is their ability to cut through parks and alleys not accessible to cars.
"We can get anywhere in this city faster than cars no matter what, period," says Costanzo. That's just the way it is. Short cuts for days."
Couriers are drawn to the freedom and adventure that comes with riding their bikes and it has led to an underground Milwaukee subculture.
"We kind of have our own little nook here in Milwaukee, and it's a fantastic feeling of us doing our own thing," says Guenther.
This subculture is known for its organized group rides and races including the Milwaukee Messenger Invitational,The Underwear Ride, The Stupor Bowl, and numerous Alley Cat Races.
"Living in an area with a bunch of people that love doing the same thing that you do, it just makes living here so much better," says Nyary.
Couriers are not the only people in Milwaukee earning a living off bicycles, as the city is home to Milwaukee Bicycle Company, as well as COG, a nationally distributed magazine dedicated to fixed gear bikes and their culture.
"Be local, buy local," says Guenther. "My jobs local, my bikes local, my bags local, the food I eat and buy is local, the coffee I drink is local, even my beer. Everything is local."