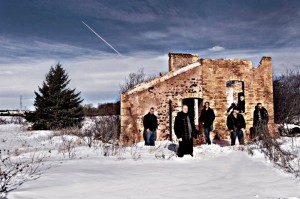 Over the last decade or so, music has made some substantial leaps forward, particularly in the heavy rock genres. Hard Rock and Heavy Metal have finally begun to gain more widespread attention, and being in a metal band has become a cool thing. However with the increase in popularity came inevitable oversaturation in the scene. Metal acts have become a dime a dozen, creating an upstream battle to prove authenticity.
Unfortunately for the Milwaukee music scene, this oversaturation is still highly prevalent, especially with the newfound popularity of hardcore bands. Everyone is sounding the same. In this way, many Milwaukee bands are finding it difficult to continue performing and touring. One band, however, started fighting from its inception and has thus been able to continue recording and performing for the better part of the last decade. I'm speaking; of course, of the melodic heavy rock act OncetheSun
Formed in 2004 by vocalist/keyboardist Anna Bohn, lead vocalist Matt Halleman, bassist Josh Morrison, guitarists Jason Rebus and Eric Kassens, and drummer Sam Morrison; OncetheSun has become a staple of the heavy rock scene in Milwaukee. Blending heavy rhythms with dynamic male/female vocals, OncetheSun has managed to create a signature sound that people can relate to, but at the same time is entirely their own
OncetheSun has supported many national touring acts, most recently supporting Canadian metal act The Birthday Massacre and the gothic tinged William Control when they played at the Miramar Theatre earlier this month.
"That show was one of my favorites!" gushes Anna Bohn, "this is the third time we've gotten work with The Birthday Massacre and we always have a good time."
They have also played at Summerfest the past five years; four of them were on the Refugee Stage and last year they opened for the Hives on the Rock Stage
Formed in Port Washington, OncetheSun's primary goal from day one was to help prove that great music still exists in both Wisconsin and the world at large.
"We are trying to prove that there are bands that still write from the heart and don't follow the "cookie cutter" sound that has overrun the industry", states the band per their MySpace page.
The band has recorded three records thus far: 2007's "Shadows", 2008's "Blank Stares and Broken Words" EP and 2011's "8 Degrees Below". They are currently in the process of writing their fourth album, which will hopefully be out sometime next year. Not much is known about this new effort, and the band is keeping pretty tight lipped about it.
"Our next record will be heart-wrenchingly good," Anna coyly remarks.
"The heavier songs are heavier and the prettier songs are prettier," says drummer Sam Morrison. "We're playing with different vocals patterns between Matt and Anna. We're also experimenting more with open beats. Definitely going for more atmospheres in the songs."
This latest effort will be recorded at Bobby Peru's recording studio, which has gained some prominence from working with bands like Fall Out Boy and Beatallica.
OncetheSun has had its share of difficulties, including a line-up change (Eric Kassens left the group shortly after the recording for "8 Degrees Below" was completed). This has temporarily brought recording to a halt as the band is still working with a new rhythm guitarist, but they have persevered in spite of these potentially crippling challenges.
"I cannot writing without a rhythm guitarist," says Anna.  "The whole band needs to be present for the music to sound right."
"We all write the songs," concurs Sam. "We all put a spin on the song."
Working with independent label GoDIY Records, OncetheSun has been able to successfully release its efforts to a wide audience, taking full advantage of this digital age where everyone has a short attention span.
OncetheSun can be found on all major media sites including Facebook, Myspace and Twitter. Their music can be found on iTunes, Amazon, or the independent online site BandCamp. Physical copies of their records can be purchased from their website and at any of their shows. An extensive line of other merchandise is currently in the works.