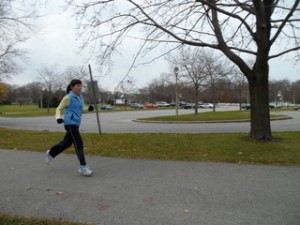 Every time Chris Wodke runs, she concentrates on each step.   She struggles to bend each leg and to lift her feet.  When she runs long distances, she constantly worries about the pain.
Wodke, a 52-year-old Milwaukee triathlete and long distance runner, was recently diagnosed with Charcot-Marie-Tooth (CMT) disorder, the most common inherited neurological disorder.   CMT damages the nerves that control sensory information and muscle function of the legs and arms, according to Wodke.
"The doctors said I don't have the flexibility in my calves to even walk, let alone run," said Wodke.
Wodke started running races shortly after graduating from the University of Wisconsin-Milwaukee.  She was diagnosed with CMT last summer and continues to run.
Sherecently ran her fourth marathon on Sept. 19 in Appleton, completing 13.1 miles in the Community First Fox Cities Half Marathon to raise awareness and funds for CMT research through the CMT Association, a nonprofit organization with a mission to find a cure for CMT.  She raised about $1,800 so far.  In a contest sponsored by the Kimberly-Clark company, she was chosen as one of the "Great Women of the Race."
She is a single woman who currently works as a Supervisor for We Energies and is a member of the Badgerland Stridersrunning club, which sponsors a variety of local races.
"I'm very fortunate to be as active as I am," said Wodke.  "Right now I have this ability many with CMT don't have, so I thought, 'what can I do with it?'"
When Wodke runs, she keeps a serious, concentrated expression on her face.  She said her feet often drop because of muscle weakness.  She has to really pay attention because her feet can often get caught on the sidewalk or curb.  She also constantly has cold hands and feet.  Another symptom is tiredness, causing her to often push herself to train.
About 1,500 runners participated in the marathon in which most people raised funds for the community hospital.  Wodke asked permission to run the marathon to raise funds for CMT.  She said it was important to her to also raise awareness since CMT is not well known.
Dana Schwertfeger, Director of Member Services at the CMT Association, said the disorder affects about 150,000 people in the U.S. and 2.6 million worldwide.
"It's just as common as Multiple Sclerosis or other well-known neurological disorders, but it doesn't get the same recognition," said Schwertfeger.  "A lot of doctors don't know very much about it."
The money Wodke raised will go to the CMT Association's Strategy to Accelerate Research (STAR) initiative, in which scientists are coming close to finding a compound that could potentially treat the most common form of CMT, type 1A, according to Schwertfeger.  Wodke has this form, and said scientists are coming close to finding a cure in the next couple of years.
"Efforts like Wodke's are crucial in helping us raise the money to keep the science going," said Schwertfeger.
Running with CMT
The severity of symptoms for CMT varies for each individual and slowly progress over time, according to Schwertfeger.  He said people often have trouble lifting their feet and begin wearing leg braces.
Wodke said she always gets blisters and feels pain in her feet while running because one of her symptoms is having high arches, causing all the force to land on the balls of her feet.  She said she usually starts to feel pain after the first three miles.
"When I ran my first marathon, the blisters bled through my shoes," she said.
Wodke said she has been dealing with symptoms of CMT her whole life and was relieved to finally receive a diagnosis.  She said she had a disadvantage in school because of her horrible handwriting from losing the fine motor control in her hands.  She explained she never did well in gym class because she was a slow runner.
Becoming a runner
Despite her symptoms, Wodke started running in college to improve her skiing skills.  She has been a member of the National Ski Patrol at Crystal Ridge for over 20 years.
"Doctors don't suggest running with the issues I've been having with my feet, but since I've been running for so long they said to just keep doing what I'm doing," said Wodke.
In 1989, Wodke completed her Master of Engineering from UWM.  She started running races when her old roommate, Cheryl Monnat, suggested they run together.  The two began training and planning 5k and 10k races, and still run together today.
They even ran while on vacation in a 5k Olympic Run in New Orleans.
"I know we would do it again," said Monnat.  "Whenever we'd happen to notice a fun run or charity run, we would want to do it."
Monnat, who also donated for Wodke's run for CMT, said it's motivating to see Wodke run with her disorder.
"It definitely means I have no excuse to not go out and run," said Monnat.  "Using a similar line from a Doobie Brothers song, I might say that 'she keeps me runnin'."
Today, Wodke mostly runs marathons and also recently started participating in triathlons where she swims, bikes, and runs.
Wodke does not just run to raise funds for CMT.  She has been involved in charity events since college and ran some this year:
·        Ottawa Lake Triathlon for children's charities
·        Alcohol and Other Drug Abuse Triathlon
·        Eisenbahn Half Marathon for drug and rehab programs
·        Clintonville Triathlon fundraiser for the local swim team
Chris's Run
While doctors were struggling to find a diagnosis, Wodke said she had a feeling her symptoms were probably caused by something genetic because her dad, aunt, sister, and two nieces have CMT.
She went online, found the CMT Association, and knew right away she had the disorder.  She joined their circle of friends, a program allowing members to set up a donation pagefor events.  She was inspired by other people who were raising funds for the research to find a cure, and decided she wanted to contribute.
"My 20-year-old niece has leg braces," said Wodke. "I can run for people like her."
It was a cold day in September when Wodke received her finisher's medal for running the Fox Cities Half Marathon with a time of 2 hours and 14 minutes.   Before running, Wodke said she felt excited and nervous because she was worried about what could happen to her physically.  Even though she feels pain after every run, she said it still feels great.
Wodke plans to continue to raise funds and awareness for CMT by running the 2012 Boston Marathon.  To enter the marathon, she must prove she can meet the time standard.   Wodke is training every week to reach this goal, but has to limit the amount of time she spends training to prevent injury.
"It's a challenge for anyone to try to make it through a marathon," said Wodke.  "The challenge for me is to prepare and get through the training program when I can't run every day."
And Wodke said she will continue to run as long as her doctors say it's okay.
"CMT gave me a purpose for running," said Wodke.  "I run to inspire others and to keep myself strong."