Complete coverage: multimedia website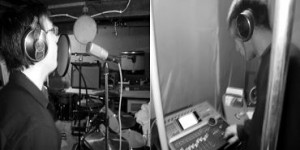 February in Wisconsin is cold, by anyone's standards, and the night in question was no exception. Small groups of people scurried from corner to corner on the North Avenue bar strip, trying to make it to their destination before they froze. Hardly a person looks up to see a young man with a microphone jammed near the mouth of a tall man with long blonde dreadlocks and a DIY punk outfit.
Most of the younger college students that generally haunt the North Avenue bars probably wouldn't even know who the dreadlocked man is or what he has done. But this man is Dan Kubinski, lead singer of the hardcore punk band Die Kruezen, a Milwaukee outfit that gained moderate success in the late 80's and early 90's throughout the United States. However, Die Kruezen never had the success of peers like Black Flag or Bad Brains, and eventually, Kubinski and company fell out of the public eye.
However, the band was never forgotten in their hometown and the jam-packed audience at Turner Hall this past May for their reunion show testifies to that fact. Slowly, Die Kruezen is beginning to play out again, but they are plagued with the same troubles they always had: getting people in Milwaukee to come out and see the shows.
"There is just something weird about this town, man," says Kubinski.
In Milwaukee's music scene today, many artists struggle to gain recognition, playing in bars to only a handful of people, or paying upwards of 300 dollars to venues like the Rave for the chance to be heard by people passing the side stages on their way to see headlining bands. Some bands are able to gain a footing playing shows outside of the state, but many that can't afford to tour simply end up disbanding. Most Milwaukee bands don't support each other, according to Kubinski and the audience is only looking for the big bands, hence local bands falling to the wayside.
Of the handful of bands and veteran members of Milwaukee music scene that I was able to interview, all shared a similar view of their time spent playing Milwaukee's music circuit.
"You're not going to [get noticed] just playing the corner bar in Milwaukee, that's for sure," says Jay Peschman, who has been gigging in various Milwaukee based bands for the last 25 years. "Chicago is a far better music scene, but it's a lot harder to get in to, and even the few successful bands that have made it out of Milwaukee often avoid  the fact that they are actually from Milwaukee, like the Violent Femmes, who usually say they're from Chicago, but that's not the case."
Both during the height of the music scene in Milwaukee in the 80s and today, bands around the city are abundant. Bands are constantly forming in Milwaukee, but most of them never make it much further than playing for a few friends at the local coffee shop. Of course, there have been a few exceptions, but in general, the majority of the musical talent that can be found in the city goes unnoticed, according to Kubinski and Jennifer Plevin from Cream City Soundcheck
Jennifer Plevin is one of the original creators of the UWM documentary series Cream City Soundcheck, which follows both local and national touring bands around Milwaukee, showing them places and things unique to the city,
"Sometimes people that live [in Milwaukee] get discouraged because they think people don't wanna come out and see bands, they just want to come out and drink," says Plevin,"and that can be discouraging if you're in a band, and you're whole thing is about making music and wanting to make people happy in that way."
Jennifer is speaking from both sides of this fence of discouragement, as she had been in a band for the better part of a decade prior to starting work at UWM and creating Cream City Soundcheck.
Such levels of disenchantment could explain how bands in Milwaukee seem to form and disband in what seems like overnight. To many fledgling musicians, the feeling of being an afterthought in favor of intoxication would be enough to stop going "out there" in an attempt to get your music heard.
Do it for the kids

In the fluorescent lighting of the small practice room, Sarah Zawadiwsky carefully laid out the sheet music she has brought with her, and studied it quietly, determining the sections that require the most practice. After making several notes with her pencil, she examined the reed that has been sitting in a small glass of water. Seemingly satisfied, Sarah put the reed in the slot on the mouthpiece of her alto saxophone. After tentatively testing the keys and coaxing a few notes out of the instrument, she takes a deep breath and began to play.
Within moments, a transformation is clearly visible. Her eyes close and in that moment her face softens and all focus is dedicated to the music. Any other thoughts or worries seem to melt from Sarah's faces, making only room for the pure joy she seems to have been feeling whilst playing through the sheet music.
"I was raised in a house listening to many different kinds of music," Sarah explains, "and I think [music] was genuinely the only thing I found comfort in after my mom died. I think this was because my brother wasn't around and my dad wasn't really emotionally available, which left me at 8 years old wondering what to do. Music was there for me when no one else was."
Such is the power of music: to entertain, to enlighten, and to heal. Perhaps this is why bands continue to spring up in a scene long considered infertile. Could it be, possible, that simply for the love of writing and playing music that bands from Milwaukee keep trying to make a dent?
However, some of the younger bands coming out of the woodwork are displaying a hunger to succeed, and to correct the errors of the past. Local singer/songwriter Annah London of folk rock group Break of Day, is very hopeful and proud of the scene.
Milwaukee by far is my favorite [music scene]," says singer/songwriter Annah London, "I think musicians here seem to work better together here. Bands seem to make more of an effort to go out and see each other's shows. They're also a lot of talent here. Milwaukee is also weird because people [in Wisconsin] put more permanent roots down opposed to Chicago which is a much more transient city."
This is a contrary belief to Kubinski's, who feels that Milwaukee bands don't work together as well as they should.
"It bothers me that people will pay money to see cover bands but that it's hard for a handful of original bands to get people to come out and see them play," states Kubinski, "It might just be that they're so many bands here, and every one of them is trying to get the gig. And not all the bands are actually good."
Even with an apparent high number of bands in the Milwaukee area, parts of the scene itself are problematic, most notably of which is the notorious "pay to play" experience that many of the bands in Milwaukee have to go through.
"We are in a pay to play city, and that is wrong," states Professor Martin Jack Rosenblum, who is a senior lecturer at the Peck School of the Arts at UWM, "one should get paid to play. [Pay to play] puts the band in a very awkward position. You've got to create the material, develop your stage performance and then promote the show? Pay to play causes you to spend as much time promoting yourself as you do developing what you do onstage."
Turning of the tides

Though the general outlook of Milwaukee music scene veterans has been rather bleak, there are others who have a rosier view on the current state of the scene and high hopes for the future.
"I think [the Milwaukee music scene] is very strong and I think it's in the best place it has been in decades," says Evan Rytlewski, who is the music editor for the popular Milwaukee publication The Shepherd Express, "there's a lot of excitement around the scene right now, and the morale is high because a handful of local bands, like Trapper Schoepp and the Shades, are making waves both locally and nationally. There is a definite sense of pride throughout the scene right now."
Even Cream City Soundcheck's Plevin, who had been a part of the music scene for many years, feels that Milwaukee music is beginning to pick up some steam.
"I'm interested in seeing live music," says Plevin. "bands bring out the fun in people and those [local groups] tend to do very well here. But I think it's a really great time for Milwaukee music, there are really great bands out there, like Trapper Schoepp and the Shades, doing really unique things. I can't put my finger on exactly what is so unique about Milwaukee music, but there is something here."
Staying in the game
 It's just after one in the morning and OncetheSun  have just stepped off the stage.  The gig was a mixed bag, with some of the members thinking it went well and others thinking it could have been better. But the audience weren't interested in rating the show. They were amongst friends, and the upper level of the BBC on North Avenue was busy. Not packed, but busy.
OncetheSun has been a part of the Milwaukee music scene for the better part of a decade. With only one recent line up change, the band has become something of a staple for the Milwaukee music scene. It's uncommon for a band to carry on as long as OTS has without gaining substantial recognition, but the band persevered.
"Everyone in the group comes from really diverse musical backgrounds," says Sam Morrison, who plays drums for the group, "we love to do it, we're artists. People don't quit drawing just because no one buys it, they do it for life, and that's how we approach our music."
"I'd like to think we have been very successful in what we've done so far," says bassist Josh Morrison "people come out to see us and I think we have managed to be successful in our own mind."
Perhaps this is the key to the continuation of the music scene in Milwaukee: learning to be successful in one's own mind. Never mind the cliché dreams of rock stardom and fortune, instead just focusing on what really matters to the music.
"People are in bands and [playing music] for different reasons," says Plevin, "it seems less and less that bands are trying to get famous on a label. There's a lot more bands that making it means putting out their music however they can, and playing for whoever wants to listen and just having fun."
Harbinger of change
Depending on the lens through which the Milwaukee music scene is viewed, it becomes apparent, according to Jennifer, Evan and Annah London, that there is something on the horizon. It's difficult to pinpoint exactly what's to come, or if it will be a game changer, but it doesn't seem to truly matter to Milwaukee musicians. The simple love and joy of just playing music radiates throughout the scene, and many do it for that reason only: because they simply love to play.
"I don't know what it is about this place," Kubinski reiterates, " but at least a lot of [Milwaukee bands] are not afraid to just try new things and throw shit out there. That's what [Die Kruezen] did. There was a conscious effort never to write the same song twice."
"Milwaukee is really a great place to grow as a artist," insists Martin Jack, "if it weren't for the enclosure that Milwaukee offers bands, like the Violent Femmes could never have made it out. Love the city, grow as an artist, and realize that [Milwaukee] is a great home base. But then you need to get out there and find your own path."