The musical takes place in the 1980's with cast members dressed in flashy outfits favored in pop culture. The original film was in complete Spanish, however cast members in UWM's version instead spoke English but professionally in Spanish accents.
Students in the Peck School of the Arts performed in a musical, Women on the Verge of a Nervous Breakdown, which is based on the movie by Spanish filmmaker Pedro Almodovar, Nov. 2-6 2016 in the Kenilworth Five-O-Eight venue.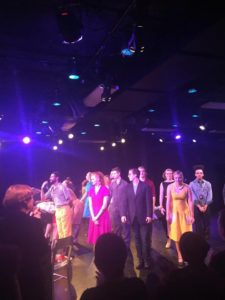 However, UWM is not the first to adapt the film into a stage performance. Jeffrey Lane and David Yazbek were the first to create the musical, and the production went on Broadway in 2010 in Manhattan.
Directed by Raeleen McMillion, the romantic comedy follows middle-aged Pepa Marcos (Solana Ramirez-Garcia) and her journey after her lover Ivan (Brian Tuel) suddenly leaves her. It features urban women and their take on love and men in the vivacious city of Madrid. Along Pepa's journey, she stumbles upon a diverse group of characters including her model friend Candela (Grace Yeager), Ivan's estranged son Carlos (Lucas Pastrana), Carlos' finance Marisa (Marissa Selle), and Ivan's ex-wife Lucia (Vanessa Schroeder-Weber) to name a few. There were two acts with a 15-minute intermission, which included sixteen songs total.
"I was invited to direct the play last May," said director McMillion. "I spent a lot of time over the summer working on the script, making plans for the production concept, and planning a rehearsal and production calendar. Auditions and callbacks were held on the first week of classes in September."
Actors who were interested had to audition for their parts, McMillion explains. Season auditions are held at the beginning of both fall and spring semesters. About 80 people auditioned this fall for four different departmental productions.
"Going into the auditions, I knew that Candela was the part that I wanted," said senior Yeager who landed her desired role. "I catered my audition towards her. I picked a song and a monologue that could help the production team picture me in the role of Candela."
The audition process included a 60-second monologue and a 16-bar cut of a musical number that represented how actors saw the character they were auditioning for. After auditions, callbacks were given to those who the director, choreographer, and vocal director saw potential in. When decisions on the cast were made final, those who auditioned were emailed the cast list.
"I was very excited to land this role as Carlos," said senior Pastrana. "Being Chilean I had never really had a part that called for a Latino, so I was excited to be able to embrace my heritage and some life experiences."
Rehearsals were held Monday, Tuesday, Thursday, and Friday nights from 6 p.m. to 9 p.m., including a six-hour rehearsal on Saturdays from 10 a.m. to 4 p.m. Some rehearsals did not include every cast member, especially if their part wasn't as involved.
"For the first couple of weeks we began with vocals and learning our individual solos and duets and also (we) worked on the larger group numbers which included the full cast," said senior Tuel, who played Ivan. "Within these weeks we spent time with the choreographer learning the nmbers which would have more dance involvement. After all was said done, only about five to seven numbers had legit choreography."
Nevertheless, rehearsals had their ups and downs, according to cast members.
"This rehearsal process in particular was actually crazy because we hit a lot of bumps in the road," said senior Ramirez-Garcia, who played Pepa. "MTI (musical theatre international, the group from which we got the script and score of the show) gave us two completely different versions and we didn't realize how problematic that would be until about halfway through, I think that was one of the biggest challenges for the team. Somehow we managed to make it happen, and I'm so glad we did."
However, the cast became closer due to immense rehearsals and bonding.
"We helped each other read through our lines, we helped each other go over choreography, we really did become like a family," said Tuel. "It's one of the things I love about theatre; a group of individuals coming together for a common purpose and enjoying the process together."
Though the play came together magically, the process of selecting which musical was going to be featured this fall was perplexing.
"The Theatre Department has a committee that works very hard to select a variety of plays and musicals to provide a challenging and engaging curricular experience for our students," said McMillion. "UWM is very lucky to enjoy such rich diversity on our campus and in the Theatre Department we are eager to grow that diversity in as many ways as we can. Three of our upperclassmen in the Musical Theatre program are Hispanic, and this play gave us a chance to celebrate that connection. I hope it was a connection for members of our audience, too. We have a well-established history of producing plays that tell stories from all walks of life, stories that give voice to all our students. And I'm very proud of that."
UWM, though recognized for its heavy diversity, is recently trying to get more Hispanics to apply for admission.
"Regardless of the intentions of this show, I know that UWM and especially the Theatre Dept. are always trying to represent a wide variety of identities," said Ramirez-Garcia. "I personally would love for more brown actors to join the program. I feel like it's important to have our voices and experiences be heard."
The experience of Women on the Verge of a Nervous Breakdown was definitely heard by those who attended. Thus far, the musical has received positive responses. This musical in particular had a non-traditional structure, making it different than other musicals, according to McMillion.
"It is very colorful, fun, and kind of naughty, which our largely student audiences seemed to enjoy," said McMillion.