It is Wednesday, Oct. 14, and today, inquiries about desserts, as well as T-shirt slogans regarding the Packers are being doled out through the airwaves. Meanwhile, host of 540 ESPN Milwaukee's 11 a.m. weekday show, Drew Olson, inserts his earbuds, ready for more talk.
Inside a suite on the city's east side, a relatively small studio houses the aural epicenter for many sports fans around the area, and, today, students crowd the confines.  Many students wear surprised expressions after witnessing Olson talk about topics ranging from Lamar Odom to Playboy pictorials to sugary dishes, among other things.
The Journalism, Advertising, and Media Studies (JAMS) Living-Learning community from UW-Milwaukee is present, with the students themselves bottled up, perhaps because of the frequent on-air segments. Course instructor Jessica McBride is asking questions for the students' benefit, for exposure of a real working environment.
During break, Olson recounts his days as a journalism student at UWM (class of 1988) where he was stationed at the UWM Post, before assuming a job, while still a student, at the Milwaukee Journal Sentinel for nearly 20 years.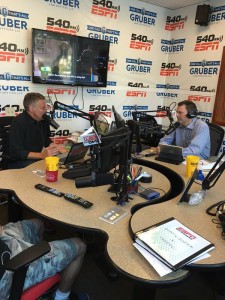 When talking to the students (all of whom are tightly packed), Olson stresses the importance of versatility. "It is very important" because "most people think they know it all, but once they are put behind the desk for a practice broadcast, they slip," he says. He, also, stresses an open mind.
One example he cites is when he was in a "gopher position" back in his days as an intern, getting coffee, before moving to OnMilwaukee.com.
JAMS student Danielle Miller is on the point of incredulity when it comes to Olson's presentation. "It is surprising how much of it is adlibbed, and unscripted. The fact that we got to see it live, and in action, was something really special."
Olson says he has been working under Good Karma Broadcasting for five years, having once  lingered in print and online journalism. He says that print has really helped him shape his on-air personality and feels as if the environment is less tense now.
A former graduate of UW-Milwaukee with a B.S. degree in Journalism, Olson takes a quick jab at his producer (a Marquette grad) due to the latter's inability to decipher the difference between pie ala mode and ice cream; this triggers uproarious laughter from the UW-Milwaukee JAMS LLC.
This behavior, according to him and co-host Dan Needles, is not uncommon around the studio. "We could easily go over the Cover 2 defense or something like that, but it's boring for the audience, not to mention we'd bore ourselves to death," says Olson.
What allows the tautly faced Olson and the fatherly Needles to maintain such a demeanor is mostly the doing of their audience: "For the most part, we have a passive audience, you know, they are driving in their car…some people livestream at work."
As Olson has undergone changes, in order to comply with the immediacy of today, so have the resources made available to him. He says he and his cohorts used to rely heavily on phone calls from listeners, and even e-mails, before the sudden surfacing of social media. Now, most aptly, he lists Twitter as his go-to, because of its collection of amounting content. He also says it is quicker to stay in touch with his audience, which is important to a broadcaster, he notes.
Behind a worriless face, Olson admits he has been very fortunate to have fallen into a workplace where he feels comfortable. He even goes as far as to say Needles is his soulmate who he can talk "bull**** with for two hours, and get paid for it."