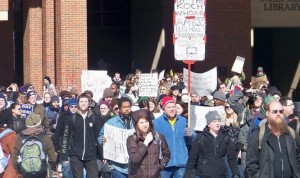 Danny Schmalz walks over to his record player and old milk crate full of records. Most of them are secondhand funk and rock n' roll LPs from the 60's and 70's.
"Think of what Sly had to go through!" says Schmalz, as he begins to play "There's a Riot Going On" by Sly and the Family Stone. "Makes this seem easy."
In his room, next to pictures of former Black Panthers and 60's revolutionaries, is a picture of his mother. Like his mom, Schmalz one day hopes to teach what he loves: history. However, Schmalz is increasingly worried about his professional future. Schmalz is worried about Scott Walker's budget repair bill.
"It's just not good for anybody who comes from a middle class background," he said in his typical urgent tone. According to Schmalz, no middle class group stands to lose more than teachers and professors.
"No matter how long your tenure, whether you're a full time or part time professor or whether you are a TA, you are expected to take 15% pay cuts across the board. That will affect me directly, not just me, but my family."
For nearly three decades, Schmalz's mother has been teaching English as a second language at the University of Wisconsin-Milwaukee.
Schmalz and his friends in UW-Milwaukee's history department worry that with graduation quickly approaching, the fears of their parents will quickly be passed to them. So Schmalz joined the protests in Madison and Milwaukee, hoping to show the world that even those who aren't yet teachers will fight for their future profession.
According to Wisconsin Legislative Fiscal Bureau director Bob Lang, the state faces a 3.6 billion dollar deficit. Governor Walker is hoping to close this deficit by making across-the-board cuts to state government, including altering the union rights of some 175,000 state employees. Among the most contested portions of the bill is the stripping of collective bargaining rights, a move that the Walker administration says will make it easier for municipal and county governments to make cuts of their own while leveling the playing field with private sector workers.
Governor Walker's plan would make workers pay half the costs of their pensions and at least 12.6 percent of their health care premiums. State employees' costs would increase an average of 6 to 10 percent. The changes would save the state $30 million by June 30 and $300 million over the next two years.
For Schmalz, these measures go too far.
"I can't stress this enough, look at where these cuts are aimed at and what they are going to do specifically. It's not people that have it good already," he said.
In talking to other future educators, Schmalz finds that the drive of young people to teach has been diminished. The measures in the bill, the "nails in the coffin" as he put it, will not only deter some people who would make fine educators, but would harm those who do make the commitment. It is not a good feeling to expect poverty, Schmalz will tell you.
Kate Edwards: A Conservative Voice
At her desk in a stuffy office on the third floor of the UW- Milwaukee Student Union, Kate Edwards shuffles papers and reports into hastily made piles, and silences a cell-phone vibrating for the third time in a matter of minutes.
She has just returned from a trip to California, where she attended a College Republicans conference. Edwards is, among other things, chairwomen of the UWM chapter of College Republicans and the Senate Appropriations Committee on campus. A psychology major, she dreams of going into politics.
Edwards is originally from England, but has no plans to leave the US. A diehard fiscal conservative, Edwards sees Governor Walker's Budget Repair Bill in a very different light than Schmalz.
"Balancing the budget should be our number one concern," she said. "You have to look at the basic facts like contributing to your pension, contributing to health care, these are very reasonable requests, they are a set of very reasonable standards."
Edwards is a pragmatist, quick to state her opinion without sounding condescending. For Edwards and the young fiscally-minded conservative students she represents, these cuts are not only modest, but necessary for the future of the state.
"I hopefully plan on staying here and raising a family here. I love Wisconsin. So I'm looking at the big picture and the future and how do you solve facing a 3.6 billion dollar deficit, where do you make cuts?"
For Edwards, what Wisconsin's Governor accomplished is pure inspiration. "I see what Walker has done in the state of Wisconsin as being very bold," she explains. "I know he genuinely believes what he is doing is the right thing to do…I think there is a big misconception that when you disagree with a politician…they actually don't want what is right. That helps me look at my future career, I am always going to try to do what is right whether people think that that is the right thing or not."
A Misconception?
In contrast, Schmalz says the effect of the legislation will be devastating on educators, present and future.
"People think teachers get some sort of magical pension and health care as if their jobs are so cushy," said Schmalz.
At a recent rally, Schmalz heard UW-Milwaukee AFSCHME leader Gilbert Johnson speaking to a crowd. For Schmalz, Johnson illustrated what he sees as a misconception.
"In speaking about the details of what he pays into his pension and his health care…it's not free…like a lot of people want to make it seem," said Schmalz.
For Edwards, however, the real misconception is that the legislation is going to be a death blow to public employees.
"I don't understand the apocalyptic rhetoric that has been going around," Edwards said. "It's been kind of cushy union benefits for a while. I understand that people, especially right now, are going to find that difficult…but it's necessary for the future of Wisconsin."
An Academic View of Student Reactions
According to UW-Milwaukee Political Science Department Chair Thomas Holbrook, the reactions of students like Kate Edwards to recent political turmoil are rare.
"A student who may be conservative might be more reticent to speak out," said Holbrook. "I don't see…a greater activism and a public expression among conservative students."
In contrast, Danny Schmalz is part of a large and vocal group of future educators opposed to Governor Scott Walker's controversial legislation . According to Holbrook, their fears are not unfounded. "Those (students going into education) are the ones who really should be worried," said Holbrook. "More people with experience will be competing for entry level jobs."
UWM education professor Randolph Goree is no stranger to cuts aimed at educators.
"I have been here 20 years, and if there is any sense that we are overpaid, I've lost 40% of my buying power," he said.
For Goree's students, the main effect of the Governor's proposal is an overwhelming sense of uncertainty.
"The main problem is we (educators) don't know what will happen," he said.
For his upcoming graduates, the short-term goal is simple: get a job.
"They would be happy as clams in the mud to get a job," said Goree, adding, "there will be jobs…but for every opening there will be 150-plus possible candidates."