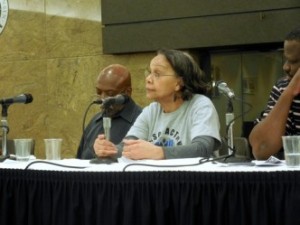 To be number one means to be successful, to be the best. It is a title that often comes with honor and pride. But when being number one means that your state has the highest incarceration rate of black males in the country, honor and pride are quickly locked away.
"We have all the statistics. We know where we are. We're number one and this is not a good place to be," President and Founder of Prison Action Milwaukee (PAM) Rose Scott said.
She spoke at a UW-Milwaukee panel discussion in which experts tried to pinpoint a cause for Wisconsin's high ranking. The high number of high school suspensions, absent fathers, and Internet publication of felony convictions were among the reasons given.
A 2013 study by the University of Wisconsin-Milwaukee's Employment and Research Institute found that 1 in 8 African American working age men are behind bars (12.8 percent). That is nearly double the national average, which stands at 6.7 percent.
It is a startling statistic.
More than 120 people filled the Union's Fireside Lounge on April 10 in an event co-sponsored by UWM's Department of Africology, Black Cultural Center, Africology Now and others.
Four panelists met to discuss "African American Men, Prisons, Families, Community, Fatherhood and Change in Wisconsin." Panelists first answered questions like "whose problem is it?" and "what can all of us do about it?"
Associate Professor of Africology Dr. Joyce Kirk lead the event as MC. Scott joined panelists Dr. Gary Williams, Director of Black Cultural Center, Victor Barnett, Director of Running Rebels, and Terence Ray, Director of Milwaukee Fatherhood Initiative.
A group of black male youth occupied a corner of the room. These young males were the indirect subjects of the discussion.
"The prison pipeline now begins in pre-school," Williams said. "What we found is that 48% of the kids in preschool, African-American males, are suspended more than once."
As an associate professor at UWM in the Department of Educational Policy and Community Studies, Williams has researched the state of K-12 African American children in Milwaukee. He explained that early suspension negatively affects one's chance at graduating high school and often leads to a laundry list of problems.
"At the elementary level, [students] show up full of energy, bright-eyed…By high school, the light is out," Williams added.
The reasons behind the light's early outage are not very easy to pinpoint.
Scott says the issue is not limited to the fault of the state governor, department of corrections, or the state Supreme Court. Through her nonprofit, PAM, she is all too familiar with imprisonment. The organization gives support to individuals with incarcerated or ex-incarcerated family, or friends. Advocacy services are also provided to current prisoners.
"We have to look at how complicated this whole thing is before we begin to blame people," Scott said. "We all have a responsibility because we are all looking ugly."
Running Rebels is a community organization that addresses issues relating to black youth. Formed in 1980, it provides mentoring, tutoring, and after-school and summer programs.
Founder Victor Barnett says it is necessary for the gaps in Milwaukee to be bridged.
"Almost all the negative stats you can think of, we are at the top," he added.
Addressing the importance of fatherhood and family is another step toward progression. Through the Milwaukee Fatherhood Initiative, Terence Ray serves as a resource to fathers in the community.
"When I became a father, all I wanted to do was have other men…experience the joy, the motivation, the strength, everything that I felt internally about being a father," Ray said.
After discussing the two initial questions of the event, panelists moved on to answer the attendees' questions. Written on index cards, Dr. Joyce Kirk asked the audiences' questions. They related to education, politics, community involvement and more.
One of the last questions put a spotlight on a particular area of Milwaukee. "Why is the zip code 53206 leading the way in every corner…in high school dropouts, teenage pregnancy?" Kirk read.
Attendee Lois Quinn of the Employment and Research Institute at UWM was able to answer. She has gathered and analyzed information on this particular area over the last years.
"There are so many things that we do in this community and this state to never get a second chance," Quinn said.
A felony record is one of the greatest barriers, she explained. Wisconsin Circuit Court Access allows anyone to view convictions and charges. "It never goes away for the rest of your life," she added.
By the time the last few questions were asked, the group of young black males who occupied a certain corner of the room, had left. Half of the chairs sat empty. But those who remained took many lessons from the panel discussion.
Among the many lessons is a message Williams introduced. When "Building strong boys, then there's no such thing as broken men."