November 23th, 2017. Thousands of visitors concentrated in North Michigan Ave to waiting for the start of Black Friday shopping. In front of many luxury stores, people were following a long straight line and prepare to run into the store once it opened.
People who are more than 40-years-old may still have a deep impression about how Japanese consumers shopped for luxury products in Paris, New York, Chicago and London, etc. In the 1980s, with the dramatic economic development and Japanese yen appreciation, Japanese people had more money to shop for luxury products in other countries. Now, it seems that Chinese consumers took the role from their Japanese neighbors: They started to spend much money on luxury products every year.
Chicago was already getting cold in late November, but the cold weather still can't stop people's pace of shopping. From Michigan Avenue Bridge to Oak Street, the whole 'Magnificent Mile' was full of shoppers from all over the world. You need to be very careful if you are on North Michigan Ave at that time because you may trample other people's new shoes.
"For some luxury brands, their Black Friday discounts are really limited, but I still prefer to buy some luxury clothes or bags on Black Friday even though we may not really need them," Yiyongqian Wong said.
Wong is a student of Roosevelt University in Chicago, originally from Zhejiang, China.  Just a few hours after Black Friday started,  he already took two bags: one Louis Vuitton and another one is Burberry. If you look around on North Michigan Ave, you can find that a large proportion of shoppers are Asian.  Based on their appearance, accent and dressing style, it is clear that most of these Asians were Chinese.
Based on World Bank's data, in 2006 China's GDP per capital was just $2,099.23, but in 2016 the number reached into $8,123.181, almost four times of 2006's data. With the fast economic development, the upper-class and middle-class families in China become more and more rich. The China new rich stratum is so attach to let their children to study at English-speaking countries like the US, UK, Canada and Australia. They are especially sending their children to famous private universities even though the tuition is very expensive. On the other hand, these people also have great interest in different luxury brands and Michelin stars' restaurants.
It's hard to say some of these consuming behaviors are rational, but this phenomenon was already happening in 1980s-era Japanese shoppers' behaviors, so it seems this phenomenon already became a rule of economics. In China, there is a festival similar as Black Friday called "Single's day" which is Nov. 11. In this year's "Single's day" online shopping, one of the most effective online shopping website Tmall reached 168.2 billion Yuan (about $25.4 billion).
"I can find cheaper luxury products here than mainland China or Hong Kong, this attract me to buy these clothes and accessories for myself and relations," Wong's partner Tao Zhang said.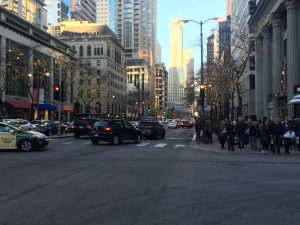 Louis Vuitton, Burberry, Barneys New York and Chanel are all concentrated with many Chinese costumers during Black Friday in Chicago.  It appeared that at least 60 percent of consumers in Burberry are Chinese.  Besides, Macy's also attracts many costumers because of the cheap prices and wide range of products.
According to Statista's number, in 2015/16 the total number of college and university students from China in the United States was 328,547. These students have great power of consumption. On the other hand, some of these students also purchase different products in the United States and then sell these products to Chinese market. Considering all the elements, these students offered significant impetus for America's economic growth.
However, online shopping also become a big challenge of physical stores. According to The Balance, in 2017, the number of people visiting stores on Black Friday and Thanksgiving fell 4 percent from 2016. RetailNext Inc. analyzed instore videos to count the shoppers. At the same time, online sales rose 18 percent, according to Adobe Systems Inc. Sales hit a record of $7.9 billion. It's hard to say whether Chinese costumers also brought their habits of online shopping to the United States.