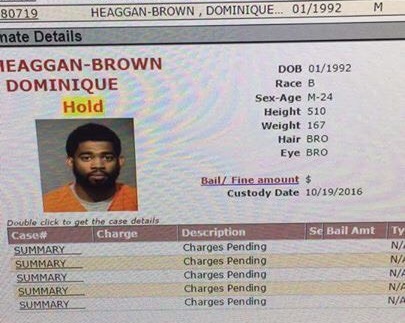 The police officer who shot and killed 23-year-old Sylville Smith in the Sherman Park neighborhood in August, sparking days of unrest, allegedly sexually assaulted a man and told him he "was the boss and there are no limitations on how [he] lives."
Sexual assault allegations against Dominique Heaggan-Brown emerged Aug. 15, two days after the death of Smith. They were made public by police on October 20 and detailed further in a criminal complaint.
Online court records show Heaggan-Brown was charged with two counts of felony second-degree sexual assault with an intoxicated victim, two misdemeanor counts of prostitution, and one felony count of "capture an intimate representation."
Read the criminal complaint here:
A preliminary hearing is scheduled for October 27. At an initial appearance on October 20, a no contact order was filed, demanding that Heaggan-Brown "have no contact with AV (ADULT VICTIM) 1-4, absolute sobriety and NO weapons," court records said. Bail was set at $100,000, and Heaggan-Brown was ordered to comply with electronic monitoring and a 24-hour curfew.
Heaggan-Brown was arrested Wednesday after criminal charges were filed against him earlier in the day. According to the police statement, a victim reported to police that he had been sexually assaulted by Heaggan-Brown while off-duty. An internal investigation was conducted and reveal additional allegations, resulting in added charges.
According to the criminal complaint, Heaggan-Brown took a victim to Saint Joseph's hospital, two days following the shooting.
At 4:20 a.m., Heaggan-Brown allegedly arrived to the hospital with a drunk victim. He told a security officer the victim had drank too much and was "completely out, zonked out of his gourd," the complaint contended.
As hospital staff members provided aid to the man, the victim "flipped out." The security officer noticed the victim would flip out anytime he saw Heaggan-Brown, whom he met through Facebook over music interest (Heaggan-Brown is a rapper), the complaint said.
"Help me, help me, he was touching me," he said, according to the complaint.
"He raped me, he raped me," he allegedly said later.
Earlier that evening, on Aug. 14 – a day after Sylville was shot and killed – Heaggan-Brown texted the victim requesting to meet, the complaint says. The man agreed, and at 11:00 p.m., Heaggan-Brown picked up the victim where they went to a bar.
The complaint further alleged:
The pair sat at a bar watching coverage of the Sherman Park protests. Heaggan-Brown told the victim the bar did not Hennessy, but the bar had it for him. Heaggan-Brown allegedly told the victim that he "was the boss and there are no limitations on how [he] lives." The bartender asked the victim what he wanted to drink, and he told the bartender he did not usually drink. The victim remembered drinking two Long Island ice teas, three shots of Hennessy and a pink drink, while discussing music with his Facebook rapper friend.
Heaggan-Brown "bragged about being able to do whatever [he] wanted without repercussions," according to the complaint. When asking the victim what his limits were, Heaggan-Brown "reiterated that [he] did not have limits."
The man told police he recalled leaving the bar with Heaggan-Brown, but had difficulty remembering what happened later.
He allegedly woke to Heaggan-Brown attempting to penetrate him, "struggling to breathe as the defendant raped [him]" as his "eyes filled with tears", according to the complaint.
Heaggan-Brown allegedly undressed the victim and repeatedly told him to get on the bed. The victim said no.
The accusations set off an internal investigation. On Aug. 17, police obtained a copy of the surveillance video from Saint Joseph's Hospital. Police also secured a copy of surveillance video from the bar captured during the evening of Aug. 14.
On August 22, police contacted Heaggan-Brown, where he confirmed having the victim's shirt, belt and cell phone in his car. He turned over his cell phone to the police and consented to have his residence searched, the complaint says.
Days before, police approached Heaggan-Brown, and he allegedly texted a mentor: "Not so good got a separation situatio.n Need your help big time… F—ed up big time.. But need to handle this the most and right way possible."
Heaggan-Brown allegedly admitted going out and drinking with the victim before taking him back to his residence where they had sex. He told his mentor that the encounter was consensual, but that the man was drunk and had "medical issues," according to the complaint.
After obtaining a search warrant for Heaggan-Brown's phone, authorities found further evidence, including attempts to pay for sex, secreted sex recordings, and nude photos of several victims, the complaint alleged.
Two victims alleged that Heaggan-Brown offered money in exchange for sex in several occasions via text message.
Another victim alleged that, in July, they went out drinking with Heaggan-Brown and others to celebrate a friend's birthday. He recalled waking up the next morning in Heaggan-Brown's home, but "could not recall" how they ended up in his bed "only wearing boxers," the complaint said
According to the complaint, the victim left Heaggan-Brown's home and later sent a text message: "WTF happened last night?"
"Nothing kid… room on yourself.. I left those and came back but tried to get u in your crimb and keys didn't work so I think u was at wrong house," Heaggan-Brown wrote.
The victim was shocked after being shown naked images from Heaggan-Brown's phone, including a photo "showing a part of the defendant's penis, close to if not touching [the victim]" and a second photo "depicting [the victim]'s buttocks, this time with the defendant's buttocks on top of [the victim]," according to the complaint.
The victim did not consent to sexual contact with Heaggan-Brown nor photos being taken of the victim naked.
If Heaggan-Brown is convicted on all current counts, he could be fined more than $200,000 and sentenced to more than 80 years behind bars.
"On the evening of October 19, members of Milwaukee Police Department's Internal Affairs Division arrested Milwaukee Police Officer Dominique Heaggan-Brown after criminal charges were filed against him earlier in the day," the police statement says.
"On August 15, a victim reported to Milwaukee Police he had been sexually assaulted by Heaggan-Brown while off-duty.  This investigation, conducted by MPD's Internal Affairs Division and Sensitive Crimes Division, resulted in the October 19 criminal complaint filed by the Milwaukee County District Attorney's Office.  MPD's investigation revealed additional allegations, resulting in added charges."
At a press conference Thursday, Milwaukee Police Chief Edward Flynn said that while the allegations were "extremely disappointing" and "altogether awful," the investigation into the death of Sylville Smith should be investigated on the circumstances of the shooting not Heaggan-Brown's character.
Heaggan-Brown is suspended and his mentor Sergeant Joseph Hall is also under investigation, said Flynn.
Heaggan-Brown remains in-custody and has been suspended from the police department.
The counts are unrelated to the shooting, which remains under investigation by the District Attorney's office.
The state Department of Justice conducted an investigation into the shooting and gave the results to Milwaukee County District Attorney John Chisholm's office, which continues to review it. There is no timetable for a charging decision in that case or when body camera footage will be made public.
Wisconsin Attorney General Brad Schimel has acknowledged that two body cameras captured the shooting, which authorities say footage shows Smith holding a gun. Police said Heaggan-Brown shot Smith after fleeing from a traffic stop when he refused orders to drop the gun.
According to the Milwaukee County medical examiner's office, an autopsy showed Smith suffered a gunshot wound to the chest and one gunshot wound tot he right arm.
Chief Flynn and Mayor Tom Barrett confirmed body camera footage reveals Smith was armed and turning toward Heaggan-Brown who then opened fire.
The fatal shooting set off two nights of uprising and unrest in the Sherman Park neighborhood. Eight businesses were burned, at least six squad cars were damaged, at least four officers were injured and one teenager was shot in the neck and survived.
The Smith family chose to not comment. There will be a prayer circle by Smith's memorial at 6 p.m. Thursday.