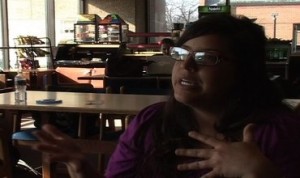 Complete coverage: multimedia project
College students constantly worry about finding a job right away after getting their degrees. University of Wisconsin-Milwaukee junior Samantha Bear is no exception. She goes to class for hours, works a part-time job, and then has homework. With graduation right around the corner, Bear and her classmates are all concerned about what will come after graduation.
"I'm nervous about getting a job but in the economy today, but who isn't nervous about getting a job. It's all about how you present yourself and how you work with the kids," she said.
Bear has more reason than other students to be nervous about her future. She is a student in the School of Education, planning to be a special education teacher when she graduates. However, Bear and her classmates are walking right into a career in Wisconsin that has been in turmoil since February.
"In every other country around the world, teachers are praised, they are held upmost. In our country, I don't know when it happened, but the state somehow just lost why teachers are so important."
The Bigger Problem
Public schools in Wisconsin are facing decreased funding from the state of 8.4% in 2012 and 7.7% in 2013, compared to 2011. Robert Kott, licensing and database support technician, of the Wisconsin Department of Public Instruction (DPI) said the 2011-2013 Wisconsin Biennial Budget will require each school district to reduce its revenue limit per student by 5.5% compared to last year, to help protect property tax payers. All of these cuts are going towards the state's $165 million deficit.
In addition, state employees have to contribute 5.8% of their salaries to pay half of their annual pension payments. The public employees will also have to pay 12% more for their health insurance premiums. The most important effect of the budget bill is to limit collective bargaining rights of unions. All of these aspects of the budget are weighing heavily on the current public employees.
The Future Generation of Teachers
"I feel bad for students just starting to go into teaching," Bear said as she glanced over her jam-packed schedule for the following week. Bear said she is in the profession for the long haul, even if it means going through some hard times.
"I don't expect to be making 50 thousand a year right out of college. If it is more than minimum wage, I will be happy. I am going into education because I want to help people, not make a ton of money," she said.
Robert Longwell-Grice, Director of Student Services for the School of Education at UWM, is an advisor who says students in the school are definitely talking about the consequences of the budget.
"(It) doesn't seem to have harmed our retention. The students aren't leaving our programs. But what we have seen is a drop off in the number of freshman who have declared their intention to be a teacher."
According to Longwell-Grice, the number of incoming freshman to the School of Education is down about 30% compared to last year.
Data from UWM Institutional Research shows that the School of Education had 2,880 declared or intended majors in their programs in the fall 2010 semester. "It's really too early to tell the specifics for next fall, but I can't imagine they would be as high as last year's numbers," Longwell-Grice said.
The research also shows that in the fall 2009 semester, the School of Education had 195 freshman going into their majors. The following year, there were 11 fewer students. However, only 75% of the students decided to continue in the major after their first year. Longwell-Grice said the trend was heading that direction anyway, but the problem will be magnified next semester.
Change of Heart
Sophomore chemistry major Anna Meer is torn between finances and her career. "As I get further into my major, I feel like my options are becoming more and more narrow between doing lab work the rest of my life or being a teacher."
In the wake of Wisconsin's budget battles, her goal of teaching chemical compounds and reactions to bright-eyed students has gone by the wayside.
"I just don't think I would want to be a teacher and be one of the most unappreciated people ever," Meer said. The constant barrage from the media reporting on the grim future of public education persuaded her to change majors and reconsider her future. The budget battle in Madison was the deciding factor in her change of heart, she said.
"The events in Madison were just… horrible. I would have loved to show much disgust for it all but I was way too busy at school. That doesn't mean that I didn't watch on television for a week straight," Meer laughed.
Despite being the first person in her family to go to college, she says "whether it's going into film or business, I will find something else and graduate and make my parents proud."
Like Bear, she sees teachers as "unappreciated and well underpaid for the amount of time and effort they put into educating our kids."
Reality
A 2006 graduate of UW-Milwaukee's School of Education, Jill Borchardt is a fourth grade teacher at Washington-Caldwell Elementary School in Waterford, WI.
"It was the only thing I ever considered as a career. I played 'school' in my basement when I was little and it was the only thing I thought I would do," she said.
She has taught at the school for the past five years, but this year will be her last in this district. In late February, her worst fears came true.
"I had just gotten a new contract, so I thought I was safe. Then the principal called me at eight o'clock on a Monday night after the school board meeting and said 'because of the budget, we have to let you go just to be on the safe side for next year.'"
With a two year-old daughter at home and a husband out of work because of an injury, Borchardt is doing the only thing she can do for the time being: save money. Saturday afternoon at the movies has turned into watching television at home, and eating out at restaurants is a thing of the past.
"We have no idea how these things are going to work out, we just don't! It is going to be impossible to find a job anywhere in this state as a teacher," Borchardt said as she takes a break from grading her student's work.
Her district is losing $515 per student, according to Mark Pienkos, principal of the school. Pienkos said, "Washington-Caldwell is most likely going to lose $100 thousand in funding and we have to do the layoffs to cover our own costs. We have to make sure everybody gets paid. It's a precautionary measure that the board and other districts have to take because we don't know what to expect."
Borchardt went to Madison to show support for other teachers and public workers, along with her sister. Borchardt said, "we were sitting around watching the protests on CNN. We weren't sure if we were going to go. Finally, I decided that I have to go be a part of history."
"It's like we're in the emergency room already, public education, we're on life support. Now they are pulling off the life support." That is the situation for Milwaukee Public Schools, according to Peter Blewett, vice president of the school board and professor at UW-Milwaukee.
His school district is already facing numerous decisions that will impact the next class of teachers graduating from UWM. Blewett said that many schools are merging and closing because of a projected $74 million loss in funding and revenue.
"Neeskara Elementary School in my district, it's a great school but I think best case scenario, the 16 teachers on staff will be cut down to eight for next year," he said.
According to Sharon Suchla at the Wisconsin Department of Public Instruction, the impact of the budget on future education licenses granted by the state will not be seen until the spring 2011 semester ends and students are eligible to apply. Data from the DPI shows a large jump in initial teaching licenses in the last year. In total, 5,592 initial educator's licenses were granted in 2010. This is 21% more than were distributed in 2009. In 2005, only 4,251 licenses were issued. It's too early to tell whether or not the number of teaching applications will be affected. The students graduating from the SOE presumably would apply for licenses right after graduation. The real numbers will come out in early June, Suchla said.
In the Spring of 2011, Bear hopes to be one of those licensed teachers. Until then, she will keep busy rushing from class to class and from student teaching to work. Her biggest priority now is to finish college and see where the wind takes her.
"I love helping people and for however much money I will be making, I don't care. This isn't a profession you go in to get rich. The whole thing that gets lost in all this budget mess are the students and the programs and services that are going to be cut."