A room in the Milwaukee County Courthouse is filled entirely on the left side with people, many of which wore buttons bearing the picture of Jessica Ellenberger and her 4-year-old daughter Madyson Marshel.
The court began after a defense attorney pleaded with the judge that his client waived his right to be present during his sentencing. Patrick Fowler came out in his orange jumpsuit, with his hair fashioned like devil horns for this moment of truth.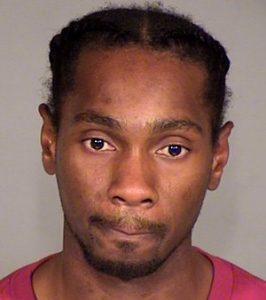 Fowler received a life sentence with no parole for the murders of both Ellenberger and Marshel on May 5. Ellenberger and Marshel died on March 19, 2016, where Patrick Fowler stabbed Ellenberger 12 times before turning to Madyson and stabbing her twice. Fowler, then, burned down their home.
Annette and Conrad Ellenberger, the parents and grandparent of the deceased, delivered statements in court that revealed a profound sense of strength in both Jessica and Marshel. Marshel fought Neuroblastoma, a form of cancer common among young children, and had undergone surgery months before she had died.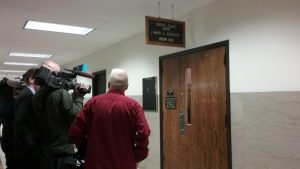 The Ellenberger's statements in court that depicted the effects of this loss and their resentment towards the man who took away what was held most precious to them.
"I'm living the worst nightmare as a parent and grandparent…since they've been gone I have no sense of happiness," said Ellenberger.
Ellenberger spoke well about his daughter but suggested she was too openly caring towards anyone.
"She trusted people to a fault. One of the traits that led her to her death," said Ellenberger.
Fowler stared off into the ceiling as Conrad urged the judge to remove Fowler from society.
"He must be incarcerated until he's dead," said Ellenberger.
When Annette came to give her statement, he paid full attention and issued a brief smirk. Annette's statement showed an immense amount of sorrow and yearning for her lost children.
"I always told Maddy I would protect her but I couldn't. This will haunt me for the rest of my life," said Annette.
Annette's statement revealed that the college fund they were saving for Madyson was used to bury her and her mother.
Fowler's past was just as troubling as the deaths of Jessica and Madyson; Fowler's criminal record goes as far back to the age of 12. Fowler's statement in court issued no remorse for the crime he committed.
"Falsehood has been spread about me. The complete truth has not been revealed," said Fowler.
The nature Fowler's statement in court that day was ambiguous; suggesting a lack of remorse for the murders and he held Jessica and Madyson close to him.
"I cared about them two deeply," said Fowler.
Fowler's statement alluded to his traumatic past, one where he suffered abuse from his mother and other family members. However, Fowler discussing his daughters was sincere, alluding to their births as "bittersweet."
According the Wisconsin Circuit Court of Appeals, Fowler's arrest record has a wide range of offenses. From 2003 until 2016, Fowler had repeated charges of assault and battery, disorderly conduct as well as child abuse, and violating sex offense registry and restraining orders.
The defense urged Judge Sanders to show sympathy for Fowler's case based on the trauma he received from childhood abuse and the lack of treatment Fowler received after being admitted to institutions since the age of 12.
Fowler's pleas and his attorney's persuasive case of Fowler's long induced trauma did not sway
Sanders as he passed down the sentence to Fowler that afternoon.
The crime scene photos from the fire revealed that 40 percent of Jessica's body was burned while Madyson's body was completely burned. Sanders said the photos were, "the most brutal and horrific crime scene photos I have ever seen."
Sanders brought up the letters from family members, neighbors and people from foreign countries who wrote to Fowler, which displayed resentment towards Fowler's vicious crime.
"There are people who have never met you or seen you that can't sleep at night because of what you did to Jessica and Madyson," said Sanders.
To end his sentencing, Sanders recognized Fowler's arrest record and the nature of this crime as a "lack of character" in Fowler.
Jessica and Madyson are survived by Conrad and Annette Ellenberger.