It's very rare that Shaq Gilbert's, 19, daily routine gets disrupted. This is why he immediately knew something was wrong when his foster mom, Maggie Walters, picked him up from work early.
While getting into the front seat of the car, his usual friendly smile was replaced by a worried, uneasy frown. It didn't take long for him to frantically ask what was going on. Nothing could have prepared him for the answer.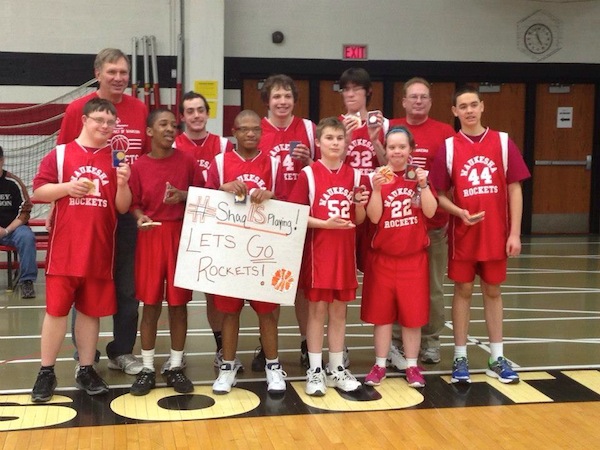 Walters had to be the one to break the news to Gilbert that he wouldn't be allowed to play with his basketball team, The Rockets, in the Special Olympics basketball tournament this month because of a mix up with his medical papers.
On Feb. 20, Walters received a phone call informing her that Gilbert's medical papers were expired and needed to be in before the first of February. She was unaware of this deadline because the papers were sent to Gilbert's previous address in New Berlin.
Walters completed and submitted the paperwork within 24 hours after finding out they were expired. Although, Dennis Alldridge, the President and CEO of Special Olympics Wisconsin, is sticking to the Feb. 1 deadline and says that an exception can't be made for Gilbert.
"I know how much this means to this kid, and it just breaks my heart," Walter says with tears in her eyes. "Basketball and playing with his team is everything to him."
Gilbert is a special needs, developmentally delayed young man who has been in the foster care system for most of his life. The Walters family welcomed Gilbert into their home over two years ago. They have been fostering him ever since.
Walters and her husband, Scott, consider Gilbert as one of their own, along with David, 22, Darby, 21, and Angie, 15, another foster child who has been living with the Walters for seven years. She says that she became a foster parent to supply children with a safe and comfortable environment to thrive in.
"It's not the kid's fault they are in a rough situation." Walters says. "All they are looking for is stability and consistency. Shaq didn't even know how to ride a bike when he first came to live with us because nobody took the time to teach him. Now, he will ride around the block for hours with a huge smile on his face."
Gilbert's passion for basketball developed long before he came to the Walters family. He has been playing the game for many years and had played for the New Berlin Special Olympics basketball team. Once Walters found out about this passion, she immediately signed Gilbert up for Waukesha's team, The Rockets.
Walters has contacted Alldridge many times to see if anything can be done to allow Shaq to continue on with his team into the tournament, but he is consistent with his original answer. He says that the organization will stick to the deadline due to safety reasons.
"Like any other athletic organization, our policies, which include our medical form deadline, exist to ensure a safe, fair, and quality sports training and competition experience for all involved," Alldridge wrote in a recent statement regarding the issue. "Shaq's local Special Olympics agency manager is working on alternate sports opportunities and activities so he can still be involved with Special Olympics this season."
Walter refuses to settle with this answer because Gilbert isn't interested in any other sport. Basketball is what he loves. She says that because Gilbert was a foster child, he fell through the cracks in the system, and now he is being punished for something that is not his fault.
"It sucks that bureaucracy gets in the way of a kid," Walters explains. "To me, this kid has had enough issues in his life. He doesn't need an issue from some guy that could be easily rectified."
Walter's children are also taking a stand for their foster brother. David and Darby created a Facebook page, #LetShaqPlay, to help the public become aware of the issue. The page states that the family commends the Special Olympics and thinks that it is an amazing organization, but it needs to start paying more attention to the individual player and their emotions.
"The Special Olympics is an extraordinary organization, and our goal with this is that they see what is truly important here-is it the paperwork deadline or is it the athletes' involvement in something they genuinely love, making them part of a positive community?" The page goes on to say that the "Special Olympics should be about the athletes, not bureaucracy."
While the Walters family waits to see if Alldridge will change his decision, Gilbert is still able to practice with his teammates
"My favorite part is being able to hang out with my friend Derrick," Gilbert says, reaching for his red and black basketball, the colors of Waukesha South High School, his alma mater.
Meanwhile, Walters is organizing the March Madness Tournament, another Special Olympics basketball event, which will be held at South High School on March 16. She says that it will be like a real high school basketball tournament, and each game will be narrated by a local announcer.
"I can't wait to get my name called on the court like Kobe," Shaq says, bending his knees and taking the shot. The ball bounces off the backboard and goes in. A smile spreads across his face.
Walters is keeping her hopes up and she isn't planning on stepping down from her corner anytime soon.
"If nothing else comes of this, if Shaq doesn't get to play, I will make sure there is an appeal process that takes place at the Special Olympics," Walters says. "There needs to be a board of review that looks at these types of mistakes with common sense and compassion. I will make sure the next Shaq will have a place to appeal an unfair decision."
UPDATE:
Christina Harris, Director of Communications for Special Olympics Wisconsin, says that the organization continues to hold their position on the medical deadline policy.
Gilbert played in the March Madness Basketball Tournament with his team. He scored the game winning shot at the buzzer.