At Betty Brinn Children's Museum Neighborhood Night, parents and caretakers were urged to take the initiative, regardless of economic status, to prompt brain development in their children.
Every third Thursday of the month, Betty Brinn Children's Museum collaborates with the Herzfeld Foundation to host its free Neighborhood Night from 5-8 p.m. at the museum. Betty Brinn Children's Museum is a private nonprofit organization founded in 1995 that provides hands-on educational experiences which builds cognitive, social, emotional and physical skills for kids ages 10 and younger.
This free Neighborhood Night began in 1999 and hosts 6,000 people annually.
"Neighborhood Night started as a way for all children, working and disadvantaged families who couldn't normally afford to visit the museum, have an opportunity to access our educational programs and our STEM workshop, 'Be A Maker'," says Kristen Adams, chief advancement officer at Betty Brinn Children's Museum. "We believe that there is a direct correlation between childhood experiences and the ability to do well in school and in life. If kids don't go into higher education, they can't get a job. It all starts with early learning."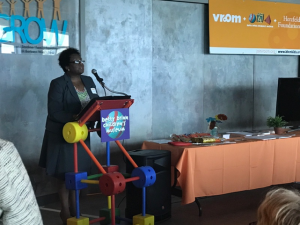 An introduction video to Vroom was shown to learn about the mission of the tool and visualize the impact of using the free app daily.
Remarks were made by the President of the Herzfeld Foundation, Bill Haberman, the Senior Advisor to the Mayor of the City of Milwaukee, Myra Edwards, and Betty Brinn Children's Museum Director of Community Engagement and Outreach, Synovia Moss, echoing the importance of early childhood learning from birth through age five.
Representatives from community partners of Betty Brinn Children's Museum (A-LEGO, Allergy & Asthma Centers SC, Malaika Early Learning Center, Milwaukee Art Museum, Milwaukee Police Department, Milwaukee Public Library and Milwaukee Public Schools) showed support of the launch by pledging to promote Vroom and its mission within their facilities.
Vroom's mission is to nurture the relationship between the parent and the child through early learning development. The Vroom app allows users to enter a child's name and age to tailor activities for their brain development.
Throughout the museum floor, guests could visit facilitated Vroom stations for information pamphlets and test out some of the features of the Daily Vroom app.
On the third floor in the BBCM theater, the Vroom Activity Station along with COA Youth and Family Centers gave eligible parents a free kit that included an infant bed (baby sleeping box) and infant care items such as diapers, onesies and breastfeeding items.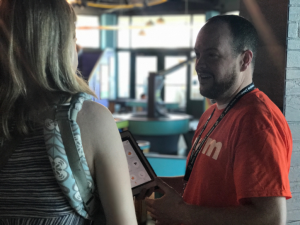 Guests could also visit some of the information booths of the community partners and receive free stuffed animals, illustrated children books and other promotional items.
The 'Be A Maker' workshop, which is an ongoing workshop at the monthly Neighborhood Nights, gave children the opportunity to experiment with soap bubbles and various color dyes to create unique patterns and shapes.
Families could attend an hour-long story time with the Milwaukee Public Library and enjoy cookies during the reading.
Betty Brinn Children's Museum Neighborhood Night seeks to prepare all kids for workforce entry by building communication skills needed to excel in any professional environment. One of the hands-on stations the museum features resemble up-to-date T.V. news stations with control panels, cameras and green screens.
A Milwaukee resident, and mother of eight children, attends the free Neighborhood Night with her family as a reward for their good behavior in school and at home.
"Everything is hands-on learning. My teenagers love the fake grocery store here. They like to go in the kitchen section and do chores. They won't even do chores at home," says Antoinette Ali.
Aside from the Neighborhood Night, parents and caretakers were intrigued by the active learning features of the Vroom app.
"I like that the Vroom app will allow me to get multiple tips for my eight children. I need fresh ideas for teaching them the purpose behind completing household chores," says Ali.
Vroom was designed based on the belief that every child should have equal opportunities for education.
"My 2-year-old son, Christopher, doesn't talk yet at school or at home. I want to use the Vroom app for tips to help him learn how to talk at a faster rate," says Yaccitany Moreno, Milwaukee Resident.
Vroom is a collaborative initiative created from research on early brain development conducted by leaders in psychology, behavioral economic parenting and early childhood development. This app allows parents and caretakers to measure a child's learning progress through brain building activities. These brain building activities are incorporated in everyday conversations, during household chores, simple art activities, and other action-based moments. Children using the app can also earn badges for completing brain building tasks. Anyone can download and use the free app and it is not limited to parents and caretakers.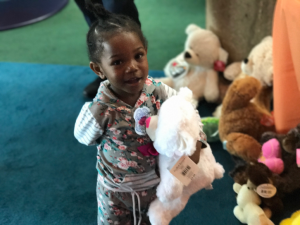 "Teachers can help parents push the concept of this app but learning starts and ends at home. Your first teacher is your parent," says Karen Wiesner Peterson, member of A-LEGO and teacher at Milwaukee Public Schools.
Librarians and day care teachers were also troubled about how detached some parents are from their child's education.
"I see kids coming to school all the time with deficiencies because they aren't stimulated at home," says Mildred McDowell, librarian at Milwaukee Public Library. "Parents need to actively read at home. If kids get behind in their reading comprehension skills now, it's hard to get them back on track. If we educate the parents, we educate the whole household."