Protesters burst inside the media filing room ahead of tonight's Democratic debate, calling for an increase in the minimum wage to $15 an hour. Watch the video here and here by Media Milwaukee journalists.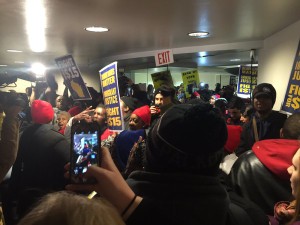 You needed a media credential to make it inside the filing center, where national and local media were typing away and doing television stand ups. That didn't stop the protesters from entering the room's front area. It wasn't long before the rush of media trying to catch the impromptu protest on camera outnumbered the protesters themselves. See a video by a Media Milwaukee reporter here.
The #FightFor15 group then shifted its rally from the press filing center to the University of Wisconsin-Milwaukee Union concourse floor, chanting, "This is what democracy looks like" accompanied by drums.
They were joined by student groups Youth Empowered in the Struggle, Students for a Democratic Society and the Milwaukee Anti-War Committee demonstrating black lives mattering and immigration rights and their rejection of hateful policies by the Democratic Party.
All groups began to chant in a "Si Se Puede" chant."