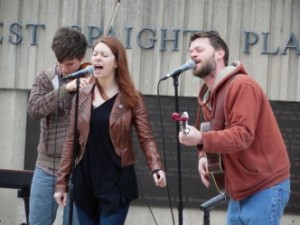 It was hard to miss Professor Martin Jack Rosenblum, with his long grey beard and Lennon-like glasses, smoking a cigarette somewhere outside the Golda Meir Library or near the Music Building. He sometimes seemed like some kind of Milwaukee rock legend before they knew who he was. He had that presence about him.
To students, who may have taken a class of his like Music 102: American Popular Music, Rosenblum could be transformative – a professor who proved a scholarly approach could be taken in discussing something with popular appeal: Rock and Roll.  In class each week, students would listen to Robert Johnson, Bob Dylan and Bruce Springsteen.
Acoustic music similarly filled UWM's Spaights Plaza April 17 in remembrance of Rosenblum and to support the Red Guitar Fund, which provides resources to UWM's Rock and Roll Certificate Program.
The benefit featured music from Grasping at Straws, Joshua Lane, and the City Pines. A diverse crowd of young and old gathered on a relatively beautiful spring day to honor Rosenblum and to enjoy the music he helped inspire.
Rosenblum, sometimes known as the "Holy Ranger" when writing Harley-Davidson poetry, died in his sleep last January. He began teaching at UWM in the late 1970s while he was finishing his doctorate in English. He founded the Rock and Roll Certificate Program in 2010. He was a poet, songwriter, recording artist, teacher, historian and rock star.
Elizabeth LaPointe and Jessicka Raygun are in the Rock and Roll Certificate Program and organized the event. LaPointe said Rosenblum's death caught everyone off guard and raised questions about what would happen next for the certificate program. Fortunately for LaPointe and Raygun, UWM faculty pooled together their resources, and rock studies will continue to push forward.
"We have very talented professors and teachers working for the Peck School of the Arts," LaPointe said. "They all stepped in and they're all taking on the Rock and Roll Certificate criteria."
Scott Emmons, Dean of the Peck School of the Arts, worked with Rosenblum for nearly 15 years. He said Rosenblum's long lasting legacy is going to be the Rock and Roll Certificate Program, which is unique to UWM. Emmons also remembers the diversity Rosenblum promoted.
"He had backgrounds that appealed to so many people professionally. He was a musician, a poet, the Harley historian," Emmons said.
Katie Salscheider of Grasping at Straws was excited to perform. She said it was a beautiful chance to honor Rosenblum's life. She values the time she spent as a student in one of Martin Jack's music classes and said his energy is living through his students.
"I became a better writer. He was really interactive with his students and I just felt so open in the class," Salscheider said.
Rosenblum's impact was far-reaching at the university. Jon Welstead, chair of the music department, said he had many conversations with Rosenblum regarding what comes next for the program. Welstead found that when Rosenblum passed, hundreds of students contacted the music department with condolences.
"The wonderful part was the integration of the cultural studies students and English students," Welstead said. "It's very eclectic, and it's all culture and society based."
For LaPointe, the event at Spaights Plaza was an opportunity to share vernacular music and learn about American history through song and narrative, while making sure the stories are not forgotten.
"We wanted to present it in here so everyone can hear it, and they can respect it and learn about it," LaPointe said. "We can always keep that tradition alive."