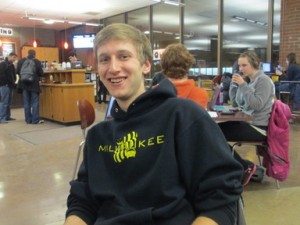 As students, when we see snow on the forecast we dread hiking around campus and pray for a snow day that probably won't come. While we anxiously scan the closings list, Director at Large Joseph Blankenheim and other members of Black Cat Ultimate head out with shovels and salt to help their friend Gayle.
Black Cat Ultimate is a competitive ultimate frisbee organization at UW-Milwaukee that has decided to give back through volunteering. Gayle Riordan is an older adult who has difficulty walking due to arthritis. Joseph and his teammates shovel her snow and even pick up her medication from the pharmacy.
"I've gotten to know her [Riordan] a little bit and she's a really nice and genuine person," said Blankenheim. "We take turns talking to her while shoveling and she always has the most interesting things to say."
Black Cat Ultimate was paired up with Gayle through the program Sno-Patrol. Sno-Patrol helps students adopt an older adult's home to shovel in the winter through UW-Milwaukee's Center for Community-Based Learning, Leadership, & Research and Interfaith Older Adult Programs. Sno-patrol has been around for a few years, but wasn't promoted last year because of the mild winter. This year, Milwaukee has received an ample amount of snowfall and now the program could use volunteers.
The Center's Graduate Assistant Nicky Glaser said, "We get a few really passionate and eager students that turn out and want to help every year, but we can always use more volunteers for this program."The Center welcomes group volunteers like the Black Cat Ultimate team, but individuals are just as good.
This is Black Cat Ultimate's first year volunteering with the Sno-Patrol program because they committed themselves to at least five hours of community service before their spring break trip to Texas. Blankenheim said, "Whenever it snows, day or night, Gayle will give me a call and I'll post on our facebook page and whoever is available will go shovel or help her in any way we can."
Riordan has lived in the UWM area for 30 years and has had to adapt from living among other homeowners to the increased amount of student renters. With no children and arthritis that limits her mobility, Riordan relies on the Black Cat Ultimate team to help get her through the winter.
"I am so appreciative to Joe and his friends. There so kind and they even do other little favors for me," said Riordan. "I just give them a call and they show up promptly. It's outstanding."
The Center along with Interfaith coordinates many other programs for seniors including the Good Neighbor Project, the RAK-athon, the Adopt a Grandparent Program, and Hunger Clean-Up.
"It's rewarding to donate time helping others and it's something I personally value," said Blankenheim. "I'm happy my group wanted to volunteer as well."
If you or someone you know wants to donate time stop by The Center located in Union WG28 and check out the many volunteer opportunities.