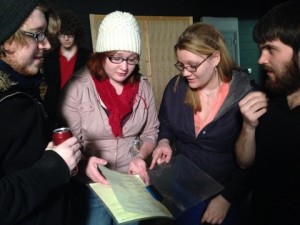 In the spring of 2008, University of Wisconsin-Milwaukee students Jon Bell, Alex Brucker, Anthony Gagnon, and Michael Kubaszak started Production Club, an organization that focuses on the technical aspects of filmmaking. The founders formed the organization to meet fellow students to recreate scenes with the knowledge they've learned through UWM's film program.
The organization transitioned its focus from recreating scenes to developing short films, giving students a chance to gain technical and professional experience on a film set.
Production Club meets every Wednesday in the basement of UWM's Mitchell Hall. On Wednesday, Nov. 6 students watched the mysterious sci-fi short film titled Gears, the first produced by the club during the 2012 spring semester.
After months of work, students watched the film on the big screen when it premiered at the 2012 Milwaukee Film Festival. The film was showcased during the well-received Milwaukee Show.
UWM senior and officer Jake Mizener was one of the students who worked on set. He, along with the other students involved in making the film become a reality, did not know what to expect at the premiere.
"Being low on the totem pole of filmmakers during that shoot, we didn't know how it was going to turn out," Mizener said. "But seeing it on the big screen in front of a packed audience was a big thrill."
Gears has made its way to nearly 10 film festivals including the Wildwood Film Festival in Appleton, the Green Bay Film Festival, and the Wisconsin Film Festival, where it won the Golden Badger Award.
UWM junior Aleena Luisier, along with the other current officers, worked and learned together with a crew of nearly 50 students.
"It was super valuable, especially as a freshman," Luisier said. "It was really fun getting to see how an actual big crew gets to work together instead of a five-person crew for a student project."
Production Club aims to produce one short film each year. Mizener said that the club accepts screenplays written by students to consider for the following school year's project. Once a screenplay is chosen, students are interviewed for specific crew positions. Members are split into committees to work together to make sure the process runs as smoothly as possible.
A screenplay titled Silent Faces by UWM alumni Matthew Balz was chosen and was produced into a short film in the spring of 2012. The film tells the story of a young, introverted photographer named Margaret who takes pictures of strangers and places them on mannequins.
UWM senior and officer Daniel Greinke said that the grant committee didn't allow the organization to use the fall's semester grant for the following spring semester, forcing the officers and crew to work with a smaller budget and less professional equipment.
The students overcame the challenges by borrowing equipment and building sets so that the film could turn out as envisioned. Silent Faces will premiere at the 2014 Beloit International Film Festival.
The organization will have a larger budget and story for their next film titled Space Cadets, written by UWM senior Thomas Sorensen.
"It's a coming of age story for those who should've come to age a long time ago," Sorensen said.
The story centers on a man who dreams of becoming an astronaut so he plans to go on his own space adventure with the help from a unique band of misfits. Sorensen said that he wanted to tell a story to make people feel comfortable about following their dreams.
Luisier said that the well-developed characters drew herself and other officers to Sorensen's script. They saw the script as an opportunity to expand and to try something new. The officers have been helping Sorensen develop the script since summer.
"There's a lot of heart in Tom's script," Mizener said, praising his hard work. "Knowing that we can get in a room with Tom and hammer out the script that could be something really heartfelt and sweet."
Space Cadets begins filming next March under the direction of UWM senior Colin Perkins who has plans to create a sense of sci-fi wonder in the film.
The officers believe that the Production Club plays an important role in making UWM's film department more rounded by offering students practical and professional experience.
UWM junior and officer Katelyn Schulfer said the overall goal of the organization is to have students collaborate whether its on set or off.
"I think, ultimately, filmmaking is a collaborative field, getting people to realize that you have to network, you have to work with people and this is a great way to learn how," Schulfer said.