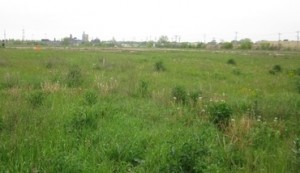 The year is 1962. The city of West Allis, southwest of Milwaukee, is a thriving municipality. The population is growing each year. In 1950 the population of West Allis was  just over 40,000. By 1960, nearly 70,000 people lived there. Jobs are plentiful and West Allis is one of Wisconsin's premiere industrial producers.
Fast-forward 50 years. The year is 2012. Factories that once employed hundreds have long since been shut down. Population has been on a steady decline since 1970. Unemployment is 7.6%. The Pressed Steel Company, once one of the nations largest producers of steel, has long since left town. The Allis Chalmers Manufacturing Company, the business that over a century ago kicked off the boom of industrialism in West Allis, closed it's last office in West Allis 13 years ago.
What happened?
Some say taxes are too high, others say the decline of manufacturing is to blame. Point is, it looks bad. However, there are those, specifically within the West Allis city government, who would rather say that the city is a progressive one.
"Progressive" is not a word that is often associated with West Allis, a suburb of Milwaukee known for manufacturing, or at least historically is. But there are a number of progressive ideas on the table for development.
West Allis is becoming a popular community for development and much of that has to do with the city's location.
"We are 15 minutes from everywhere" says John Stibal, the Chairman of West Allis community development." For those who are coming from Milwaukee and don't want to go to far out into the suburban areas, West Allis is a perfect spot. For those who are coming from the suburban areas and want to experience the city life without actually entering Milwaukee, West Allis is a perfect spot for them.
"I think it is a continuation of change that started maybe ten, twenty year ago" says Dan Devine, Mayor of West Allis. "The direction the city is going is to try to broaden it's base. You don't want to have all of your eggs in one basket. We saw what happened when we had so much invested in manufacturing and then manufacturing took a spill and we saw the impact that had on West Allis".
Manufacturing has been the backbone of West Allis since the early 20th century. On November 25th, 1900, Charles Allis of the Edward P. Allis company, which would later change it's name to the Allis Chalmers Manufacturing Company, purchased 100 acres of land near 70th Street and Greenfield Avenue from Stutley I. Henderson, a family of original settlers. By 1902 the factory was in operation. This was around the same time that other manufacturing companies began to move into the area. Two notable ones were the Fred Prescott Company and the Rosenthal Corn Husker Company.
For seven-plus decades manufacturing was the thriving backbone of the city. Things began to change in the 1980's when the city experienced a hard recession and many manufacturing plants began to close up shop. The Allis Chalmers Company stopped all production by the end of the decade. By the early 2000's the once thriving manufacturing industry was anything but. As the first decade of the 21st century came to a close, things began to change. West Allis began to get serious about redevelopment of many of these old manufacturing sites. One of these developers is James Tarantino.
"We have had a relationship with Community Care for a number of years, and they have an interest in building a continuing care community" says Tarantino. We went through a land search, looked at about 50 plus sites, narrowed our search to this area, this corridor, and this land surfaced as a possibility with the city."
Tarantino is referring to the Six Points/Farmers Market area at 66th and Greenfield. This land once belonged to the Pressed Steel Company, which was once one of the largest producers of steel in America. Once construction is completed, Community Care, a large non-profit organization dedicated to assisted living care centers, will set up shop. Those who work within the West Allis city government have high praise for Tarantino.
"In a sense when it comes to redevelopment, our community is really at the forefront, wanting to redevelop, change things in our city, and have a really good image in the Metro-Milwaukee area," said Patrick Schloss, City of West Allis Community Development Manager. "Our reputation is that we cant get a development done. James Tarantino believes that West Allis is a progressive city, which is why he is so interested in our developmental sites."
Other projects are in the works as well. A 1.5 acre site on 76th and West Hicks Street, formerly a commercial dry cleaning business, has been cleaned up and is being marketed to developers. A site near 113th Street and Greenfield Avenue, once the location of the Home Juice Redevelopment area, will soon marketed to developers. A site at 65th Street and West Beecher Place, once the location of the Yellow Freight Truck Terminal, also will be offered soon.
The city can offer incentives, tax credits, and other economic packages to spur development, but at the end of the day, there is no guarantee that this will revive West Allis again. The socioeconomic problems that have plagued Milwaukee for decades are starting to spill over into the two communities to the west- Wauwatosa and West Allis. If people don't feel comfortable living in an area, it will not matter how much is done to revive it.