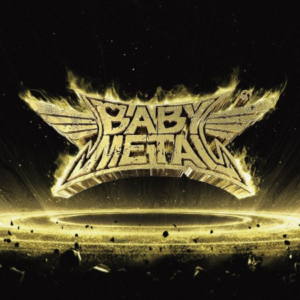 BABYMETAL's sophomore album, Metal Resistance, was released this past April 1, 2016 but it sure wasn't a joke. I haven't stopped listening to it yet. If you are unfamiliar with BABYMETAL, they are a fusion of slamming heavy metal and Japanese idol music.  It is an unlikely combination that is easy to fall in love with. While the three girls, Suzuka Nakamoto "Su-Metal", Yui Muzino "Yuimetal", and Moa Kikuchi "Moametal" are still teenagers, they've made quite a worldwide impact. They all contribute to vocals while being backed up by their band.
If you look up this album on YouTube, you'll be likely to find two things: comments of adoration for its unique style and comments of hate for its unique style. Those who post hate comments are just resistant to change and claim that it isn't real metal. While it is definitely not a traditional metal album, it is definitely not a traditional J-pop album either. It is the best of both worlds.
The album kicks off with "Road to Resistance", the perfect melodic introduction to the rest of the album. It's then followed by "Karate", the debut single from Metal Resistance. This song starts with a djenty riff (Djent is an onomatopoeia for the high-gain, palm-muted sound the guitar makes that was created by Meshuggah and then was later popularized by Periphery's "Icarus Lives") and then comes the unexpected vocals of a Japanese pop star. The first time I heard BABYMETAL I was taken aback, but stuck around in fascination, and this song is a great introduction to the band.
They carry this tone throughout the rest of the album and even incorporate some surprises later on as well. In the song "Tales of the Destinies" there is a heavy electronic sound which almost alludes to a video game soundtrack. A bit further in the same song, there's even some piano which sounds like a 1920s-ragtime bit.
The production value and overall musicianship has improved from their first album, self-titled BABYMETAL, as well. Everything is crisper, the guitars shred more and the drums beat even harder.
This album delivers an experience unlike any other metal album I've listened to before. While the only exposure I've had to Japanese pop has been through the introductions of anime, BABYMETAL is even catchier than those. Metal Resistance does not disappoint if you keep an open mind and are willing to accept something that is a little obscure.
Favorite Songs: Tie between Awadama Fever and Yava!