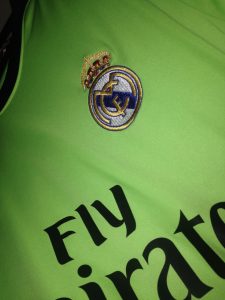 El Clasico is perhaps the biggest game in football. People all over the globe stop and turn their attention to the screen when Real Madrid and Barcelona show down in any match they play. Despite being one of the biggest games in all of football, this year's El Clasico doesn't have the feel of a Clasico.
Barcelona sit atop La Liga Santander with 42 points. Almost halfway through the season, the Catalan side has netted a league leading 42 goals conceding only seven.  With 13 wins, three draws and not a loss to their name they really look to be running away with the league. Atletico Madrid is in second place, six points off and are the only other club without a loss. Valencia are in third place with 34 points and Real Madrid are in the last Champion's League spot in fourth place with 31 points. Despite being very close to second place the gap between first and second is one that is seemingly harder and harder to close in on. If Barcelona win the Clasico, they will have handled one of the biggest tests for their title winning campaign and will widen the gap between Real Madrid even more. This Clasico having a more favorable outcome for Barcelona win or lose takes away from the magic we associate with the clash of the Spanish giants. Real Madrid has all to fight for and Barcelona can play to get the draw and secure a more firm grasp on the title.
While the optimistic Madridista will look to the game in hand we have over Barcelona to be a saving grace I feel it will not be sufficient to save us. Even if Real Madrid wins the Clasico, they would be on 34 points with 16 matches played, Barcelona would be on 42 points with 17 matches played. Real would have 22 matches left to play and Barcelona 21. While I think Real Madrid could win all of the remaining games if they win the Clasico, the title does not just depend on that, it also depends on Barcelona losing an 11 point lead over Real Madrid. I do not see that happening, as a Madridista I expect  my club to show no mercy, and to play to win and play smart. I expect Barcelona to not mess up because I know if the roles were reversed Real Madrid would be gunning for the title.
Another reason this year's Clasico will be a little different is because of the spectacular result we saw in last years dream finish by Lionel Messi to win the match in stoppage time. The match broke the hearts of Madridistas and showed why Barca fans love the diminutive Argentine legend that is Lionel Messi. It had all the reasons we love the game. The depression, the joy, the heartbreak and the euphoria (not necessarily in that order) are some of the reasons we love a great Clasico. To have a Clasico like that doesn't leave me expecting a game of such epic proportions, but it is a very hard act to follow. Even though Real Madrid lost the previous Clasico, it was honestly one of my favorites because I felt a combination of everything I ever felt in any soccer match in all my life watching Real Madrid vs. Barcelona. And I still had hope.
To be sure a Clasico is a Clasico and is still something wondrous to behold. The best teams, with the best players, doing their best for their badge is not something we see everyday. I expect to see an intense tactical as well as physical battle. I expect things to get a little heated. I expect (guarantee) that Sergio Ramos will get a booking.  The difference with this Clasico is I'm not as optimistic, I know we have a huge uphill battle and waiting at the top of the hill is one of the best clubs in the world. I have pride and faith in my team, but I am hoping for the best but expecting the worst.
This year's El Clasico doesn't have the same feel of a Clasico, but you can bet that I will stand by my club. Hasta el final vamos Real!