Kylie Cosmetics' makeup brushes discredit her attempts at being an entrepreneur in the beauty industry because the price of her brushes is not suitable for her fan-base, and she continues to make false claims about the quality of the products in her cosmetic line.
Amidst the recent controversy around Kylie Jenner's "inclusive" concealer shades, her new $360 lavish limited time makeup brushes have shocked fans and critics. Despite Kylie's claims that the use of real natural-hair instead of synthetic-hair accounts for the high price, consumers and beauty gurus insist that the performance and quality of the brushes are not worth the price. Traditionally, makeup brushes with natural-hair are carefully crafted, durable and often perform better with more use. Natural-hair brushes are assembled from various animal hairs which makes its hairs easy to manipulate. Natural-hair brushes are great for blending powders and eyeshadows because they pick up a lot of product with one swipe. However, they are known to have a shorter life span because they are harder to clean and tend to be permeable, causing it to absorb more chemicals from the makeup. Synthetic brushes are affordable, cruelty-free, man-made to mimic the texture and appearance of natural hair and easier to clean. Synthetic brushes are often made of synthetic hair-friendly polymers and nylon. However, cheap synthetic-hair brushes can make it difficult to thoroughly blend powders well.
Kylie Jenner responded to the backlash by comparing her natural-hair brushes to other quality established brand's brush lines.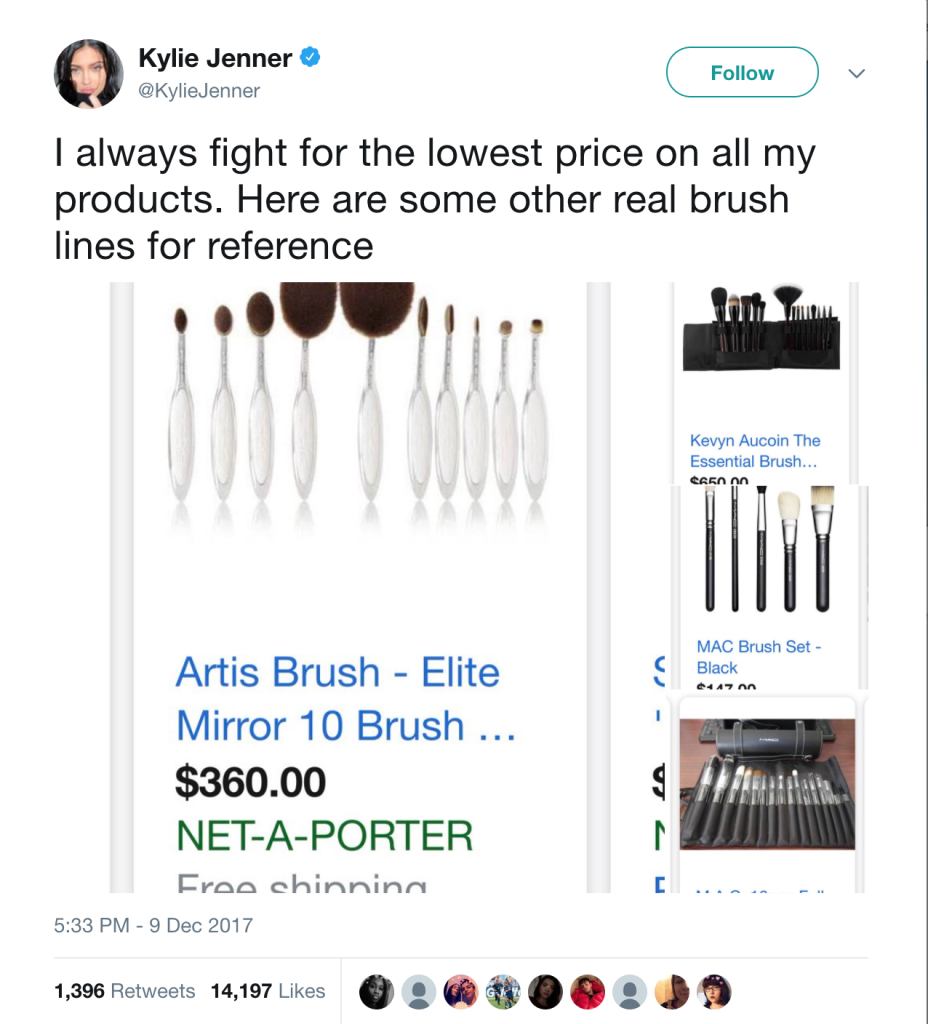 Seriously, Kylie? You want to compare your cheap dollar store style brushes to Kevin Aucoin? I commend her on her confidence in these expensive brushes but she has to admit that they do not compare to Kevin Aucoin's quality brand or products. Kevin Aucoin is an award-winning author and makeup artist from the '80's into the early 2000's. Kylie Jenner is a new creator in this beauty industry, she has a long way to go to earn bragging rights. Instead of learning from the failure of her older sister's beauty line, KKW Beauty, Kylie continues to prove that she is not ready to run a cosmetics line.
She mentions how she fought so hard to make these affordable and quality natural-hair brushes but the iridescent silver plastic brush case looks cheap and poorly manufactured. If she played this huge role in creating the brushes, why didn't she take the time to simply improve the quality of the brush case? Is Kylie Jenner lying about creating Kylie Cosmetics products? I think that she only promotes these products after they are already manufactured and ready to post on Instagram.
Despite her gracious PR packages to beauty influencers on YouTube, some gurus were brutally honest about the natural-hair brushes.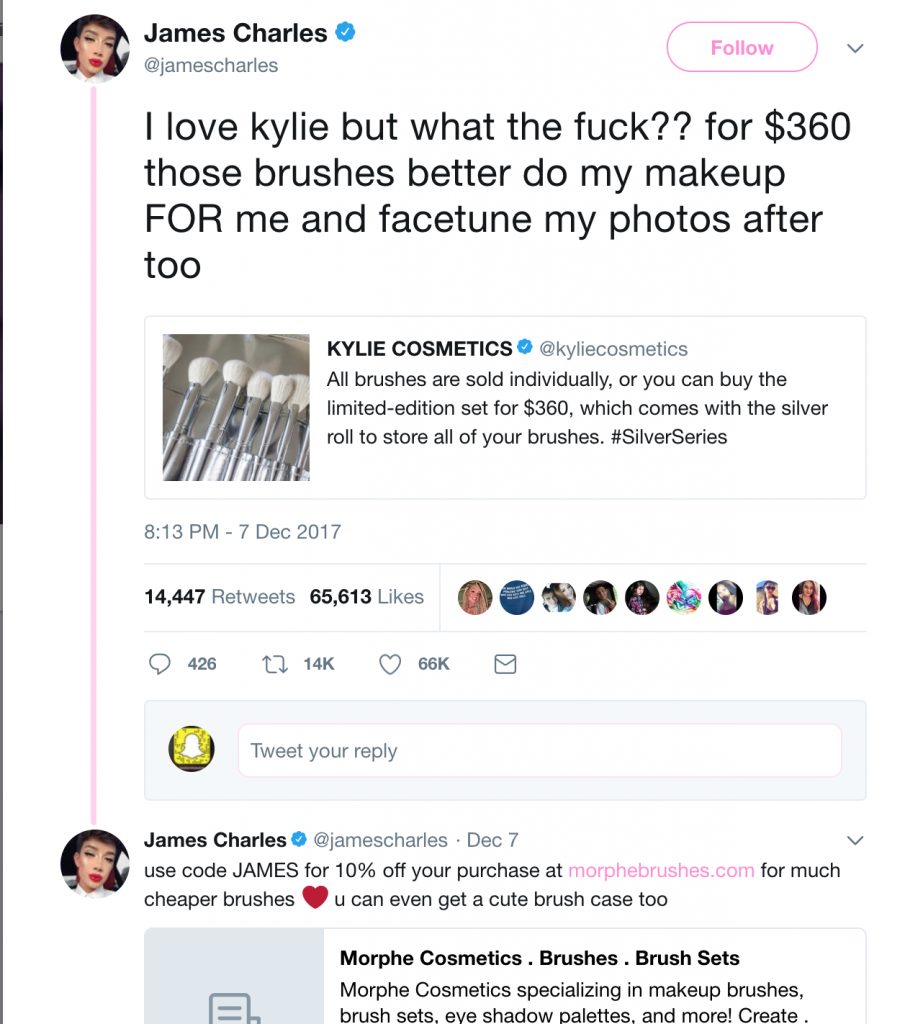 Beauty fraud and CoverBoy, James Charles took to Twitter to complain about the price of the brushes and later posted a video on YouTube expressing similar concerns. Oher beauty influencers such as Manny Mua, Laura Lee and MakeupShayla posted honest reviews on the brush set, confirming fans doubts about the quality, application and durability of the brushes. Will their harsh reviews on Kylie Cosmetics new brush set, get them kicked off of her PR list? Maybe.
Even though Kylie Jenner is young, she is not an innocent and naïve girl. She comes from a family of manipulators and opportunist. The fact that her limited time 16-piece brush set is over-priced, is expected. To be sure, there are other affordable synthetic brush sets from well established brands such as BH Cosmetics, Real Techniques and ELF Cosmetics that people can purchase. However, considering that Kylie's fan-base mainly consists on tweens and teens, charging $18-$30 per brush is outrageous. If Kylie used some of the proceeds from the sales of each brush set to a charity or non-profit organization, more people would accept its high price.

Kylie promises disappointed fans that she'll lower the quality of her next brush set to make them more affordable. However, if reviews suggest that these expensive natural-hair brushes fail to apply a simple makeup routine, how the synthetic brushes perform?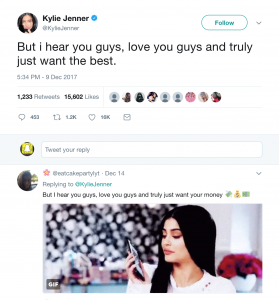 How many times are we going to forgive Kylie Jenner for releasing a product without properly developing it first. First, we forgave her for the horrific brushes in the Kylie Lip Kits. Then we forgave her for essentially copying ColourPop shades in her Kylie Lip Kits. After she "fixed" the brushes, we forgave her for the bland shades in her lipstick collaboration with Kim Kardashian-West. Now she decides to release an expensive natural-hair brush set without documenting how she created the brushes, without a tutorial of her using the "quality" brushes and claps back at fans by comparing them to MAC, Kevin Aucoin and Artisan brushes. I want Kylie Jenner to be honest about her role at Kylie Cosmetics. Is she as hands-on, as she claims on Twitter? I will not be purchasing Kylie Cosmetics limited time brushes because I can't afford them and I do not believe that they are made from 100% natural-hair.
Kylie Cosmetics new brush set tarnishes her short-lived career as a tycoon in the beauty industry because her prices are not catered to the income of her fan-base and she continues to exaggerate the quality of her products.