The Swedish duo Klara and Johanna Soderberg are also known as First Aid Kit. These sisters from Stockholm are celebrated for haunting melodies and beautiful harmonies. The music can make you can visualize the women strolling through a foggy forest or waiting near the sea for someone to come back who has been lost. The Big Black and the Blue was their first album produced in a professional studio and doesn't disappoint. It was recorded in 2008-2009 at Cellar Door studios when Klara had just finished high school. The album was released in February, 2010. Their music is a cross between folk, acoustic and country genres. It is hard to believe that this album was recorded and produced while these women were still in their teens because the music is sophisticated and intense.

The album has an uplifting quality even in its dark moments. Klara and Johanna play a variety of instruments and come from a background steeped in music. The duo's father is a well- known musician in Sweden from the band Lolita Pop, who incidentally produced the album. This album is my personal favorite of the three that the sisters currently have released. This album was the one that would start their catapult to fame. The lyrics are well thought-out and powerful. The record is written entirely by them. The lyrics suggest the heaviness of a break-up. For listeners who are more attracted to the music than the lyrics; these girls will take you to heaven and back. Klara is the stronger of the two vocalists and plays guitar. Johanna plays the keyboard, auto-harp and provides vocals. When these two harmonize it is like being transported out of your body into a mystical place somewhere else in your mind.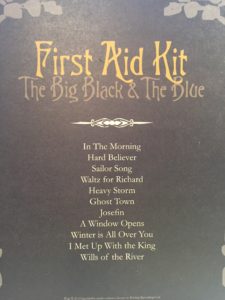 The amount of great songs on this record makes it difficult to choose a favorite. I do lean towards Josefin and Heavy Storm, the lyrics and the harmonies make me wish I could sing outside of the shower. If you get the chance to see them live it is even more transcendent because their vocals are more solid than any other band I've seen live. You'd be lucky to hear the tracks on this album while they are on tour now that they are on their third album. They are not Wichita's label as of now they are with Columbia, which is another reason I love this record. I find their contract with Columbia has made them change their style and I appreciate the rawness of this album. I have an affinity for new bands and tend not to listen to them for too long after they become famous. The women are platinum recording artists in the UK and Sweden. America hasn't caught on just yet. Their influences include the likes of Emmy Lou Harris, Graham Nash, and Johnny and June Carter Cash. The list is long. Their name—First Aid Kit—suggests how this album will make you feel if you are broken and in need of repair. I completely disclose that I am a fan. If you are an admirer of words and melodies they are worth a listen.