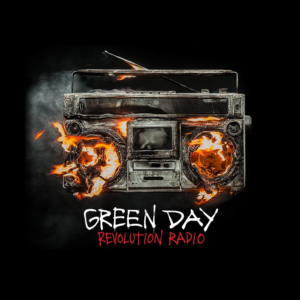 It's been four years since Green Day released a full album but their newest endeavor, Revolution Radio, comes out in all of its 1990's-esque, fist-in-the-air, mosh-pitting, strain-your-vocal-chords, shouting, punk rock glory, proving the band still has "it." The entire album provides the perfect soundtrack for either smashing your cheating boyfriend's things or running a lengthy marathon to, injecting each song with a dose of punk rock medicine that the current music scene has been desperately craving.
Between Mike Dirnt's dizzying electric guitar riffs, Tre Cool's bombarding drum beats, and salutes shouted out by none other than the vibrant and colorful character front man, Billie Joe Armstrong, to the band's loyal angst-filled followers, this album is an adrenaline pumping, chest pounding, take-no-prisoners set.
Album highlights include "Bang Bang" with its fast, unrelenting riffs and sharp, piercing percussion, "Bouncing Off the Walls," which is sure to cause a few broken lamps at house parties, and "Troubled Times" which is the ultimate compliment to the album, solidifying the band's place in the punk rock genre. What is so impressive about Green Day is their ability to take messy, often confusing harmonies and sounds and making them work even though they shouldn't make sense; they do especially on this album.
The band has not only stayed true to their aggressive sound but has also made sure to carry on their history of tongue-in-pierced cheek humor that is familiar to fans with lines such as: "Are you restless? She said: 'F*ck, I'm from Oakland!'" Although much of the writing for their songs aren't going to win any poetry prizes with lines such as: "Daddy's little psycho, mommy's little soldier," that is not their intent. Their goal is to provide simple, no B.S. lyrics that audiences can shout out to, further showcasing their devil-may-care, rebellious attitude that they are so well known for.
Much of the songs are reminiscent of early Billy Talent, Sum 41 and Blink 182 albums. They also play with new sounds such as in "Say Goodbye" which one can envision a football team getting pumped up in the locker room to, demonstrating similar drumbeats of a well-known marching band song called Rock and Roll Part 2 by Gary Glitter. The band decides to wind the album down with an unexpected country inspired song on the last track "Ordinary World" further indicating the bands' exploration with sound on this album.
Overall, the band toys with new sounds while staying true to their punk rock roots with a purpose to make sure that listeners get rowdy and there is a strong potential for the band to inspire crowds to do just that at music concerts across the country.