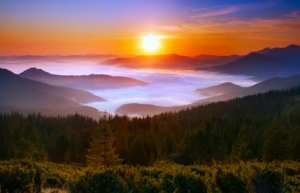 The 2016 Presidential Election seemed like a nightmare that would never end. There was constant banter between candidates (some more mature than others), crazy accusations being made and overall, nonstop conversation about Donald Trump versus Hillary Clinton. It felt like it was an unavoidable topic that came up on every TV station that you turned on, every website that you visited and every social interaction that you encountered. As a person who is not usually consumed with the world of politics, it got to the point where it seemed like there was nowhere to hide from this stress-filled, country-separating, media monster. Until I heard about The Weather Channel.
Full discretion: I understand the importance of this election and believe that it is our civil duty to be involved with who is going to be running our country, but the thought of seeing one more political ad or listening to one more person try sway me in their direction made my head throb. It was Election Day and it felt like everyone was yelling at each other whether I was in school, watching TV, or even talking on the phone with my parents. As I made my way through the day, the stress continued building up. I heard more and more reports about voting, predictions and why Hillary Clinton was terrible and why Donald Trump was terrible, until a little diamond appeared in the rough. I remembered The Weather Channel was running a special called Escape the Election. This genius creation was The Weather Channel airing peaceful, relaxing, scenery with light jazz music throughout the majority of the Election Day process. Between 2 o'clock in the afternoon and 11 o'clock at night, The Weather Channel may have been single-handedly responsible for preventing people from having panic attacks over the election.
When I turned the station on around 4 o'clock I was immediately greeted with the visuals of a man canoeing through a very clear body of water in a valley full of beautiful autumn colored trees. The camera followed the man slowly from above while the soft sounds of a piano were the only resonances coming from the speakers. The scenic adventure continued as different, awe-inspiring scenic videos filled the screen.An array of settings from beautiful clouds in a blue sky to stunning autumn changes encapsulated audiences and truly relieved stress. The only interruptions in the nine hours of serenity were a few commercials and local forecasts on the 8's.
This installation of peace was a true gift to those like me who needed a break from the constant mayhem of Election Day. This was the inaugural year for The Weather Channel's special, and in my opinion, it was very effective. It was the polar opposite of what every other TV station was doing and maybe exactly what everyone needed to do. Relax.