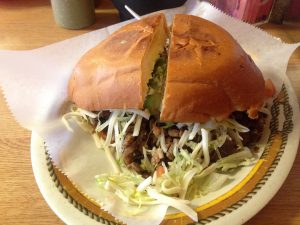 SERVICE-5       SETTING-5       FOOD-5           VALUE-5 OVERALL-5
Cuisine type: Mexican
Price per entrée: $2.95-$11.75
Attire: CASUAL
Reservations: Not needed
Payment: CREDIT CARDS ACCEPTED
Restaurant name: El Cabrito
Restaurant address: 1100 South 11 St, Milwaukee 53204
(414)-385-900
Saturday 7AM-11PM rest of week 7AM-10PM
"El cabrito" translated in to English means "the goat." The Mexican restaurant El Cabrito is so named because the restaurant specializes in birria de chivo, a type of spicy stew made from goat meat that originated in the Mexican state of Jalisco. The story of El Cabrito is quite simple, a man from Jalisco, Mexico moved to Milwaukee and noticed there were no restaurants that specialized in the Jalisciense dish. Wishing to offer an authentic version of a hometown favorite, he opened El Cabrito in 2000.
El Cabrito has the best Mexican food in Milwaukee and I find it no coincidence that G.O.A.T is often used as an acronym for greatest of all time. El Cabrito is located in Milwaukee's south side, it lies just off the beaten path on the corner of 11 and Washington a few blocks south of National Ave.
I walked into El Cabrito on a late Monday morning in early December and noted wreathes and lights that gave the building the Christmas spirit. The textured ceiling is painted sky blue and fluffy clouds are spread out in what would be a beautiful day if the sky could somehow mimic the paint. El Cabrito is always clean thanks to the wonderfully smelling Fabuloso cleaner that they use to mop the floors. A staple in many Mexican homes, the use of really adds to the home-cooked feel of the restaurant. The two televisions exclusively show Univision whenever they are on. Sometimes you catch a thrilling soccer match. Sometimes it's the noticias, keeping you informed on what's going on. Sometimes (and the best times) you watch the novelas and the overly-dramatic performances that come with. The large portrait of Jesus by the cash register and poster of Our Lady of Guadalupe down the hall emphasize the strong religious beliefs many Mexicans have. The various tables (booth style and standard) are neatly kept with table numbers on the napkin dispenser at each table distinguishing one from the other. The atmosphere is comfortable and employees take pride in their job making for a great experience.
When you walk in to El Cabrito you can just have a seat at any open table and within a few minutes someone will greet you and supply you with a menu and then chips, salsa, one red and one green and pickled vegetable medley of carrot, jalapeno, cauliflower and onion. For me, the true way to see if a Mexican restaurant is up to the task is by testing trying the torta de asada or steak sandwich. I gently perused the menu featuring Mexican staples like: burritos, tostadas, cordites, menudo, enchiladas, fajitas, of course birria de chivo and just about any other food you have had at any other Mexican restaurant.
I was sitting at my table watching the novela that was on the TV and before I could even get an idea of what was going on my food had arrived. I barely snacked on my chips and salsa. The chips are made fresh in house. They have a nice corny taste to them and a nice crunchy texture. The salsa is a good consistency and has a slight amount of heat. Despite me not eating much before I got my food it is pretty hard to keep your hands off of the chips and salsa.
The torta was a good size, presentation was nice, a little excess steak and cheese coming from where it is sliced in half encourages you to take a bite. Now there are three aspects of a good torta: the bread, the meat and the sauce. If these three are executed, the restaurant is good by me. Auxiliary ingredients like cheese, frijoles (refried beans), lettuce, tomato, and avocado can help or hinder a torta, but they aren't necessarily make or break as the big three. A good bread, meat and sauce can overpower weak auxiliary ingredients. I squirted some red sauce generously over the two halves and got to work. The bread was thrown on the griddle briefly to get the edges a little toasted and get the outside crispier, basically the best way to get the bread. The meat was finely chopped and a generous amount was charred close to perfection. The meat is slightly juicy and can sometimes leave a piece of bread soggy if not eaten quickly (not a problem for me). The red sauce combines with everything to give the perfect amount of heat and a slight smoky taste brings everything together magically. At $5.50 it truly is a bargain as it can be great fresh or make a meal if you get a box. The premium torta was proof as to why El Cabrito has the best Mexican food in Milwaukee.
For my beverage I decided on a Mexican classic, horchata. Made with rice, and cinnamon it is a uniquely refreshing beverage. I went for the large and no ice so as to get as much as possible. At $3.85 it is kind of pricey for a drink but at the same time the cup they give you is pretty big. So big that the straw sticks up about a quarter of an inch above the brim of the cup. I tried once to drink with the cup on the table and I couldn't because the straw was so short. The horchata had a little too strong of a vanilla flavor and was not as watery as I like my horchata, but was okay, I would rate it 3.5 out of 5.
The meal left me absolutely full to the max and that is perhaps the only drawback of a torta is that it can be really heavy and invoke severe cases of the itis. I did need to lie down after I got home for a little while to recompose myself. Then that developed into a little nap and even after the nap I was still pretty full.
Compared to some other spots in Milwaukee like JC Kings, Arandas or Los Comales the torta at El Cabrito really covers the big three better than all others. That is not to say that some spots don't do some better than El Cabrito but El Cabrito has the highest average for all three in my opinion. El Cabrito is highly recommended for anyone who wants to experience Mexican food authentically executed for a reasonable price. And for that El Cabrito has the best Mexican food in Milwaukee.