Name: The Elder Scrolls V: Skyrim
Release Date: November 11th, 2011
Consoles: PC, Xbox 360 and PlayStation 3
Currently Remastered for: PC, Xbox One and PlayStation 4
Re-released: October 28th, 2016
Developed by: Bethesda Game Studios
Average Price: $24.99-$59.99 (used-new)

Have you ever wanted to fight dragons, kill the undead, become a vampire lord or just cruise around and complete a never-ending slew of miscellaneous quests to rack up thousands of hours of game play? Are you a "Fallout" fan, looking for a little bit more adventure than guns, ghouls and mutants and want more fantasy in your life? Then "Skyrim" is the game for you. Did I mention that it is the most incredibly immersive, awe-inspiring game I've ever played?
Set in a fantasy world 200 years after the events of "Oblivion," the game takes place in the fictional province of Skyrim, the northern realm of the continent Tamriel. The main story revolves around the player character, otherwise known as the Dragonborn, and his/her quest to defeat Alduin the World-Eater, a dragon who is hell-bent on destroying the world.
The game is similar to that of its predecessors, allowing the player to fast-travel across locations that they have discovered, completing quests and developing the miscellaneous skills of the Dragonborn. The player does not need to complete the main storyline in any timely manner either; you can postpone and/or ignore the main quest indefinitely, and focus on advancing skills or mastering the different guilds, such as the Thieves Guild (my personal favorite) or the Dark Brotherhood.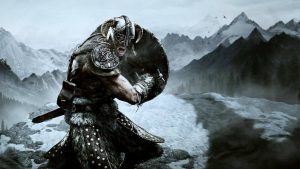 Being the Dragonborn, the character can collect "shouts," or words that the actual dragons speak to each other. These shouts help defeat foes in a variety of badass ways including draining their life force, disarming them, freezing them solid or setting them on fire, among a hundred other ones.  The main character also levels up certain skills throughout the game ranging anywhere from weaponry (one-handed, two-handed and blocking skills) and "Magicka" schools (Alteration, Illusion, Restoration, and Conjuration) to thieving, enchanting and smithing skills.
The game is literally endless, and impossible to complete all quests, given some of the radiant quests interfere with others. I've been playing the game for two years and haven't even put a dent in my open quest log. The game is a massive RPG (role-playing game), as most Bethesda games are. If you are familiar with games like "Fallout" and "Oblivion," then you are already familiar with the immense layout, and should not be surprised to find that there are plenty of technical glitches here and there throughout the game. However, I have found that the remastered version for the PS4 have cleared up a good amount of those glitches, and have only run in to one here or there – nothing that has set me back 10 levels or not allowed me to finish a quest.
As opposed to "Fallout," which takes place in a post-apocalyptic, nuclear-bomb-destroyed America, the graphics in "Skyrim" are absolutely breathtaking. Not that "Fallout" graphics weren't amazing; they absolutely were, but "Skyrim" is less nuclear-waste and destroyed cities and more beautiful mountains and green forests. "Skyrim" was praised as one of the greatest video games of all time by video game journalists, and has won 13 out of the 16 nominations for 2012 BAFTA Awards.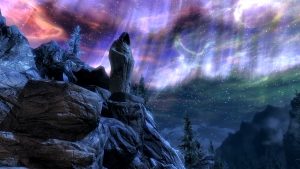 Spending nights traversing the lands of Skyrim are well worth it; at night the skies light up with Skyrim's own version of the Aurora Borealis, complete with two enormous moons and stars and nebulas lighting up the sky. During the day, depending on which part of the country you are in, the landscape is either covered by swirling white snow, white-capped mountains and frozen lakes, or dense forests teeming with wild flowers, winding rivers and abundant caves.
When it comes to a variety of leveled enemies, "Skryim" destroys the competition. Whether you are sneaking through some underground crypts teeming with undead Draugr, fighting the plethora of fire and/or ice breathing dragons, or being attacked by the incredibly powerful and ugly as f*ck Hagravens, you will never be bored. Some of the creatures are stunning as well; the conjured Flame Atronochs and mysterious Tree Spriggans are some of the most beautifully crafted characters I've ever seen in a video game.
Having grown up playing games like "Zelda" on the Nintendo 64, I've always been an enormous fan of huge RPG games like "Skyrim." "Zelda" (my favorite game before Skyrim came along) practically set the scene for games like "Fallout" and "Skyrim," and basically any other Bethesda game that has ever existed. Over seven years after its releases date, Skyrim is still finding ways of staying relevant; it's just an incredible, timeless game. If you are looking for a game that will keep you occupied for the next six years of your life (while you wait for the next chapter to be released) and want to get lost in a world of ancient dragons, dark assassins and powerful mages, then "Skyrim" is the game for you.