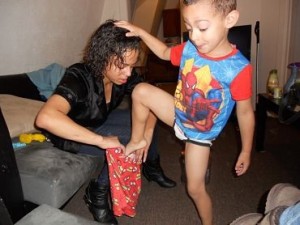 Complete coverage: multimedia website
Letriana Barrett is holding the hand of her three-year-old son Jayden. He's dressed from head to toe in a black and red ninja costume and jumping up and down in excitement.
"Spiderman!" he exclaims, pointing at another kid in a costume.
The mother and son are at a trick-or-treating event at the Milwaukee County Zoo.
The first stop for candy is in the Ape House. Letriana takes Jayden by the hand and leads him to the line. The zoo worker drops a piece of licorice into his black trick-or-treating bucket.
"Look!" Jayden says proudly as he shows off his first piece of candy.
By the end of the afternoon he has collected fourteen pieces of candy and a pair of vampire teeth. He also has two plastic molds of a lion and a bat. He has taken off half of his costume in irritation and he's dropped his vampire teeth at least eight times.
When it is time to go, Jayden sits down in the middle of the floor refusing to get up.
"I don't want to go!" he cries.
Letriana clenches her teeth and rolls her eyes as she bends down and pulls Jayden to his feet. She looks worn-out.
She's only 22 years old.
Teen Pregnancy on the Decline
The City of Milwaukee recently reported a 13.6% drop in the teen birth rate. This is the lowest the city's teen birth rate has been in decades. Still, Milwaukee has one of the highest teen birth rates in the nation.
With popular television shows like MTV's 16 & Pregnant, more people are taking notice of the struggles teen parents face. Becoming a teen parent has a significant impact on young people's lifestyles, finances and especially their educations. Only 38% of teen girls who have children before the age of 18 graduate high school. Even worse, less than two percent of young teen mothers who have a baby before the age of 18 attain a college degree by the age of 30.
Went to College Three Times
Letriana Barrett had no signs of pregnancy. She didn't get morning sickness or any crazy cravings. Still, she had a weird feeling something was different. Intuition, she called it.
Five positive pregnancy tests later, she could not deny she was pregnant.
She was 17 years old and just four months shy of high school graduation.
"I didn't know what to do at first because I wanted to go to Georgia for college," she said. "But once I found out I was pregnant, I couldn't do that."
Still, Barrett tried to continue her education. She graduated from high school and started college in the fall, the first of three attempts.
"The first time, I thought I could do it," she said. "But that didn't happen because I was huge and I ended up having Jayden earlier than expected."
The second time, she couldn't balance school, working full time at McDonalds and being a single mom. Jayden's father has been absent since he was born.
"By the time that I got home I was so exhausted with a newborn that I completely missed school," she said.
The third time she took night classes for four hours every night while her mom babysat Jayden. She ended up graduating with a medical billing and coding degree from Sanford Brown College and landed a job at Wheaton Franciscan Healthcare.
Getting an education wasn't the only struggle for Barrett. With the cost of diapers, formula and clothing, having a baby so young affected her financially as well.
"It was really, really hard on me," she said. "There were times that I would go days and week without eating and just worried about him and feeding him."
She did receive assistance from the State of Wisconsin though. She was part of a program known as WIC or Women, Infants and Children. The program helps mothers and their children afford nutritional foods. But it wasn't enough to remove the financial strain.
"I had to sell my stuff just to put food into his mouth," she said.
Two years after Jayden was born, Barrett found out she was pregnant again, but she ended up miscarrying. The baby would have been two next April.
"I think everything happens for a reason," she said. "Because I think if I would've had a kid back then, I would not have this place, I wouldn't have a car or a job. I'd probably be living with my mom still."
Barrett said teenage girls should wait until they are older to make the decision to have sex.
"I love Jayden," she said. "But if I could go back, I would do things a lot differently."
Raising Awareness
The United Way of Greater Milwaukee is a non-profit organization dedicated to reducing the teen pregnancy rate. It reaches approximately 3,000 youths with programs devised to help educate parents and teenagers on safe sex and healthy relationships.
Julie Rothwell works in the community impact division at The United Way.
"All of our messaging that we do is that it's going to be really difficult to be a teen parent and be in school," she said. "It is do-able but it's really hard."
One of the programs that The United Way started is the Healthy Girls Initiative. The program targets teen girls and teen parents to educate them about safe sex and prevention.
"I think the messaging for teen parents is really similar to that of teens who aren't parents because once a teen is a parent, they're more likely to have consecutive births as a teen," she said.
Rothwell also said shows like MTV's Sixteen & Pregnant are having an unexpected effect on teenagers. The reality show documents the lives of teen girls who become pregnant in high school and illustrates how hard it is to raise a child at such a young age.
"Research has shown us that those programs are effective in delaying sexual initiation or unprotected sex because kids are not seeing it as glamorized," she said. "They are seeing the struggles that these teen parents are going through."
The National Campaign to prevent teen and unplanned pregnancy released a study of the effects of shows like 16 & Pregnant. It found that 82% of young people who watch the show, think it helps them better understand the challenges of teen pregnancy and parenthood and how to avoid it.
Nicole Angresano is the Vice President of Community Impact for the United Way. She said there are multiple strategies to target young girls. The most influential strategy is public awareness campaigns.
"You have to raise awareness before you can change behaviors," she said.
A recent public awareness advertisement created by The United Way shows an average looking teenage boy. He's shirtless standing in the middle of the street and he has a huge pregnant belly. Plain text is laid over the photo and reads, "It shouldn't be any less disturbing when it's a girl." These advertisements are showing up on television, billboards and the radio.
"If we saw a bunch of pregnant boys walking around, we'd certainly take notice to that so we should take just as much notice to pregnant 12 or 13 year old girls," Angresano said. "It's a serious problem and we can't ignore it anymore."
The United Way has set an aggressive goal to reduce teen births by 46% by 2015.
Pregnant at Sixteen
Tiarra Haider is sixteen years old and a junior at West Allis Central High School. She found out last summer that she was pregnant.
"I was shocked and scared," she said, "but I knew right away I was going to stay in school because my mom dropped out when she had me and I didn't want to drop out too."
Her son, Luciano, is nine months old now.  She said leaving her baby while she goes to school is probably one of the hardest parts about being a teen mom.
"It's really hard when you have a baby because you want to stay with the baby but you know you have to go to school to provide for him in the future," she said.
Getting pregnant made Haider understand the importance of school and her grades have improved since becoming pregnant. Before she became pregnant, her GPA was a 1.7; by the time she had Luciano, it was a 3.7.
"When I got pregnant that's when I actually realized I needed to work on my school," she said. "Without your schoolwork and without you graduating, you're not going to get anywhere and your baby isn't going to have the life you want them to have."
It isn't that easy for Haider to go to school and provide for a baby, however, like Barrett, she also gets help from the State of Wisconsin with WIC and has help from her baby's father.
"I'm glad I got pregnant, but it's really hard to go to school and worry about what I need for the baby before worrying about myself," she said.
Haider plans on graduating high school and continuing her education. She would like to go to college for nursing but said she's scared because by then Luciano will be almost two and it'll be a lot harder.
"I don't wish I didn't have my son because he made my life better," she said. "But I don't get how some girls don't care about using protection. If they think it's fun to have a baby, then they don't understand the struggles you face."
A Happy Birthday
Letriana Barrett and her family and friends are celebrating Jayden's fourth birthday at Monkey Joe's. It's a children's place filled with games and giant yellow and blue bouncy houses.
Jayden is running around in his socks. He goes up and down the same blow up slide six times while Letriana watches from the bottom. When it's time for pizza and cake, everybody files into a private birthday room.
Letriana lights the candles on Jayden's all-chocolate birthday cake. When the lights go out, a chorus of "Happy Birthday" breaks out around the picnic tables.
Both Letriana and Jayden have the brightest smiles on their faces.
"If I didn't have Jayden, I'd be crazy," Letriana says. "He is the reason I went to college. He is the reason I am who I am today."