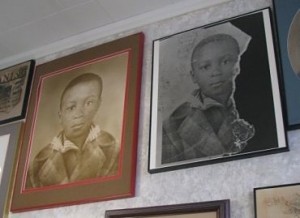 Complete coverage: multimedia website
In the large back room at B & L Photo lab, surrounded by computers and printers, Bob Pecher talked about photography as his wife Lauren discussed a photo restoration project with a customer, and the Pechers' two small dogs scampered freely around the shop.
Pecher spoke calmly and slowly, never raising his voice, as if borrowing from the pool of techniques he uses in his work: the steady hand and fluid movements of a photographer, and the precision of an editor.
Behind Pecher's head was a portrait photograph of his wife, among other framed photos hanging all over the walls. Also behind Pecher was a small television on top of a chair, playing an old black and white movie.
The movie fits the theme of the shop, which has dozens of black and white, and color, photos lining the walls in the front lobby, pieced together like a puzzle. Most of the photos are organized in pairs of "before and after" shots: before and after restoration, that is. Photographs degrade in quality over the years, and the Pechers do the work of repairing and prolonging the lives of old or damaged photos.
Storing photographs
Pecher said that in the past, photographs were frequently tossed into shoeboxes and shoved to the back of closets, or hidden among the cobwebs in the attic, to be rediscovered years later.
Photography has changed a lot since the shoebox era. Today people store photos on their phones, on memory sticks, external hard drives, Facebook, or Flickr. With new technology comes responsibility.
"You have to discipline yourself to a new way of thinking about keeping your images," Pecher said. "You can no longer rely on the fact that the negatives are going to be in a shoebox someplace and you can always sort them in the future."
He worries about the reliability of contemporary storage methods. With technology constantly growing and changing, some of these methods could be useless in ten years.
Pecher talked about how people used to go on vacation, take pictures, have their pictures developed, and stash the photos away. These days, people go on vacation, take pictures, upload their pictures to their computers (or flashcards), and that's where they sit.
"You take the flashcard and you throw it into the metaphorical shoebox," he said. "You forget about it. That flashcard sits in the shoebox for 40 years. The unfortunate thing is that 40 years from now whoever finds that flashcard is not going to be able to find out what's on it because there will be no way of retrieving the information that's stored in it."
Pecher encourages people to transfer their electronic images to new storage devices every five to seven years. He said that it is important for picture takers to avoid storing images on their main computers, or to at least have them backed up somewhere else. He also recommends storing photos on external hard drives because they are more reliable than memory sticks.
Eilene Stevens, a teacher at Germantown High School, embraces both traditional and digital photography, but realizes that neither one is perfect.
"There is something about the shoebox's charm which is lost," Stevens said, "Even when we can gather around the monitor and, thanks to Apple TV, view pictures together on the big screen."
The old shoebox storage method isn't foolproof either. Stevens had a box of old photos that were ruined in a flood.
"Photographs should be stored in a spot that is heated in the winter and cooled in the summer," said Sally Jacobs, the audio and accessioning archivist at the Wisconsin Historical Society.
Photographs should not be exposed to extreme temperature fluctuations. She recommended storing them in an interior closet or under a bed, away from radiators and heat registers.
Regardless of the storage method, photographs (especially color photos) fade over time. Pecher works to repair these tarnished keepsakes.
He and his wife Lauren opened B & L Photo Lab (3486 N. Oakland) almost 30 years ago, and offer photograph restoration and custom photo finishing services.
Pecher's mother, an avid picture taker, inspired him to pursue photography as a hobby, but he started his professional career as a studio photographer in 1970. He became interested in portrait photography and then in photo restoration. Pecher's own work has evolved along with the ever-changing photography world over the past 40 years.
Old time photography
Photography has changed, and the way people value photographs has changed. More and more people are able to easily take pictures, upload them to their computers, edit them, and publish them on a website or print them out.
"In the early days of photography," Pecher said, "People were more than photographers. They were lab technicians and chemists. You had to be everything under the sun to be able to achieve what you wanted to create."
Photographers had to mix their own chemicals to use in the developing process. They had to edit photos in the darkroom during development or after development, by hand. These days, the process is vastly different.
"Everyone with a cell phone has become a photographer," Pecher said. "Just because you have an image-making device in your hand, it does not make you a photographer."
Marc Tasman, a digital arts and culture lecturer at UW-Milwaukee, agreed.
"In a conspicuous way," he said, "we are all photographers now."
Having also studied the history of photography, Tasman described how people were once so excited to have their pictures taken, they would line up outside of the local portrait studio, waiting for their turn, "the same way people will line up for the Milwaukee Film Festival," Tasman said.
People cherished the few photos they had. In the early 1940s they would carry their portrait pictures (also known as slides) in velvet carrying cases so as not to scratch them or expose them to sunlight and other harmful elements
"Slides are like these little jewels that you'd have to take care of," Tasman said, "because they were one of a kind."
Now digital cameras allow their users to do things they were never able to do before. For photographers, the picture-taking process has totally changed.
"We see [the picture] a second later," Tasman said. "We look at, and if we don't get it right, we keep on shooting. We used to have to wait a week for pictures to come back."
The process has also changed for everyday camera users.
"I take a lot more pictures," Stevens said. "Even though I take more, I print and display far fewer."
Preserving Wisconsin's past
The Wisconsin Historical Society (WHS) has made many historical photo collections available online. In fact, the WHS has one of the largest collections in the country with nearly seventy thousand photos archived on their website.
Andy Kraushaar, the visual materials curator at the WHS, said it takes about a half hour to digitize a single photograph. Time isn't the only obstacle the WHS faces during the archiving process.
"We have a lot of images up there that the photographer didn't date," Kraushaar said.
They look for clues within the photographs to narrow the time period. Clothing, cars, street signs, paved roads, buildings, and businesses are all good indicators of specific time periods. They are also able to estimate dates by determining the type of photo they are working with. Some types last longer than others.
Pecher works extensively with Silver gelatin fiber [black and white] prints, which have a lifespan of 150 years or more. When Eastman Kodak introduced type C color print in 1970, photo preservation was put to the test. Color photos started to fade right away, and little has been done to change that since then.
There is a process called a "torture test," which is a procedure used to predict how long photographs will last. The Photographic Activity Test is a type of "torture test" that accelerates the aging process of photos. Specifically, the test uses "high pressure and heat to simulate years of chemical changes," Jacobs said. It is an expensive test that only manufacturers of photography products are able to utilize.
But there are no guarantees. Pecher said the only true test is time.
Editing with new technology
Photo editing programs have given professional photographers and casual picture takers the opportunity to do things that used to be done in the dark room. Because photography has headed so far in the digital direction, Pecher has had to adjust. In 1990, the Pechers navigated their way through their first editing program.
"You had an image," Pecher remembered. "It would be divided into six or 12 or 18 tiles. You could only work with one tile at a time, and you couldn't see the rest of the photograph."
He said the process was tedious, but the great thing about the program was that mistakes could be corrected very easily with the click of a button.
During Pecher's early days of photo restoration, he would do a lot of his work with an airbrush and a pencil. Now he is able do that same type of work on the computer. He is satisfied with that particular upgrade in technology.
"It's far superior to the old method," he said.
John Gaidosh, a professional photographer in the Milwaukee area, has also adjusted to editing programs, from the old days in the dark room. Like Pecher, he uses the computer programs to do the same type of work he would have done in the dark room.
"Photography is capturing the moment the way it is," he said, "instead of changing the moment."
He is very clear about the fact that he only uses editing programs to enhance his work. In some situations, these programs are very helpful.
For example, Gaidosh had a scheduled photo shoot with a young boy. Just before the shoot, the boy found a permanent marker in his mom's purse and was a mess by the time of the appointment. To remedy the situation Gaidosh took the pictures and later erased the permanent marker on the boy's skin with editing software.
The ability to easily edit photos isn't the only advantage of digital photography. Gaidosh recalled his experience as a studio photographer, when he was limited to taking 20 photos because that is what the studio offered for a certain price. He said that if five pictures were no good he'd only be able to give the customer 15.
These days, he can take 40 pictures, without increasing the cost. He is still only able to give the customer 20 of them, but because he has more to work with, he can deliver 20 solid photos for the customer to choose from.
Pecher has a similar view of digital photography.
"Photography is the practice of doing something that someone has already done," he said. "It hasn't changed, and it never will. Digital photography has just made it a little bit easier."