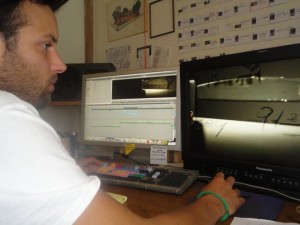 Complete coverage: multimedia web site
Shawn Monaghan stands in awe on the edge of a cornfield in Delafield. UFOs are hovering in the distance, their lights spinning and swirling against the golden carpet. A farmer runs out of the house, blasting the hovercrafts and trespassers with a shotgun. This fantastic scene, all of it, emerges right before Monaghan's eyes. The real world doesn't exist right now. This is the world inside Monaghan's mind – the psyche of a director and script writer.
That's his idea for "Invasion of Property." It's a short animated film he's working on. Aliens land in a farmer's cornfield and the farmer views the aliens as trespassers. While the farmer shoots at them, the cops try to stop the farmer, fearing his actions will ruin man's first chance to make extraterrestrial contact. The farmer keeps shooting.
"It's a concept of what people think as far as when aliens crash land and how humans can communicate with them, and they can communicate back," said Monaghan.
Then there's Chris Thompson who types, taps, whistles and edits "Jeff," a documentary about the people who were in and out of Jeffrey Dahmer's life. Thompson works at Blue Mark Films in Milwaukee's Third Ward. It's a comfy loft with couches placed throughout and cats lounging around. As the cats sleep, he works hard to beat the entry deadlines of several film festivals.
Blue Mark Films isn't his home. He lives in Riverwest, but Blue Mark Films might as well be. He's there so often some days he just shows up in sweat pants and a baggy t-shirt.
Once an intern at Blue Mark Films, Thompson now finds himself in the middle of a company that is synonymous with Milwaukee's film community. Its founder is regarded by many as the most successful director to come out of Milwaukee.
Chris Smith founded Blue Mark Films when he graduated from the University of Wisconsin – Milwaukee in 1999. He won the Grand Jury Prize at the Sundance Film Festival in 2000 for "An American Movie."
While Thompson, Smith and Monaghan are making inroads for themselves, Milwaukee's film community is still looking for its big break.
On one hand, there is Milwaukee Film, which is the face of the Milwaukee film community. The Milwaukee Film Festival's attendance rose 17% this year. Artistic and Executive Director Jonathan Jackson is proud of what the three-year-old festival is accomplishing.
"We were created with the mission of producing a world class film festival annually in Milwaukee, and working year round to develop the film culture of Milwaukee," said Jackson.
However, the cash flow situation for film isn't flowing well. Film Wisconsin handles the film tax credits for the state. This is money that can be claimed as a deduction on the filmmaker or production company's state tax returns. Wisconsin film tax credits are capped at $500,000.
Wisconsin must spread this amount among all the productions that plan to shoot in the state within a year. The Department of Tourism and Film Wisconsin are in charge of distributing this budget. Depending on how big the production is, that amount might not be very attractive.
"Do you know how fast $500,000 goes in this business?" asked Janine Rozina, President of Film Wisconsin's Board of Directors. "They (the filmmakers) put money into the state's pocket, and then the state gives a little bit back," said Rozina.
Both Jackson and Rozina agree that for film to grow and local filmmakers to succeed, the state money and support must improve.
Supporters of the Wisconsin film community point to several goals:
Raising the film tax credit
Garnishing more support and recognition for the Milwaukee Film Festival
Working with local filmmakers
Boosting its academic programs
Becoming more recognized in film festivals
The battle filmmakers face in this state is on the tip of a double-edged sword. There's little money or incentive to give to outside filmmakers, and that in turn leaves little financial backing to local filmmakers.
Where's the Money?
 It starts with Wisconsin's film tax credits, which Governor Doyle cut from $25 million to $500,000 in 2009. There used to be a 25% rebate on all film expenses. Gov. Doyle cut that as well.
Then in 2011, Governor Scott Walker's administration eliminated the state film office, so a volunteer board set up Film Wisconsin. The President, Janine Rozina, and the rest of the board now handle the finances for the film community, working closely with the Department of Tourism.
Rozina explained that the reason local filmmakers are struggling is because outside productions are not choosing to work and shoot in Wisconsin. This mans few jobs that can support local filmmakers who don't have the same resources as big-budget producers.
"What happens, as in 'Public Enemies' (a 2008 Hollywood movie shot in Wisconsin) is that they go to various locations in the state," said Rozina. "That becomes a hub of activity and money spending."
"Public Enemies" received over $4.6 million in tax incentives from Wisconsin. The producers spent $18 million and created around 1,600 jobs, according to the Department of Commerce.
Tours now exist in Little Bohemia Lodge in Manitowish Waters and other locations around the area where John Dillinger – the gangster played by Johnny Depp in the movie – stayed.
In Oshkosh, a local architect temporarily redesigned the downtown to recreate a 1930's look.
"Feed the Fish" was the last film to fall under the $25 million film tax credit in 2009. The film was a hit at the Milwaukee Film Festival, and was shot entirely in Door County. It received just over $55.5 thousand in tax incentives. The movie cost around $200,000 to make.
Rozina was the executive producer and said local residents were genuinely interested in the production's progress.
"There was a day when we were shooting a snow scene and there wasn't enough snow," said Rozina. "The community rallied and shoveled the snow they had in trucks and brought it over and the fire department said, 'we have this foam spray that looks like snow, so we'll just come and spray it.'"
The cuts did eventually do damage.
"The Good Wife" – an Emmy-winning show on CBS – was supposed to be shot in Milwaukee, but when the executive producers discovered the state's low incentives they decided to pack the production's bags to Vancouver.
"I just said to the community of naysayers, 'Really? You just turned down 'The Good Wife,'" said Rozina.
To deepen the pool of local filmmakers, Rozina advocates creating a bridge to Milwaukee Film.
Where Film Meets Milwaukee's Broadway
 Milwaukee Film's office sits on the second floor of a small downtown building. After walking through a semi-maze of offices with brightly painted walls, visitors find a small tucked-away office that houses Jonathan Jackson, the artistic and executive director. His office overlooks North Broadway Avenue.
He came to the University of Wisconsin–Milwaukee in 1998 and graduated in 2002 with a B.A. in Film. Jackson taught at UW-Milwaukee for a year and a half and also was program director for the theatre.
The Milwaukee Film Festival started in 2008 under Jackson. It has grown into a popular annual event. One could say it's even bigger than Chicago's International Film Festival.
According to marketing manager Erin Payton, Chicago's film festival attracted approximately 56,000 attendees with 200 films in 2011. In comparison, Jackson said Milwaukee's film festival showed 170 films and brought in just over 36,000 attendees.
Milwaukee Film's membership also grew 200% this year to 450 members.
Jackson said Milwaukee Film has a $1.8 million budget from individual donors, corporations, foundations and revenue. Film Wisconsin donated over $5,000 to the festival this year.
One of Milwaukee Film's biggest contributors is The Herzfeld Foundation. According to Bill Haberman, the president of the foundation, it donated roughly $900,000 to the festival this year and provided an additional $700,000 in equipment and man power.
A big part of the festival's mission is its representation of local filmmakers. Milwaukee Film picks one to two filmmakers a year and works with them to further their careers. One filmmaker at the festival also receives a Filmmaker in Residency package, which includes a cash prize of $2,500 and donated filmmaking services valued at $20,000.
Then there is Collaborative Cinema, which pairs filmmakers in the region with local high school students. This year the selected project was Shorewood High School senior Celia Carroll's "Memento Mori." She and the director edited the script and filmed together. It showed at this year's festival.
In 2012, Milwaukee Film will have a separate category for adult entries.
A Creative Mind in a Developing Community
Filmmaker Shawn Monaghan is in the middle of producing "Invasion of Property" with his hand-picked crew. He and his animator, Carol Brandt, a sophomore at UW–Milwaukee, are working closely together to conceptualize the animation of the short film. They meet at night at places like the Grind at the UW-Milwaukee Union.
During the day, Monaghan makes plans in a less traditional setting.
"I climb trees," said Monaghan. "Either I'm running a chainsaw or taking a branch from a power line."
He works for the Asplundh Tree Expert Company. He works 10 hour days five days a week, but writes stories in his head while suspended 65 feet in the air.
"I'm just trying to figure out what this character is doing and what is their motivation, but if I don't write it down it'll be gone forever," said Monaghan.
He yells down to his coworkers, hoping they will remember a phrase in case he forgets.
At 36, Monaghan still remembers buying a JVC-GR60 Mini VHS camcorder at 13. He bought it with the $1,000 he made from his paper route. His first film was called "One Dollar Short." It's about a drug deal gone bad. The man was one dollar short.
Video was his thing. Reading wasn't.
"I remember after high school the first book I read to prove books were stupid was Fahrenheit 451, and it's a book about burning books," said Monaghan. "That right there was the trigger effect."
The Firestarter was a newspaper of stories and poetry he created in 1995 at the University of Wisconsin – Washington County. The four to six-page paper was conceived out of Monaghan's frustration with the student government.
"I got impeached, so I started this underground newspaper to get my word out as far as what I thought was going on in the school," said Monaghan. "Eighteen issues later it was more popular than the school newspaper."
Convinced he could create, Monaghan started 5 P.M. Productions in 2000.
In 2006 Monaghan was in the Army and shipped off to Afghanistan. During his downtime he read classic books, from "Dracula" to "Treasure Island." He used the books as inspiration for his filmmaking.
His film "Final Census" was his first major project after he returned. It's about a census worker who goes house to house asking what people's worth is to the economy. It won Best Suspense Thriller and Best Comedy at two small festivals in Ohio and Nevada.
Monaghan's work has never been featured in the Milwaukee Film Festival. He acknowledges the festival's impact in the community, but he's not convinced that organizers care about lesser-known filmmakers.
"I still think there are pockets of cliques in this city," said Monaghan. "You know some festivals say these are our favorites or these are the people we want to present to you and we want to make them the well-known filmmakers in Milwaukee."
To counter, he created Firestarter Films in 2008. It started in Bay View's Alchemist Theatre and eventually moved to Live Art Studio in Walker's Point. Every couple of months, there would be 30 to 35 screenings of local films. The filmmakers were available during breaks and afterwards to discuss their films.
Currently, however, Firestarter Films is short on interest and attendance. Monaghan hopes it will gain a second life. Meanwhile, in addition to "Invasion of Property," he has three other films in the works.
He never attended film school.
"Basically I have a camera. I have a story. Like, I can shoot stuff," said Monaghan.
Learning Film and Taking Names
 There are hundreds of students on the East Side who are learning the basics of filmmaking. In a way, it's a mini-city where the Milwaukee film community is garnishing national and international recognition.
The University of Wisconsin–Milwaukee's Film Department was ranked 20th Best Film School in the world by The Hollywood Reporter this year. The Film Department attracts students from all over, including Cuba, Georgia (in Asia), China and Japan.
Film department chair Rob Yeo is currently working with a $42,000/year budget. The budget hasn't changed since 1984.
"In 1984 dollars that would be about $93,000 and we still have $42,000," said Yeo. "A lot of the ways we can do this is that we stuck with 16 millimeter film as an important pedagogical tool."
The industry standard is now HD. Still, Yeo is committed to teaching the basics.
To make it in film, he said students must be self-motivated, collaborative, curious and humble.
The students that fit that bill usually get internships. Many go to Milwaukee Film.
Some UW-Milwaukee students, such as Ericka Frederick, are not just succeeding locally. Her films are recognized nationally and internationally.
Frederick was a modern dance major at the University of Michigan–Ann Arbor. She used film as a backdrop for her choreography. She dropped out of school to be a production assistant for car commercials in Detroit.
When she decided to go back to school, UW-Milwaukee's Film Department Graduate Program accepted her on a scholarship. She liked the way the students were being taught, but noticed one alarming thing when she arrived.
"I was surprised by the lack of film festival submissions, or just the fact that they weren't getting recognized," said Frederick. "I think it's important to say we showed at South by Southwest or Cannes."
With that in mind, she started PUSH UWM. She said the goal was to take a bunch of films produced by students and submit them to film festivals.
One of those places was the Short Films Corner at The Cannes Film Festival in France last summer. The festival screened six submissions from the department, including Frederick's "Walking Peace" and Rob Yeo's "Of a Feather."
Frederick comes from a higher-budget background. In 2001 she was nominated for an Oscar for her documentary short "By Courier."
"I literally didn't care (about being nominated)," said Frederick. "That whole process of making that film really just came from wanting to make it happen."
She observes that too many students today feel entitled to a job and believe that they won't have to aggressively seek one. Working hard as an intern or assistant for free is the way to get noticed, she said.
Film's Future
 Chris Thompson freelanced for free for almost two years before he landed a job at Blue Mark Films.
Thompson is hoping his documentary "Jeff" will be accepted into film festivals such as Sundance and South by Southwest.
5 P.M. Production's Shawn Monaghan is staying passionate about his filmmaking, too. He's in the middle of recording voice-overs for "Invasion of Property" with actors at Loft 117 production studio in Walker's Point.
Monaghan's next journey will be a cross-country motorcycle ride from New York to California, but instead of filling the gas tank and switching the ignition on he'll be putting the tape in the camera and hitting the record button as he films the trip. That's "Rough Rider," the title of Monaghan's next project.
"It's fun," said Chris Thompson while editing in his laid-back loft at Blue Mark Films. "It's easier to go to sleep being broke knowing you're doing stuff that's fun than going to bed dreading getting up and going to work."