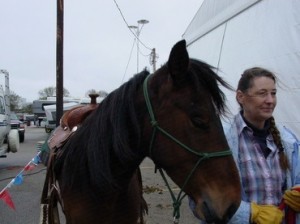 Complete coverage: multimedia project
Jessica Davis sits on her horse, Just A Cool Kat, outside the coliseum, waiting for her turn to enter the arena. A group of riders is assembled, and Davis is the most vivid in a bright purple flamenco-style skirt. Her mount is also dressed up for the occasion. Her mane is plaited in a diamond pattern, and she wears a garland of roses around her arched neck. Both are dressed to impress and that is precisely what Davis aims to do.
It's been an intense weekend full of ups and downs. Both Davis and her mare have invested a lot to get to this point in the competition, and both have a lot on the line. For Davis, a win means more publicity for her training business, $1,100 in prize money, and the chance to help another creature. Her horse, on the other hand –or hoof- has a new home at stake.
The horse is a mustang, and she and Davis are one of 31 horse-and-trainer pairs competing in the Midwest edition of the Extreme Mustang Makeover at the Midwest Horse Fair in Madison. This year, three of Davis' sisters will also be competing. Their slogan is, "Four sisters. Four Mustangs. One mission: to ride a legend."
The event is organized by the Mustang Heritage Foundation, a non-profit group that promotes mustang adoption. The Bureau of Land Management supplies the wild horses, which the Mustang Heritage Foundation then randomly assigns to each participating trainer.
The trainers have roughly 80 days to give the mustangs a solid foundation that will help them transition into a new home.
The culmination of that fast-paced training is the three-day exhibition at the Midwest Horse Fair.
Immediately following the award ceremony, a live auction is held, and each mustang is auctioned off and potentially sent to a new home with a new owner.
Put to the Test
The first round of competition is a "pattern" in which the judges evaluate how well the horse and rider are able to complete a specific sequence of movements. Then, the horses are evaluated on their basic gaits: walk, trot, canter and so on. On the same evening, the horses are scored on their overall body condition such as weight, muscle, and quality of the coat.
On day two, the trainers and their mustangs must surmount an obstacle course. Trainers lead their mustangs through the first couple elements, then mount and ride the rest of the course. The obstacle course is designed to simulate situations a mustang might encounter on an average trail ride.
Trainers must show their horses' responsiveness by asking them to back around a corner and cross a wooden bridge that ominously echoes their hoofbeats. It's a measure of the horse's ability to place their trust in the rider and overcome their fears.
The top ten scoring trainer/mustang pairs then move on to the final "free style" round on the final day of the competition. This is comprised of a four-minute routine designed by the trainer to showcase his or her mustang's unique abilities. This is often the most exciting part of the competition, as it is essentially "anything goes." The team with the highest-scoring free-style round is then declared the winner.
Four Sisters, One Goal
The Youngest
Jessica Davis, 31, is from Janesville, where she is a dressage trainer. Dressage, which is sort of like ballet for horses, requires that the rider's directions be focused and precise, two words that aptly describe Davis. Her black hair is pulled into a business-like ponytail under her helmet and her plum-colored scarf is knotted neatly in the front.
She named the big bay mare with a white blaze, Just A Cool Kat (J.A.C.K.), after her father Jack Jankowski. Davis had hoped her father would be able to see her compete in this year's Makeover challenge, but he died late last year after a battle with cancer.
Kat, as she is often called, has a thick-crested neck that implies Spanish heritage and big dark eyes that widen as she swivels her head to take in her surroundings. She is not the first mustang Davis has ever trained, but she is the first mustang mare. Davis, who took home the Idols division championship during her first makeover competition in 2008, noted that Kat is a bit different from the geldings she had previously partnered with.
"I call it mare-ish, a little more high-strung a little more bonded to horses quicker," said Davis. Still, Davis said that Kat is beginning to trust her trainer and is bonding with her more and more.
"She's been a lot quieter in the beginning even though she can have a little bit of her 'mare' times, she has been overall more level-headed, quiet, and easy going."
A cool kat indeed.
The Oldest
Davis said that she first entered the mustang training competition at the urging of her oldest sister, Sandi Jankowski. This year, Sandi and two other sisters will also be training mustangs. It marks the first time that all four sisters have competed against each other.
Jankowski, 51, of Tomah, is the oldest sister, but this is only her second time training a mustang. Jankowski is the rebel of her equestrian sisters in that she is the lone western rider of the family. Jankowski recounted that she and her siblings have always been involved with horses; in fact, the girls' parents met at a horse barn in Chicago. The family, which is made up of 11 children, kept various types of horses from Thoroughbreds to Arabians.
"We just grew up sitting on horseback."
Jankowski said her father would go to auctions and bring home horses that were often unbroken. So, Jankowski and her sisters learned to ride, sometimes the hard way.
"I've had plenty of concussions," said Jankowski, but she added she was "so desperate to ride."
Jankowski is a photographer by day; participating in mustang makeover challenges is something she said she does in her spare time for the fun of it as well as the ability to help a wild horse get a new home. While her last mustang was laid back, her mare this year is anything but.
Vayda is a petite brown mare with black stockings and a delicate muzzle with one tiny splash of white. Her eyes are often hidden behind her long forelock, but her halfway-pinned-back ears show she is always warily surveying the activity around her. Jankowski named her after Nevada, the state where the horse was rounded up, but she said that at times she thought of giving her another name.
"Addy as in Addy-tude!" Jankowski described Vayda as highly sensitive and capable of holding a grudge.
"When I first got Vayda she was, I would say, snotty and snooty. Didn't want to be touched. It was her terms, her decision if she wanted you to do anything with her."
For instance, approach Vayda's stall and she will back to the far corner, preparing to escape if given an opportunity. She stiffens up and pins her ears as Jankowski tries to massage the horse's muscles to relax her, but when Jankowski re-enters the barn half an hour later with her giggling and squealing grandson in tow, Vayda is curious. She rushes to the front of her stall, ears pricked forward, ready to inspect children and journalists' cameras alike. Jankowski doesn't know if Vayda will be ridable by competition time, but she feels it's more important not to rush her mustang than it is to make top ten.
The Quiet One
Nancy Koller, from Stevens Point, is the next eldest sister at 46 years old. She is a stay-at-home mom to two little girls, and this is her third mustang makeover competition. She also rides dressage, but for fun, as an "amateur" rider rather than a professional. Surrounded by the bigger personalities of some of her sisters, Koller could easily get lost, but she jokes and laughs the same as her sisters, albeit a bit more quietly.
Koller kept the first mustang she trained. She recalled naming the horse Captain Barbosa after the captain from Pirates of the Caribbean. She said that the gelding even had his namesake's mustache. This year her mustang's name is Mariah, meaning "western wind."
Like Kat, Mariah is a bay with a blaze, but she is darker and smaller. She has big eyes that are always open wide. Under saddle she is energetic and expressive, with lots of pep in her step.
"When I first got her home I thought, 'Oh she's so sweet' and she'd come up to the door and you'd almost be able to touch her," said Koller. The next morning, Mariah showed an entirely different side to her personality when she began striking out with her front feet.
"She's a quick learner. She's got a long attention span but she's a lot more horse than the other boys ever were. She's spunkier," said Koller. "But she can control it now."
So how do you bottle the wind?
Apparently, with lots and lots of work on the ground. The poster on Mariah's stall at the Midwest Horse Fair shows lots of pictures of Koller grooming Mariah, walking the horse over obstacles, draping herself over the mare's back to get her used to the weight. The caption reads, "took my time to start a well rounded horse."
The Extrovert
Jaci Wenz is the final sister competing this year. Wenz, 38, is a professional hunter/jumper trainer in Mukwonago where she teaches beginner lessons in addition to being the trainer of the Racine Pony Club. She has a experience working with untrained horses, even starting colts for Canadian Team rider Karen Cudmore.
Wenz has long dark hair like Davis and a face that lights up easily and repeatedly. Whether she's talking in cartoon voices to her mustang or joking about how long it took her to get on her horse, Wenz is memorable. It was Wenz who came up with the tagline emblazoned on the sisters' shirts.
"Doesn't she have the personality for T.V.?" asks Jankowski about Wenz. Jankowski is encouraging her little sister to try out for a cowboy-based reality television show. Wenz smiles cheekily as she avers that she can do everything the cowboys do, from roping to barrels, in an English saddle. Her signature trick is standing up on top of her polished English saddle, something she said surprises and often shocks other English riders.
A little chestnut mare with sleepy eyes and a kind expression is Wenz's partner for this challenge. When it came time to name the mare, Wenz let her students decide by submitting names. The winning entry was Dolce, a term that means "sweetly" when used in a musical context.
The name, said Wenz, fits the mare's personality well.
"She's just so docile and sweet and laid back and loves people." Wenz also took her time getting on her mustang, but for a different reason.
"I was having so much fun with her. I like playing with her, who wants to ride?" said Wenz. "She would follow me around like a little puppy and we'd run around the indoor and she'd come chasing after us."
Dolce is Wenz's second mustang. She said both mustangs were hard, the first because he ended up not being sound enough for riding, and Dolce because she knows that eventually she and Dolce will go their separate ways.
Spirit of the West
When the Conquistadors first arrived on America's shores, they brought with them their precious war horses, some of which escaped. These horses, mostly Barbs and Andalusians, formed the foundation of what would become the American mustang. Several Native American tribes found that taming mustangs could prove beneficial. They discovered horses were able to pull heavier loads than their dogs were and were just as loyal.
These "sacred dogs," as horses were sometimes known, also became essential to the settlers. Ranchers were able to use what seemed like an endless supply of horsepower to create their homesteads. Some mustangs were even used in the Pony Express.
In a way the mustangs helped bring about their own demise, for as civilization grew, the uncharted and untamed regions of land began to disappear. The same ranchers who used mustangs as tools began to view them as pests as cattle and mustang competed for grazing land. For a time, it became common practice to round up mustangs and ship them to slaughterhouses.
After a long battle, mustang welfare received a boost when Congress passed the Wild and Free-Roaming Horses and Burros Act of 1971. Today, round-ups are done by the BLM to control the population, but it is now illegal to kill or harm wild horses and burros that reside on federal land.
Competition for Homes
According to BLM reports there are roughly 33,000 wild horses and burros living on federal land that is designed to only hold around 26,000. An additional 40,000 horses are in long-term holding facilities. Some ranchers are even paid to house mustangs on their land. There are a lot of horses and not a lot of space.
This is true not only for mustangs but for horses in general. Horses are a luxury, and as the economy has worsened, luxury items are often the first to go. This means that the mustangs looking for homes are also competing against domesticated horses. A mustang stands a better chance of being adopted if it has been gentled and trained, or at least that's the thinking behind the Extreme Mustang Makeover competitions.
Enter the Mustang Heritage Foundation. The foundation (MHF) is a non-profit group that was created to work closely with the BLM to promote the mustangs and thus increase their chances of adoption. In 2007, the first trainer challenges were created to make adopting a mustang more inviting to the general populace. Since that time, the MHF claims to have adopted out over 3,300 mustangs through the training competitions.
Each year, the MHF organizes several different types of mustang training challenges across the United States. There are youth competitions, where children under 17 are given a year-old mustang to gentle. Most challenges feature a time limit, typically around 90 days, and a cash prize to the winner.
The goal is to make a dent in the number of mustangs looking for homes as well as to promote the breed. The competitions rotate to a new area once the MHF feels a given area has been saturated with mustangs. This is the first time in three years the competition will be held at the Midwest Horse Fair.
Despite the troubled economy, said Jennifer Hancock of the MHF, mustangs are still being adopted out. She said that while adoption prices have dropped at some competitions, just last month they set a record for an EMM adoption price when one mustang sold for $3,500.
Part of their success, said Hancock, is the mustang's famed history. "People want to be a part of that story," she said.
A Happy Ending
"She likes peppermints, not really apples or carrots. We don't know why."
"This is her favorite spot to be scratched. She just loves it."
After 85 days of training and three intense days of competition, the Extreme Mustang Makeover challenge is over. The mustangs have been auctioned off, and up and down the barn aisle, trainers can be heard giving some parting advice about their mustangs. Many of the trainers bid on and won their own mustangs, but none of the four sisters felt that she could afford to keep her mare long term.
Every day of their training, the mustangs had a lot of "firsts." First time being touched, turned into first time being haltered, which turned into first time being groomed, which led to first time being saddled and ridden. Like babies, so much of what they encountered in the human world was foreign to them.
The Midwest Horse Fair was perhaps the greatest example of this and the greatest test of the bond between horse and rider. Over 55,000 people attended the fair. There were eight barns full of horses. This meant that the mustangs likely encountered in one hour more people than they had in their entire existence. They competed in three different arenas, one of which was a tent whose flaps whipped and snapped loudly in the breeze. The mustangs were put in situations that would cause many a seasoned show horse to flinch.
As is the way of horse competitions, not everyone can win that elusive blue ribbon. Winner or not, the mustangs in barn number two accomplished a lot over the weekend.
Jankowski never did ride Vayda, but she said that after the weekend at the fair, she thought the mare was ready. The mustangs' reward for trusting their trainers was often an astounding transformation.
"Her personality has come out," said Jankowski. "She's wanting to be petted and touched and likes the attention, and she's a totally, totally different horse now.".
"It's amazing. She finally connected with 'this ain't so bad. Humans aren't going to hurt me."
The now friendly Vayda ended up with a family who runs a horse rescue. Two little girls from that family stood in the stall with Jankowski as she showed them the spot on Vayda's shoulder where she likes to be scratched.
Mariah has also undergone a transformation. A far cry from the aggressive horse she was, the new Mariah stood quietly, half asleep as an equine chiropractor pushed and prodded her, adjusting her spine. Koller gently stroked her mare's head telling her softly that she was "such a good girl."
Sweet Dolce, who, with Wenz, was 13th out of 31 trainers, nibbled passersby through the bars of her stall, looking for treats. Dolce is oblivious, but Wenz knows how close the mustang came to not having a home.
During the auction Dolce was originally sold for $600. The unidentified bidder later retracted her bid, thus placing Dolce up for auction once more. The second time, the mare drew no bids. Horses that get no bids are sent into the "pool" where the first pre-approved person who comes forward with a $200 donation can take the horse home. If no one is willing to do that, the horse could go back to the holding facility.
After tense and emotional minutes of waiting and wondering, Wenz finally got word that someone had offered to buy Dolce. The sister who avowed she wouldn't cry, stopped crying and introduced the little mustang to her new owners. Dolce, now belongs to a little girl named Sophie.
As for Kat, she didn't quite win top honors as Davis had hoped. Kat became afraid and jumpy in the big arena and had a hard time settling down during her performance.
"It went from plan a, b, c, d, all the way down to about x, y, z," said Davis. "Once I hit thirty seconds [left] I knew that was the end and there was no reason to try any more." At the end of her routine Davis dismounted and put her head up against her horse's head.
"I just let her know that I still cared for her and that she did a good job."
The pair placed ninth overall, but the happy ending to this mustang's story is that she ended up in a new home.
Chuck and Tracy Thrun of Almond made the highest bid for Kat. The Thruns are longtime friends of Davis's. She thinks Kat will be a great amateur dressage mount for Tracy. The Thruns also adopted Mariah on behalf of their friend Mary, who often watched Koller work Mariah but did not meet the adoption qualifications at the time of the adoption. After some more training with Davis, Kat will soon be going to the Thrun's 80-acre farm to live out her days with four horses and a donkey.
"They're basically expensive pasture ornaments," said Thrun of her horses' laidback lifestyle.
Davis said all she wanted was for Kat to go to "an amazing home where she will be loved as much as I love her."