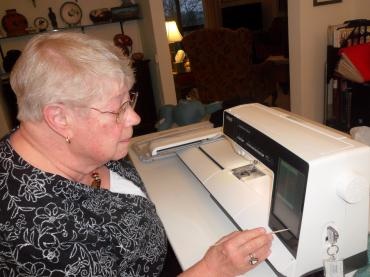 complete coverage: multimedia project
When 86-year-old Jean Garrett sits down at her Macintosh computer, she finds more to do than play a game of solitaire or search the Web. Instead, Garrett opens up Photoshop and gets to work.
She taught ceramics and weaving for 18 years at the University of Missouri-Columbia and started dabbling in computers after her retirement. In 1987, Garrett bought her first Mac.
Today, she integrates state-of-the-art computer programs with her artistic hobbies.
"This is my newest addition," said Garrett, pointing to her Mac Mini.
Garrett, who considers herself more of a handyman than a homemaker, finds her computer most useful for designing. Her apartment is filled with ceramic artwork, book binding materials, and piles of art tools. She spends hours a day sitting at her large computer desk in the center of the room. She's been living alone in her apartment at Saint John's on the Lake for 10 years, and began designing on her computer when Photoshop was first introduced.
"I just had to try it," said Garrett.
Garrett is part of a trend: seniors embracing technology.
While the majority of older Americans are still not using computers and going online, the most recent studies from the Pew Internet and American Life Project show the percentage of adults ages 65 and older using the Internet has increased from 38 percent in 2009 to 42 percent in 2010. Since 2001, computer use among seniors has doubled. The numbers are predicted to continue growing, according to Pew Internet researchers.
Seniors are also making gains in social networking. Adults ages 65 and older are the fastest growing group of people using social networking. Social networking use among users ages 50 and older has doubled, from 22 percent in 2009 to 42 percent a year later, according to the Pew study.
Lee Rainie, Director of the Pew Internet and American Life Project, said one reason seniors are enthusiastic about technology is because they see younger generations using it. He said once they start using it, they like being able to connect to family and friends.
"Particularly older generations have mixed feelings about technology," said Rainie, "but most say when they bring it into their life, it adds to things they enjoy."
More help is becoming available for seniors. Almost all senior centers in Milwaukee offer computer classes for older adults. At the Washington Park Senior Center, students paid $35 for a 6 week class.
In a classroom of about six seniors at the center, an instructor from Milwaukee Area Technical College taught them the basics of Microsoft Word. The seniors learned how to navigate the interface and create tables.
Paul Feuarstein, 76, often fell behind, but appeared eager to learn, following along and asking questions. Most of the older adults in the class were unfamiliar with Word. The seniors clicked the wrong keys and often got lost, forcing them to start over.
"Ahh, the undo button," said Christine Kramer, a younger senior at age 60 who took the class to integrate computers into her work as a personal chef and cooking instructor.
Nancy Kriske, Life Enrichment Specialist at Luther Manor, a senior living community in Wauwatosa, said she has seen a growth in technology use among senior residents in the 21 years she has been working at Luther Manor.
"They really enjoy it for multipurpose uses," said Kriske. "I find it interesting the number of them that use it for news media as well as to keep connected with families."
Seniors engaging in technical hobbies
Luther Manor resident Barb Haessly, 78, uses a digital sewing and embroidery machine. The machine allows her to create designs on the computer. She then uses a memory card to transfer the design to her sewing machine. After pushing a few buttons, the machine begins to sew.
Haessly often embroiders clothes for her grandchildren. She can chose digitized fonts, play with sizes, and create sharp patterns in a few minutes.
"I've always enjoyed sewing, but I like this much better," said Haessly.
Kriske said the younger residents, baby boomers and people in their early 70's, seem to be more tech savvy and encourage the older seniors to use technology. One of those seniors is Rusty Tym, a 72-year-old also living at Luther Manor, who spends about four hours a day on the computer engaged in his hobby. Tym, who worked for 35 years in the radio business, is teaching himself how to edit family videos using the Adobe Creative Suite. He considers it a great way to keep busy and active.
"The mind wastes away if it's not being exercised," said Tym. "It's like going to a gym. This is a technical gym."
Garrett agreed the computer helps her stay busy and productive. As she navigates around Photoshop, she knows the location and function of each tool. She takes time playing with each photo and is usually unsure about the end result. Some of her photos become animated like her picture of water in the woods, a photo she took of a trail along the Missouri River. Sometimes she chooses to add and remove images, or change colors.
Garrett grew up in Lombard, Illinois and discovered her love of art in second grade when drawing a picture of a circus parade on the chalk board for a school program. She had always enjoyed photography and owned a single lens reflex camera in the 1950s, when she took photos of her ceramics work.
When her plan to get a degree in Biology didn't work out, she started focusing on art. She decided to be a sculpture major, and later became more interested in ceramics. She got her Bachelors and Masters of Fine Arts degrees at the Art Institute of Chicago.
"I might have ended up being a graphic designer if they had computers back then," said Garrett.
Garrett never married or had children. Her closest family member is a nephew who lives in Downers Grove, Illinois. Garrett retired from teaching at 59 after suffering from a neuropathy disorder.
Once Garrett retired, she was looking forward to concentrating on her artwork. She had some trouble focusing on a new hobby until she bought that first Macintosh computer at age 62. Today, many of her photos are from bus trips provided by Saint John's, which take seniors to places like the Mitchell Park Domes and Milwaukee Art Museum.
Garrett is a high-spirited woman who is content at Saint John's. She sees the computer as a tool to make projects more interesting. She belongs to a book binding club, and found the computer allows her to add different typefaces.
"I don't want to just sit around," said Garrett.
Although Garrett seems savvier than most seniors who use technology, she said sometimes she reaches a point of frustration and needs to take a walk. She also struggles with typing and said her hands get tired if she is on the computer too long.
"I tend to do a two-fingered or a four-fingered typing," said Garrett.
Connecting with family on-screen
One reason more seniors are embracing technology is because it gives them a new way to connect to family and friends.
The American Association of Retired Persons (AARP) is a national organization providing services and programs to improve the quality of life of people age 50 and older. Jennifer Baier, senior program specialist of AARP Wisconsin, said the organization added a Facebook page and phone applications in 2010 because they noticed an increase in their members' online use.
The AARP Wisconsin Facebook page has grown from 500 to 1300 members since December of 2010. Baier said seniors have become involved in discussions about Wisconsin budget issues on Facebook and Twitter. She said it's a great way for seniors to connect to local communities; People show up at AARP events because of postings on Facebook.
The AARP websites include blogs covering different topics, including a blog about pets.
"They're pretty talkative," said Baier. "Some of them talk about their pets 24.7."
There are benefits to this interaction. Organizations such as Older Adult Technological Services (OATS) and Leading Age are promoting technology use among seniors. OATS has been providing computer classes to older adults since 2004.
A study by the New York Academy of Medicine in April 2010 shows OATS computer training programs made a positive impact in the participants' social and civic engagement. The study found 44 percent of seniors who took the classes felt their awareness of social activities increased while 24 percent said the number of social activities they participated in had increased.
Mary Fischer, an 82-year-old who lives home alone in Chetek, Wisconsin, said Facebook helps her stay connected during the winter months because she doesn't often go out in the snow and ice. She said she's been using it for three years and finds herself checking it multiple times a day.
"I've been in a lot of stress for the last two years after losing a husband and a son," said Fischer. "If I feel sad or anxious or anything I go on Facebook."
Leading Age, a non-profit with a mission to expand possibilities for seniors, has a Center for Aging Services Technologies to bring technology companies together with aging services providers. Majd Alwan, Vice President of Leading Age, said technologies are becoming easier for seniors to use. He said it's a solution to keep seniors connected and active in the community.
"It can reconnect them with long lost friends and of course overcoming the isolation that is imposed by their living condition and their physical disability or inability to get out and participate," said Alwan.
Bill Shimeta, an 87-year-old living at Luther Manor, often uses Skype to connect with his son, daughter-in-law, and nine-year-old grandson who live in Australia. He also uses it to talk to his daughter, who lives in Chicago, and a friend who lives in California.
"It's one of the greatest inventions next to the remote control," said Shimeta.
Since Shimeta only has one son who lives nearby in Franklin, he appreciates being able to see his other family members online. He smiles as his grandson, McKinley, tells him his most recent news using Skype. McKinley shows his grandpa tricks with his new dog, plays the guitar, and points out features on his iPad.
"Australia is too far," said Shimeta, adding, "Skype replaces the long trip. It's the feeling of closeness."  
The old way of doing things
Although more seniors are embracing technology, most still choose to stay away from it.
Terri Librizzi, 83, said she will probably never learn how to use a computer. She said she often feels overwhelmed by technology. She prefers using old telephones because she doesn't understand the buttons on a cell phone.
"I wish I knew more, but at my age I just wouldn't want to attempt it," said Librizzi.
Even the seniors who use technology often prefer doing some things the way they always did.
Garrett still reads the newspaper, even though she has the Internet at their fingertips.
Shimeta prefers doing his taxes with pencil and paper, even though his son introduced him to online tools for taxes.
Tym prefers reading a hard copy book to learn about Adobe Creative Suite rather than using online tutorials.
Tym doesn't consider himself computer savvy. He refrained from using computers when they were introduced at his work, but said once he started, he was hooked.
"The nice thing is you can get up and walk away from it," said Tym.
"You can also wake up at 4:30 in the morning and work on it and it can drive you crazy, but I'm enjoying every minute of it."