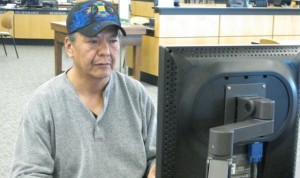 complete coverage: multimedia project
Lawrence Peters is a self-described early bird. His days start well before the sun rises.
At 4:30 a.m., he drags himself out of bed to put the coffee on. Carefully sipping the amber brew, Peters sits down at the kitchen table to contemplate the day.
He strategically times out his ten-minute walk to the bus stop so he can catch the #14 bus.
The trek across town is arduous. After the hour-long bus ride and another six-block stretch of pavement to walk, Peters finally arrives at his destination.
"I've never been late," he said.
Over the noise of saw blades and sandblasting in a dusty warehouse Peters looked embarrassed.
"They use me as an example to other employees because I'm always here and I'm always working," he said.
Peters is a machine operator at Ultra Fiberglass, Inc. on the northwest side of Milwaukee, and at 57 years of age he is one of the oldest employees working the eight-hour shift.
"We are handed a blueprint and from there we build platforms, ladders [and] staircases," Peters said.
When the day is done, Peters hangs his red hat in a metal locker and begins his journey home. On the bus ride back, he reminds himself why he works so hard.
Peters, a Native American, became a single parent after he took his children away from their alcoholic mother in 1990.
"I have five children and seven grandchildren to take care of," he said.
This is why he was devastated when, last year, he became one of the 269,543 unemployed workers in Wisconsin.
One Of Many
In 2010, the national unemployment rate peaked at 9.8 percent, with Wisconsin's rate not too far behind at 8.8 percent.
Peters found himself in an increasingly common situation. Not only was he unemployed during a growing recession, but he was an older worker job-hunting for the first time in a very long time.
"It's a big challenge out there looking for jobs," Peters said. "I think it is more difficult for older workers."
The unemployment rate for workers 55 years and older has increased dramatically since the December 2007 recession began.
In 2010, the jobless rate among older workers reached 7.1 percent – only .1 percent shy of the record high in December 2009.
James Heinzelman is 62 years old. He is currently the vice president of lending at Empower Credit Union in Milwaukee.
His office is riddled with paperwork, pictures of his grandchildren and a few toys.
As he checked his e-mails he talked about losing his job at Associated Bank, and why the road to finding new employment was important to him and his wife.
"We have three sons and they all went to college," he said. "We wanted to help them as much as we could with that."
From 1993 to 2003, Heinzelman held a number of different jobs.
"Why aren't people hiring me? Is it based on age? I guess I never really thought that would occur, but I think that age was a large part of it," he said. "Once you get older, people just aren't interested in you."
The United States Department of Labor reports that older workers who become unemployed spend more time searching for work than their younger competition.
The average time an older jobseeker spends unemployed is nearly 27 weeks longer than jobseekers between the ages of 16 and 30.
"Some of the employers are looking for people [for] long-term employment versus an older adult seeking out a company for five to ten years," said Peters.
To Retire, Or Not To Retire?
Older workers make up nearly one-third of the work force.
More and more people are finding it necessary to work past the age of 62 – blaming the economy and rising health care costs for the postponement of their retirements.
Heinzelman is not sure when he'll be able to retire, which is a surprisingly common feeling.
CareerBuilder reports that more than 72 percent of older workers put off retiring because they just can't afford to stop working.
Heinzelman's wife works in a school library. Their retirement plans are even more uncertain since the recent political turmoil in Madison.
"She's going to have to pay her share of the benefits of retirement," he said. "We have the health insurance plan too. It's a great plan and we will pay whatever we have to towards it."
The way many workers save for retirement has changed throughout the years, from employer-funded pension systems to individually funded savings plans.
In 1960, 60 percent of American jobs included pension plans in contrast to 20 percent today.
For better or worse, the majority of older workers are on their own when it comes to funding their retirements.
For the time being, the majority of older workers who are lucky enough to have jobs feel pressure to hang onto them.
Despite the statistics against them, the majority of jobless older workers feel it's necessary to continue the search for new employment.
A Dark Past
Lawrence Peters held a steady job at a lumber mill. The pay was good and his family was thriving. They lived on an Indian reservation in Shawano County.
Peters heard about a job opportunity at the Menomonee Casino in Keshena. He applied and got the position.
"I was a security coordinator," he said, "I maintained the building. Taught CPR instruction. Counted money. It was a busy time working there."
Peters stayed for ten years.
"It was working out well. The children were in a nearby school," he said. "Things were going well for me."
Eventually, he said, the peer pressure of high school touched his children and brought chaos to his family.
"Two of my boys had some serious problems. They skipped school and started taking drugs," Peters said. "They needed special attention."
After numerous meetings with doctors and counselors, his family was on the right track again.
"Raising children with an absent parent takes a lot away from that child. Causes a lot of pain," he said. "Maybe that's why I'm so protective of the two grandchildren that I live with now."
His children weren't the only ones to succumb to the lure of drugs and alcohol.
The pressure of parenting built up, Peters said.
In 2004 he entered the federal prison system for substance abuse and robbery.
"It was such a dark day for me," he said. "I felt like such a letdown to myself and my family."
He enrolled in counseling there.
"They told me why I was in prison. They told me that I was lucky to be in prison because the life I was living would have brought my life to an end," Peters said. "I saw how reckless I'd become."
Through counseling and encouragement from his family, Peters proved that he was ready to be a productive member of society again.
He was moved to a lower-level security prison where he learned a new trade.
"I was assigned to be a steam fitter," he said. "I was the highest paid prisoner at 27 cents an hour. I was paid once a month."
Peters served 72 of his 75-month sentence there.
Looking down and twiddling his fingers, Peters explained how losing his life before prison had a big impact on his family.
"I was maintaining two homes and we had to give one up. It was a strain. It was not only embarrassing at times, but it was hard," he said.
The Search for Employment
Looking for a new start, Peters relocated from Shawano County to Milwaukee.
He ended up working short-term at the food bank Second Harvest, maintaining the building and restocking inventory in the produce section.
Peters continued to look for permanent employment. He needed more money, so he tried joining the steamfitter's union.
"I passed the test," he said, "but there's a two-year waiting list [for employment]. So I couldn't go that direction. I needed work."
He tried joining the carpenter's union next.
"I passed all their tests too," Peters says, "but with the economy out there – they just aren't building."
Peters finally found employment at Forest Home Cemetery in Milwaukee.
"I cut a lot of grass," he says, "but that only lasted one month."
Help Is Out There
The persistent sound of ringing phones echoed throughout the cream-city brick hallways of Interfaith Milwaukee – a not-for-profit organization that targets people 55 and older.
Purple ducts reach across elevated ceilings, making the cramped cubicles feel larger than they actually are.
Ellie Mixter-Keller is typing frantically on the keyboard that sits on her chaotic desk.
"I send out hundreds of e-mails a day," she said. "There's an awful lot of people that have been out of work for a long time."
Keller is a job developer and career counselor for Interfaith Milwaukee's employment services division. Her brightly patterned shirt is as stark as her advice.
"Quite frankly – if a business wants to hire a 25 year old, then too bad because you won't get the job," she says.
The employees at Interfaith Milwaukee are there to teach old workers new tricks. It is a place where someone like Lawrence Peters can go to learn about resumes, cover letters, interview techniques and basic computer skills.
Linda Barnier is an employment counselor with Interfaith Milwaukee's older adult program. She explained that not everyone is able to get help from Interfaith Milwaukee.
"Aid is driven by age, residence and income," she said. "They have to be Milwaukee County residents and their monthly income cannot exceed $2,723."
It's Who You Know
As Peters sandblasts another fiberglass rod at Ultra Fiberglass Inc., he smiles brightly and describes the help he got from Interfaith Milwaukee.
"Ellie gave me good direction looking for jobs," said Peters.
Interfaith Milwaukee teaches basic computer knowledge and promotes the use of social media websites like Facebook and LinkedIn, though they do not suggest that older workers solely rely on the Internet to find employment.
Keller encourages older employees to find what she called the hidden job market.
"The number one way that people are going to get a job today is through networking. I don't care what age you are," Keller said. "Let everyone know what you do. Tell your neighbor what you're gifted at."
Across Wisconsin, more than twenty free job-networking support groups meet every day of the week.
Getting In The Backdoor
Pat Cronin begins his meetings with a soft-spoken greeting and a few success stories.
"First of all, I'd like to thank you all for being here today," he said. "I'm proud to say that two of our participants have graduated to alumni status. One was hired at Plastic Molded Concepts and the other at Harley Davidson."
Eleven unemployed older workers are sitting around a huge octagonal table – ten men and one woman. Their feet shuffle anxiously on the green carpet.
They are here to listen to Cronin, director of the Lumen Christi Employment Network support group in Mequon.
The men are wearing dress pants, button down shirts and silk ties. The only woman in attendance is in a black-skirted business suit.
Many of the participants are scribbling notes on white and yellow legal pads they brought with them.
People travel as far as Madison, Racine, Kenosha and New Berlin to join Cronin's group.
In the last nine years, the Lumen Christi support group has helped more than 340 older workers land positions across a wide range of industries mainly located in Wisconsin.
Each person around the table takes a turn to tell his or her story.
A man named Carl worked for 30 years as a machine repairman. He waves his hands frustratingly in the air as he talks about how hard it is to survive while making less money than he did 25 years ago.
Everyone nods in agreement. Then it is Margaret's turn.
Margaret explains how she went back to school to get her Master's degree. Her voice deepens as she talks about not being able to support her lifestyle.
"Every company I work for seems to go out of business," she said. "I think it has to do with Wisconsin's economy. I'm considering leaving, but I don't know where to go."
In 2008, Michigan had the highest unemployment rate in America. Illinois and Ohio were tied for eighth place.
Wisconsin was in sixth in the Midwest.
Only ten percent of participants in the Lumen Christi support group have been placed in different states around the Midwest, the majority of them in manufacturing.
However, leaving Wisconsin is no the most realistic option for many older workers.
Seize Every Opportunity
Lawrence Peters shifted in the work boots he purchased with stipend money Interfaith Milwaukee provided him. He wiped his dirty hands on his blue jeans.
Peters adjusted his glasses and studied a blueprint for the yellow fiberglass ladder he's constructing and said, "I'm looking forward to seeing my grandchildren later."
In the evening, he helps his grandchildren with their grade-school homework.
"The children always get a snack before bedtime," Peters said.
He crawls into bed around 9:30 p.m., exhausted, and starts all over again in the morning.
"It feels like there's never enough time in the day," he said.
In the silence of the night, Peters reminds himself how lucky he is.
"I give Ellie [of Interfaith] credit for all this, because she kind of gave me this job," he said. "I have benefits, so now I'm even picking up the grandchildren on my insurance programs."
Peters is relieved to be a part of the workforce again.
"There's employment out there if you look. And whatever you decide on, take it because that's a start. One thing will lead to another," said Peters. "That's how I started. You have to keep looking."