As the Milwaukee Bucks faced elimination, brows were glistening with sweat and one could've sworn that every breathing entity in the building was officiating every play. With nearly 19,000 fans howling and flying towels, the BMO Harris Bradley Center could've exempted Thursday from its monthly electric bill.
The electricity never left, as the Toronto Raptors downed the Milwaukee Bucks 92-89, in what was a game of runs and corresponding momentum. The Deer pranced out of the gates, enough to gather a six-point lead in the opening minutes but then Toronto manufactured its own magic to walk into halftime 51-38.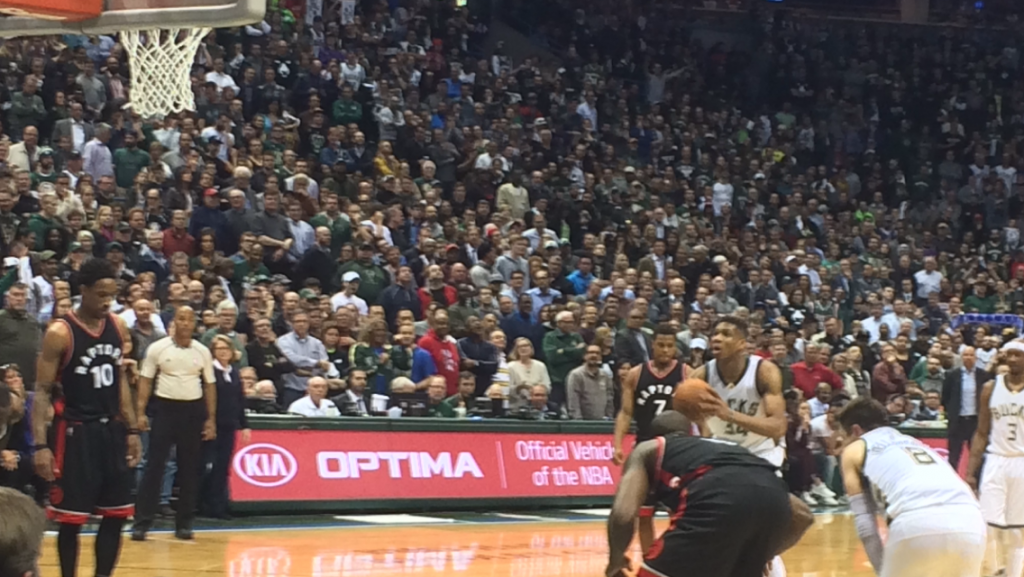 Giannis Antetokounmpo played over 46 minutes and showed the world why he is the pulse of a Milwaukee team that was enjoying its first playoff series since 2015, by scoring a game-high 34 points alongside nine boards.
"The opportunity presented itself and we played him as much as we could," said Bucks coach Jason Kidd. "I thought he caused a problem when he was out there on the floor."
"Again, we take the lead when most people thought the game was over. That just shows that they are maturing, and that they didn't give up."
Both teams were enervated by the playoff atmosphere, in what finished as a jostling series filled with outcomes varying from blowouts to nail-biters. The only clear-cut advantage either team had came in the blocked-shots category, which saw Milwaukee reject 10, six more than Toronto.
"We made it hard for ourselves down the stretch, but we showed a lot of resiliency," said coach Dwayne Casey, who stressed the difficulty that comes with closing games on the road, of his third-seeded Raptors.
Casey congratulated the Bucks, saying that they will be a hard team, with their length and defense, to beat in seasons to come.
All-star DeMar DeRozan scored 32 points on 50 percent-shooting and painted the night with tireless rim-rattling dunks for the Raptors.
Serge Ibaka, who was traded from the Orlando Magic to Toronto in early March, wound up with 11 rebounds before fouling out late in the game.
With Milwaukee down three on its penultimate possession, a pressured Antetokounmpo settled for a dunk instead of kicking it out on the perimeter.
On Monday, the Raptors will face the second-seeded Cleveland Cavilers in the Eastern Conference semifinals for the second consecutive year.
The Bucks won nine more games than the previous season. Within the next few weeks, Milwaukee figures that some of its players will get showered with accolades, likely in the form of Most Improved Player and Rookie of the Year.
Veterans Matthew Dellavedova and Jason Terry, both of whom were brought in this past offseason to provide a young Milwaukee team with playoff experience, came up big in the third and fourth quarters. They combined for 20 points for the game.
"Delly and Jet have been in this position before, and they're not scared," said Kidd. "I thought they were everywhere, causing havoc. They were great leaders, not just tonight but for the whole season, to fight till the end."
Though Milwaukee fought its way back from a 25-point deficit and managed to take a two-point lead with nearly two-and-a-half minutes left in the game, Toronto humbled them with a three-pointer, which was hit by Cory Joseph, and never looked back.
"That's the time in the game where we buckled down and understood that it was winning time," said DeRozan.
Malcolm Brogdon, the Bucks guard who has garnered national consideration for Rookie of the Year, succumbed to poor shooting early on and was nowhere to be found the fourth quarter.
Kidd said he told the 24-year-old Brogdon postgame to remember how he feels in this moment – and that it's going to be his turn to pick up somebody next season.
Despite coming down with an illness earlier in the week, Khris Middleton managed 19 points on 6 of 13 shooting.
The Bucks now shift their focus to the offseason, where they look to be confronted with the contractual futures of Michael Beasley, Tony Snell and Jason Terry. Backup center Greg Monroe has a player option, also.
Meanwhile, Antetokounmpo, who turned his name from a curiosity into the unmistakable "Greek Freak" by becoming an All-star this past season, said he plans on improving his vocal presence within the huddle, his strength, and his prowess to knock down open jump shots.