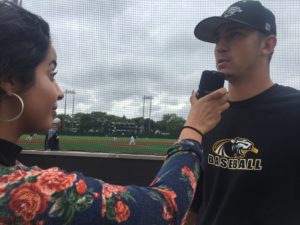 After a season of endurance and hard work, the University of Wisconsin-Milwaukee baseball team is hopeful for another strong season.
The Panthers finished their 2016 season 32-26 overall and 17-11 in the Horizon League, led by head coach, Scott Doffek.  The Horizon League is a 10-school college level athletic conference in the National Collegiate Athletic Association (NCAA) Division 1. Teams are located in the Midwest.
This is the second year in a row that the team has won 30 plus games.
The team started off this season with 22 new players out of 25 on the roster. This can be a negative or a positive in any sports team for a few reasons. Some players might have to acclimate to the team's way of playing and others might have a bigger responsibility of filling in the roles of the previous players.
"As a whole we started off a little slow, but the we ended turning it up in conference play and it ended up being a pretty good season, but we fell a little short," said pitcher Jay Peters.
Peters has been pitching for two years at UWM and says he is hopeful that the new players will pick up and play strong in this upcoming season. He feels confident that the Panthers will make it back into the playoff run next season.
Athletic Director Chris Zills says that one big problem with college baseball is replacing those seniors who provide so much when they graduate.
"This year Brian Keller was a gigantic piece of the rotation for us," says Zills.
UWM pitcher Brian Keller was selected in the MLB draft. He was a 39th overall pick for the New York Yankees. Keller was also named Horizon League Pitcher of the Year.
According to Zills, Keller is the 18th Milwaukee baseball player all-time to be drafted and the first by the Yankees. The Panthers have now had nine players get drafted since 2011.
The Panthers are the only Division 1 team in the state of Wisconsin. The team has qualified for three NCAA Tournaments since 1999 and made it to the Horizon League conference every year since 2002.
Many of the players on the team have played successfully all season.
Pitcher Adam Reuss was one of the spotlight players earlier in the season. In March, Reuss was named Horizon League pitcher of the week. Reuss finished with a 3.79 ERA in 14 games, and made 13 starts. He struck out 56 batters in 78.1 innings, allowing opponents to bat just .240 on the season. He finished sixth in the Horizon League in opponent batting average. Reuss set a career-high with eight strikeouts against Kent State Feb. 28, throwing 5.0 scoreless innings in a no-decision outing.
According to Zills, the award is a career first for Reuss and marks the third time on the young season that a Milwaukee player has been selected by the conference.
"I think we are on the upward slope," said Reuss. "Hopefully this year and years in advance, we should be taking first place and winning the conference tournament."
Aside from their time spent playing on the field, the Panthers also volunteered time investing in other youth with a kid's clinic during Neighborhood House's Inaugural Baseball Week. The Neighborhood House is a Milwaukee community center whose purpose is to help strengthen children and families, especially in the underserved parts of Milwaukee's neighborhoods.
Other key players on the team like sophomore catcher Daulton Varsho helped lead the way. Varsho led the league in various categories. He finished with a .381 average, .610 slugging percentage and 88 hits.
Senior outfielder Luke Meeteer was another player with am impressive senior season. Meeteer was a leading candidate for league player of the year and earned a spot on the Third Team Academic All-America squad. He batted a career-high .362 with 44 runs batted in, scoring 53 runs while collecting 79 hits – including 16 doubles and a career-high six home runs. He had a slugging percentage of .537, a .452 on-base percentage and stole 25 bases in 26 attempts.
It is evident that UWM baseball has many talented individuals who are on the road to much success.
The Panthers have been successful in their efforts to make it to the conference finals. Zills says that the team had a great level of success for having so many new players and that everyone gained enough experience to move forward in 2017.
"First place is always the goal," said Zills.