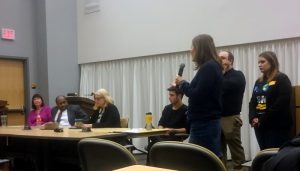 Worried international students brought their questions to a packed meeting at UW-Milwaukee Friday. The Curtin lecture hall was at capacity as the Center for International Education hosted an unprecedented informational session on President Donald Trump's "Muslim ban" executive order.
Students gathered to share questions about how the ban will affect them and their families, their rights at airports, at demonstrations and in encounters with police. They also raised concerns about planned trips abroad that might have to be canceled.
"Everyone will understand why you didn't go," Dean of the Graduate School Marija Gajdardziska-Josifovska said.
"I've been here for thirty years, and this is the first time we've had an event like this," Gajdardziska-Josifovska said, referring to the executive order banning entry to the U.S. from seven Muslim-majority countries: Syria, Libya, Sudan, Somalia, Yemen, Iraq and Iran. "It is just plain unfair."
Jennifer Zabel, coordinator of the Department of Homeland Security's Student and Exchange Visitor Information System (SEVIS), explained that while students attending orientation two weeks ago were told they did not need to carry immigration papers with them, in light of the recent executive order she advises it anytime students travel outside of Milwaukee.
"I don't want you to take any chances," Zabel said.
"Things are very different right now," said Director of International Student and Scholar Services Jennifer Gruenewald. "Don't take any risks."
Chancellor Mark Mone issued a statement on Sunday to express his concern with the executive order. "UWM will remain a campus that opens its arms to people everywhere," he wrote. "All of us want our country and community to be safe from terrorism, but in a manner that respects and protects the rights of individuals regardless of their religion or country of origin."
Provost Johannes Britz shared similar sentiments with the audience. "We are an open campus. We value diversity, we value openness," he said. "As you can gather from my accent, I am also an immigrant." Britz, who emigrated to the U.S. from South Africa, said he could relate to the students' fear and anxiety. "If you are an international student, you are more exposed," he said. Britz suggested that international students should "reach out" to staff and fellow students on campus.
Representatives from several UW-Milwaukee student organizations were present at the meeting to offer their services.
"Our staff stands in support of all of you students," Senior Psychologist JoAnne Graham of Norris Health Center said. "We are willing and wanting and open to helping you."
Associate Vice Chancellor James Hill encouraged students to organize their own events and suggested they reach out to staff in the Union or in Student Housing for help if they are unsure where to start.
"As a student, maybe I can speak a little more bluntly," Student Association President Mike Sportiello said. "Any comment that you may hear that this is the best for our country is wrong. This is un-American."
Sportiello encouraged students to make frequent phone calls to state representatives, like Sen. Tammy Baldwin. "It is important that you know that you are loved and that you are wanted, even when there are louder voices saying the opposite."
"Luckily our spring semester started before the executive order," Gajdardziska-Josifovska said. While none of UW-Milwaukee's students were missing, family members and spouses living in the seven countries banned by the executive order were not able to join them, she said.
A doctoral student from Iran, one of the seven countries affected by the ban, expressed concern about her ongoing research project, which she cannot complete without returning to her home country. The ban does not only impact students' personal lives, but also their academic lives and how they do research, she argued.
Gajdardziska-Josifovska said that the university cannot guarantee that students can come back if they leave the country. In a worst-case scenario, students would have to hold their dissertation defense by Skype, as the school is unable to make any exceptions to the ban, regardless of circumstance. "It is everybody or nobody," she said, "and I hope it will be everybody."
Gruenewald said that the CIE is working to ensure that students can focus on their studies, and expressed regret that this effort had been "derailed" as students worried about the executive order.
"Nobody knows that's going on," Zabel said. "It is critically important that you communicate with our office. If you are travelling, you need to let us know."
Gruenewald said that while they have never had meetings like this in the past, it is likely that CIE staff will host additional meetings within the upcoming months.
Zabel agreed. "It doesn't say that after ninety days it will be gone."