Protesters crowded the University of Wisconsin-Milwaukee's Spaights Plaza during Donald Trump's visit on April 3. The protests brought a whirl of controversy ranging from a man stepping on the American flag to the arrest of an alleged peaceful protester.
Vaun Mays stood silently among the more vocal protesters, distanced from the crowd, with his feet firmly planted on top of an American flag laying across the cement. Mays wasn't yelling, he wasn't shouting, he stood – silently. He had a message to share for those who were interested in hearing it, justifying his controversial treatment of the American flag.
It is unknown if Mays was directly affiliated with the rest of the protests or if he was acting on his own accord.
"I'm here [against] Trump, and I'm also here to call at hypocrisy and racism of America," said Mays. "Part of this [Trump's] message is to 'Make America Great Again.' What America is he talking about? We all know the past of America. I always get resistance for this; people take it personally. It's not aimed at any person or group of people, not against vets or white people in particular; it's my own personal message."
The line of people waiting to get into the event stretched from the entrance of the Peck School of Arts all the way towards the north end of the Golda Meir Library on campus. In line were many Trump supporters as well as those just hoping to get in.
Trump's purpose for being on campus was due to two Fox News Channel town hall meetings taking place in the Milwaukee area. The event was moderated by a Fox News anchor; it was a public, ticketed, event.
For every protester, there seemed to be a supporter. By the standpoint of some having a legitimate presidential candidate on campus is a noteworthy event regardless of who the candidate is.  By the standpoint of at least one professor who writes a blog, UWM should not have allowed the town hall event because of Trump's views. Other students attended the event, some as campus journalists.
The Milwaukee Police Department had numerous officers to enforce security and maintain the safety of those inside the building.
Many protesters were directing their chants towards UWM Chancellor Mark Mone, asking why the chancellor would allow a candidate who regularly makes such controversial comments to speak on campus. In an email to students about the event, it was stated that the university is not indicating support for the remarks of any political candidate, despite an event being held on campus.
Protester James Flores said, "They're supporting racism here on this campus, and students here won't stand for it. Wake up and open your eyes."
There were UWM alumni protesting alongside current students. "I'm an alum, and I don't like to see our campus be used to give a message of hate," said Babette Grunow. When asked about the criticism of the protests by those who were in line, Babette said, "Sometimes you have to be loud. We made ourselves heard."
Mike Sportiello, President of the Student Association, had this to say on the police force seen on campus: "Some security makes sense, he's a presidential candidate, he needs some security, but some of it is a bit excessive." He said, "I think the real issue is the over militarization of the police force. They'll find many police officers who fight for social justice. There are tons of good cops and tons of bad cops."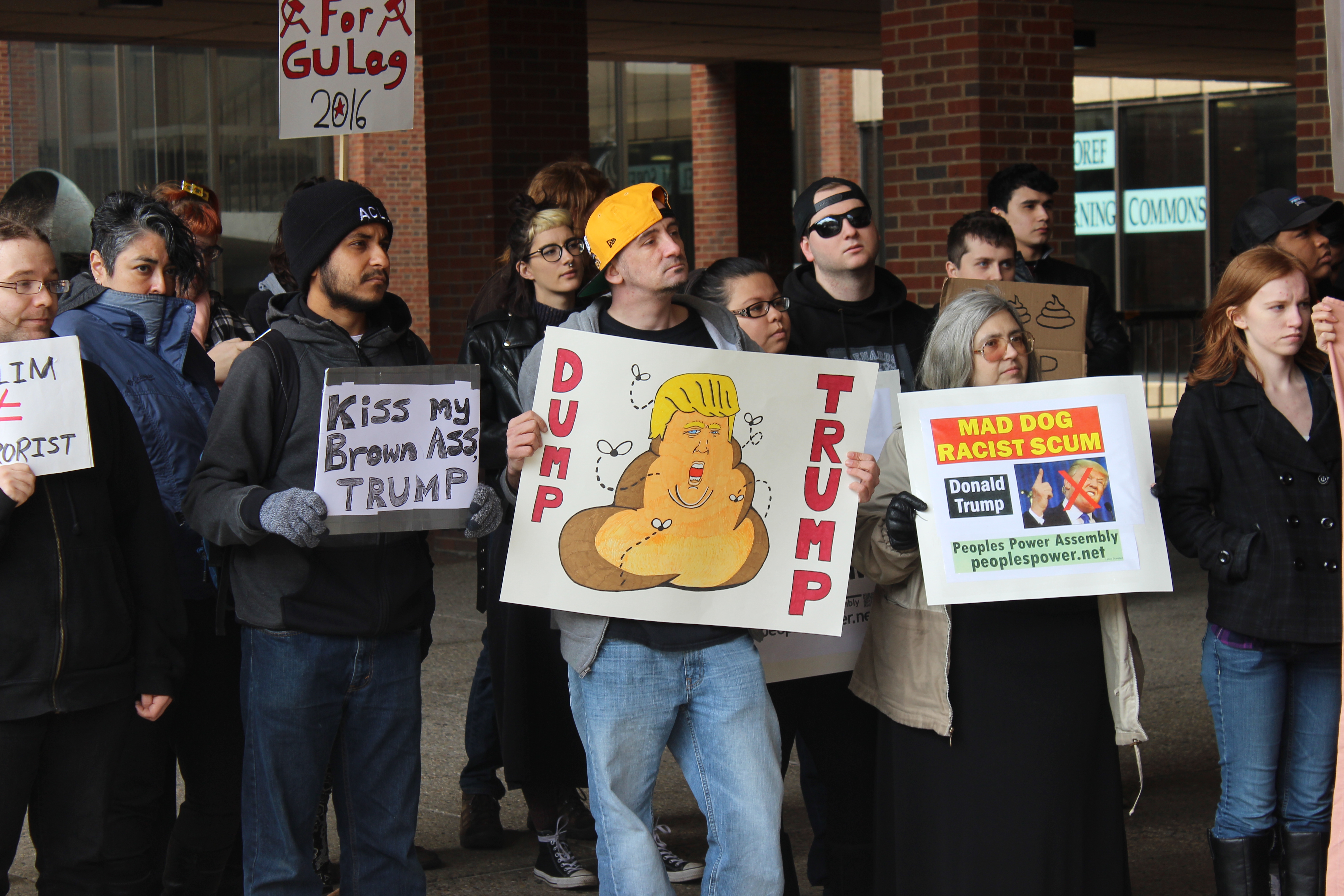 Anti-Trump protests are a regular occurrence at his rallies, yet that doesn't stop his supporters from coming out in full force.
Trump supporter, Cathleen (declined to give a last name), said, "I'm considering him because I know, I think a lot of what he says is skewed by the media. A lot of people are quick to jump ahead and judge him."
Another individual who declined to give his name, denounced the protesters claiming they were just misinformed.
"They're saying Trump is racist. He's denounced the KKK and any form of [violent] protests," he said.
Cathleen also added, "I think the media is very leftist, and they try to spin everything he says in a negative way."
Not everyone who was lined up for the event was a supporter of Trump's candidacy. It was a ticketed event and anyone could attempt to obtain a ticket for entry. Students were emailed about the event the week prior.
"He's an interesting guy, I want to see what he has to say," said UWM student, Alix Oschamn. "I want to see if he's as nuts as he appears to be on T.V."
The protest, on the other hand, was set up through Facebook, and led by the UWM chapter of Youth Empowered in the Struggle, a nationwide student organization. Although an exact attendance figure isn't available, there was a good turnout.
From the beginning of the protest, it was clear that some of those waiting in line were not taking the protesters seriously.
"I think they're all idiots," said Alex Suszko, who was donning a bright red Make America Great Again hat. "They don't even know what they're arguing, it's complete hypocrisy."
Suszko wasn't alone with his critique of the protesters.
Kevin Raiche, another hopeful event attendee, had this to say, "I'll be honest, I compare the two crowds, and not that this is all Democrats here [talking about the protesters], it appears that, can I be politically incorrect here? It looks like it's a crowd of rejects. They're chanting, cursing, there's children present. Nobody, not one person has yelled back. We've been quiet. If this represents Bernie or Hillary, then it's pretty disappointing."
"I would be interested in having a dialogue with them, but they're not interested in talking. They just want to yell and cause civil disturbance," Raiche added.
As the line was winding down, the protesters became more vocal and were slowly inching closer to the line to get in. Eventually the police officers had to form a human wall to separate the protestors from the line. This was a turning point in the protests.
Some members of the protest were getting up close with the police officers. Those leading the charge put their hands in the air and "Don't shoot" chants were started shortly thereafter. The police never drew weapons of any kind, although they were prepared should an altercation take place.
Some of the people still in line were not happy to see the police being screamed at. "The police are protecting the protesters right now, they're keeping everything peaceful and for the protesters to do the 'hands up, don't shoot,' is disappointing to see," said Raiche.
Once the line was finished moving into the event, the protesters became mobile and marched down Hartford towards Downer Ave., around Curtin Hall and back to the plaza. A wall of police officers blocked the entrance to the event indoors. It was at this time that a horse-mounted police presence was introduced.
Mays' message is one that points out the flaws in the American government, and with this specific rally, Trump's campaign slogan that so many have stood behind. The phrase Make America Great Again implies that there was once a time when America was great for everyone. To some, the reality of the history of the United States paints an entirely different picture. Since the foundation of the country, there have been racial tensions and various fights for civil liberties that have left many feeling mistreated; the Civil Rights Movement ended less than 60 years ago (although some might argue it's ongoing). In present day America, there are still groups of people who feel they need to argue for equal treatment.
Once the march reached its final destination, back at the plaza attention turned towards the arrested protester. It was unknown at the time if he was a student or not. There are also conflicting reports as to why he was arrested; some protesters claimed that he was peacefully protesting and was unjustly arrested, and others claimed to have seen him charge the police and resist arrest. FOX News reports he was arrested for disorderly contact after trying to bypass police and enter a secured area. There were no other arrests made on campus.
The arrest sparked a "sit-down" by the group of protesters, who promptly sat across the plaza demanding the release of the individual. The leaders of the protest were demanding to speak to Mone, who was not seen at the protests, or Dean Timothy Gordon, who was present throughout.
As the sit-down progressed, protesters began pressing the police, and  Gordon, for answers regarding their arrested comrade. Despite the dean of students not having any kind of legal authority over police officers, some students were demanding that Gordon release the protester from being detained by the police. One protester even insisted that the dean grant the release even if the arrested individual was not a student with any affiliation to the university.
There were mixed messages being shouted through the protester megaphones. At one point there was a chant saying, "why are you in riot gear, we don't see a riot here!" aimed towards the police, none of whom were wearing riot gear, which typically includes helmets and shields.
As the protests shifted from anti-Trump towards social justice issues, some of the crowd started to disperse. One thing remains true; the controversy surrounding Donald Trump will remain prevalent in the media and in the trenches of the political battle that is the candidacy for the presidency of the United States.