While UW-Milwaukee is nationally ranked as one of the top 25 LGBT friendly campuses in the nation, there are still concerns within the LGBT community on campus. Academic advisory Gary Cooper-Sperber expressed his view on the ranking and concerns with LGBT students of color  on UW-Milwaukee's campus.
"It's a great acknowledgement," said Cooper-Sperber. "But it's based on policies and systematics, it doesn't necessarily create a culture."
He has been a part of the UW-Milwaukee for more than a decade and earlier this year was recognized by Our Lives Magazine as one of the 43 Wisconsin Statewide LGBTQ Leaders of Color for 2017.  
He recalls being "jumped by 20 white kids" after a party with friends, and remembers events like this when assisting African-American LGBT students who come into his office dealing with discrimination because of their identity. Students appreciate the history behind the stories and often learn from his examples.
"You assume this mentorship role," said Cooper-Sperber. "I'm their adviser, but I've taken on this role, and I take that with great stride and responsibility."
Other challenges also remain. During a meeting in early November, the Chancellor's Advisory Committee for LGBT and Advocacy members discussed progression and areas that need improvement on UW-Milwaukee's campus. The meeting was headed by co-chairs Jeffrey Guenther and Jen Murray.  One key topic during the meeting were inclusive facilities at UW-Milwaukee. While many off-campus buildings have inclusive facilities, there are fewer facilities on the main campus.
A total of 14 facility conversions have been completed in 2017 but "central core" or high traffic areas such as Bolton, Lubar and Mitchell lack inclusive facilities.  A total of 19 buildings are in-progress on converting to inclusive facilities, and a few buildings have no single-stalls available for conversion.
By being a presenting queer man, Cooper-Sperber hopes to set an example for students with similar identities while navigating through UW-Milwaukee. Even so, Gary still receives negative reactions to being an open queer professional. Students have requested to change advisers and following a complaint from a student, he was asked by administration to disclose a photo of him and his husband that sat on his desk.
"A lot of students are wanting to have safe spaces," said Cooper-Sperber. "LGBT students of color don't always feel welcome in the LGBT Resource Center."
Funding to organizations like the LGBT Resource Center, women's organizations and other organizations that assist marginalized groups, would create a more welcoming and friendly environment for all LGBT students, he said.
"If you're not funding these organizations, you're not creating the culture that aligns with the designation you're given," said Cooper-Sperber.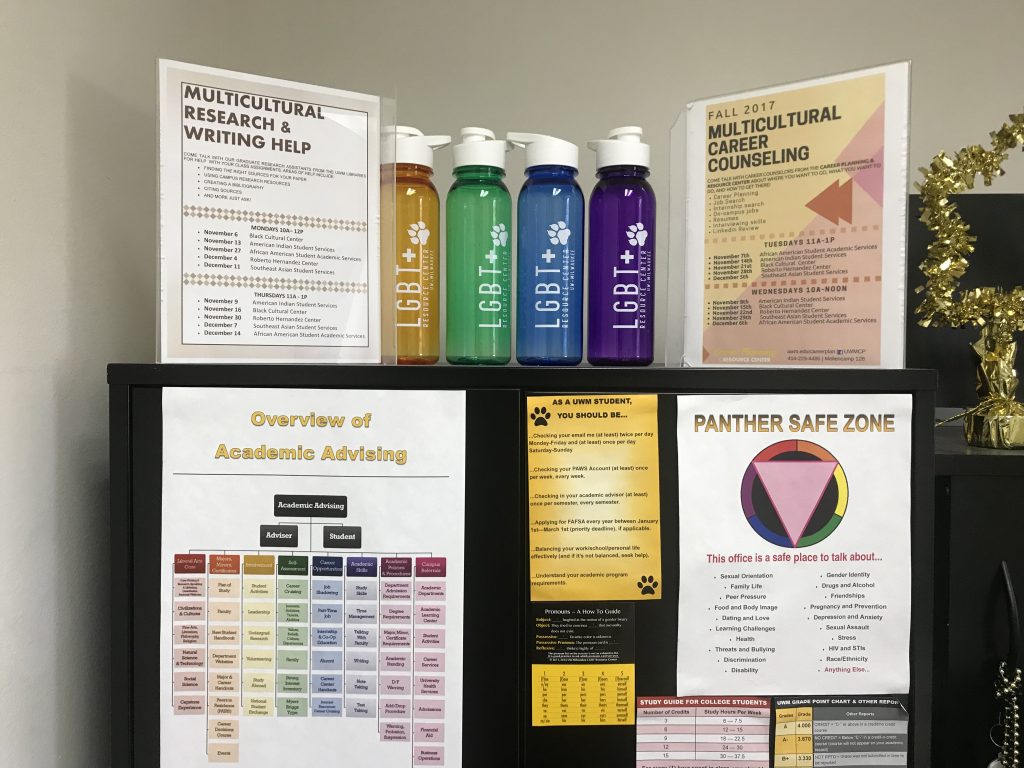 An inclusive facility as outlined in the "Inclusive Facilities Policy and Procedures for all Buildings" document is defined as: "A single-stall, single occupancy, lockable, wheel chair accessible(universal design) restroom that has an infant changing table and that can be used by any person(s)."
Inclusive restrooms serve a large purpose on campus. Not only do they provide a safe space for all genders, they are a physical representation of support from the campus. In the "Statement of Purpose" portion of the document, a detailed description of what the facilities were meant to accomplish are outlined.
"The provision of a single-stall, gender inclusive bathrooms is intended to provide safe alternatives to multi-stall, gender-specific bathrooms, which can be problematic and unsafe for students, faculty, staff, and visitors who may be harassed or discriminated against based on their perceived or actual gender identity, gender expression, sex, sexual orientation, ability status or other identity as well as other factors that make the use of a private, gender inclusive facility preferable for certain individuals."
Jen  Murray, who is the director of the LGBT Resource Center, also discussed a Chancellor's Cabinet Training. The training is meant to educate staff and faculty on things they may not be aware about. An important point was brought up during this discussion: Whether or not to include a general overview of the differences between sex, gender, identity and proper names. While it may seem redundant to distinguish between each in 2018, the committee recognizes an issue that might arise.
"People who aren't typically engaged or involved in the LGBT community may lack the basic understanding," said Murray.
This too, was suggested to be included in the training; If not in a verbal form, by educational materials like pamphlets.
With events in current news publicly denouncing and clashing with members of the LGBT, the social climate in the entire country is tense. Many members of the committee feel exposed to scrutiny and possibly uncomfortable in the UW-Milwaukee's environment.
About halfway through the meeting UW-Milwaukee's Chancellor Mark Mone joined the committee to discuss the concerns with facilities, training and all around campus environment.
"We're still going to do what we can, where we can to show support on campus," said Chancellor Mone. "If we can't create an environment where people feel comfortable, you can't learn."
The training is projected to be done during faculty orientation and training at the beginning of the school year.
All items discussed on the agenda will be followed up at upcoming meetings, and members of the committee will continue to insure the safety and concerns of the LGBT community on campus.
One thing is certain, the LGBT community has a strong presence on the campus. UWM's Film Department just wrapped its 32nd year of the LGBT Film Festival. On November 30th, intersex activist Pidgeon Pagonis presented  Intersex Stories: Not Surgeries in the Union Ballroom. Not to mention, UW-Milwaukee is host to the largest drag-show in the Midwest upcoming in February 2018.