There's a reason why Adult Swim's 'Rick and Morty' has earned the title of television's #1 comedy series for ages 18-34 and is the most-watched show on Adult Swim – it's incredibly funny and surprisingly emotional for an adult cartoon. In terms of sci-fi conventions, pop culture references and side-splitting humor, no other show compares.
The show follows Rick Sanchez, the smartest man in the universe and an alcoholic, existential nihilist who takes his grandson Morty on inter-dimensional adventures across the universe. These adventures are often extremely dangerous and filled with grotesque testicle monsters, alien parasites and a whole universe of unique, disturbing creatures.
But it isn't just the dark humor and catchy phrases like "wubba lubba dub dub" that have people hooked; the show is genuinely relatable and packed with touching and often incredibly emotional undertones. Suicide, divorce, broken families and abandonment issues are just a few of the difficulties that the characters face that make the show so complex and relatable.
Here's a list of some of the most memorable and emotionally devastating scenes from seasons 1-3 of Rick and Morty that pack a powerful punch right in the feels. Caution: Spoilers Ahead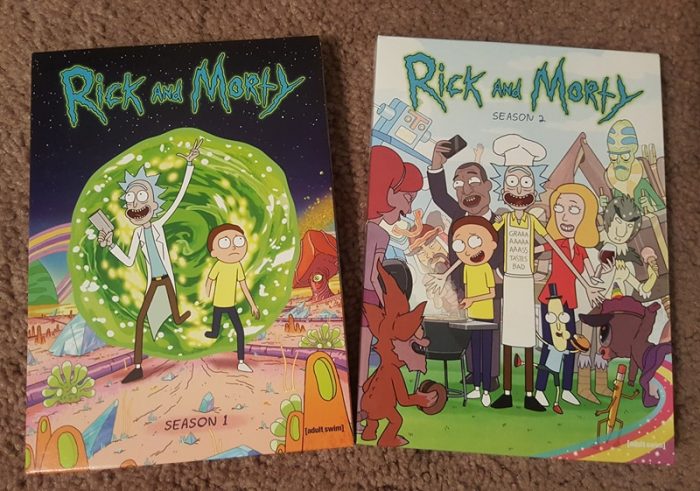 1. S1E2 "Lawnmower Dog"
When Morty's dog Snowball is gifted with heightened intelligence and tries to enslave humanity, he keeps his human Morty by his side. Rick devises a plan to overthrow Snowball by playing on the dog's love of his human and does what any loving grandfather would do – he gives Morty a pill that causes kidney failure. Snowball spends every penny he has to save Morty's life, even if it means losing his empire.  It was a truly touching moment between a (talking, robotic dog) and his human, and gives a deeper insight into the absolute devotion and purist form of love that a dog has for its owner.
"To hell with my kingdom. I would trade it all for my humans' health and happiness." – Snuffles/Snowball when Morty is dying from kidney failure.
2. S1E6 "Rick Potion #9"
When Rick and Morty accidentally turn the world's population into horrifying mutated monsters, they travel to an alternate timeline to take the place of their dead counterparts. Aside from the fact that burying his own dead body was insanely traumatic for Morty, they left their original family in the last dimension that they ruined. The original Beth and Jerry left behind on the mutated planet fall madly back in love with each other once Rick and Morty disappear, indicating that they are the cause of many of Beth's and Jerry's marital issues. Ironically, they finally find happiness while Morty's new parents still loathe each other and fight constantly.
"I'm ashamed to admit, now that they're gone, I'm finally happy." – Beth, after Rick and Morty disappear to a different dimension. 
3. S1E8 "Rixty Minutes"
Rixty Minutes focuses again on Morty's parents, after Rick gives Beth and Jerry a device that allows them to see their lives in alternate timelines and gives them a glimpse of how their lives would have ended up if they had gone through with aborting their daughter. Summer is angrily watching them enjoying their alternate lives without her, so she decides to run away.
This episode covers quite a few incredibly sensitive issues: teen pregnancy, abortion, marital issues and the damage parents do to their kids among them. Although the ending is bittersweet, with Beth and Jerry seeing that they eventually find their way back to each other in their alternate realities anyway, the episode really covers a lot of ground emotionally.
"Nobody exists on purpose. Nobody belongs anywhere. Everybody's gonna die. So come watch tv." – Morty to Summer, trying to convince her not to run away.
4. S2E1 "A Rickle in Time"
After Rick stops time for over six months to avoid Morty's angry parents, time ends up fractured and splits into exponential parallel timelines. While Rick tries to fix a collar that can zap all of the dimensions back into one, Morty's collar breaks and he slips in to a black void beneath the garage. Rick makes a rare, selfless decision and sacrifices himself for his grandson by diving after Morty and giving him his own working collar. Rick seems to accept his own death, until he finds the other collar floating in the abyss and fixes it, allowing him to return to the regular dimension. However, for a brief moment, we were able to glimpse the side of Rick that he tries so hard to deny – the loving grandpa that would do anything for his family.
"I'm okay with this. Be good Morty, be better than me." – Rick, after accepting his fate and realizing he was going to die.
5. S2E3 "Auto Erotic Assimilation"
After reconnecting with his ex-girlfriend Unity, Rick has a few wild nights of drugs, drinking and red-headed orgies. However, once Unity realizes that Rick is still the same bad influence that he was years ago, she leaves him a series of letters ending the relationship. Rick heads back to his garage, powers up a homemade death ray and, after testing the laser on a sad little alien, tries to kill himself. He ends up passing out drunk on the table before the laser powers up, which ironically saves his life. The scene is subtle, and could easily be mistaken for just another experiment, but is probably one of the most powerful scenes in the show and shows the truly complex nature of Rick's character and the compacity for emotion that he constantly tries to hide.
"But I know how it goes with us. I lose who I am and become part of you." – Unity in her letter ending her relationship with Rick.
6. S2E10 "The Wedding Squanchers"
In the series finale of season two, the family is invited to Rick's close friend Bird Person's wedding. Rick is initially bitter and disappointed but starts to lighten up after seeing how happy Bird Person is. He gives a speech about how excited he is for Bird Person and Tammy, and how he plans to go on his "greatest adventure yet – opening himself up to others." Just as Rick finishes his speech, his best friend is killed by his new bride, reinforcing Rick's distrust of love and marriage being senseless and disappointing.
"What are the odds this is legit, not just some big lie we're all telling ourselves because we're afraid to die alone? Because you know, that's exactly how we all die. Alone." Rick's speech at Bird Person's wedding.
7. S2E10 "The Wedding Squanchers" (continued)
The family escapes the carnage of the wedding and settles on a tiny planet to hide from the Galactic Federation. After overhearing a conversation between Morty, Summer, Beth and Jerry, Rick realizes how much damage he has inflicted on his family and turns himself in to the federation in return for their freedom. Rick made another rare, selfless choice by turning himself in, but his family doesn't know that, leading them to believe that Rick abandoned them once again. The episode ends on a fairly depressing note, with Rick being chained to a prison wall and the family sadly returning to an alien-invaded Earth while "Hurt" by Nine Inch Nails plays in the background.
"He's not coming back, is he?" Beth, when she realizes that Rick is gone again.
8. S3E1 "The Rickshank Rickdemption"
As Rick attempts to break out of galactic prison, Summer is unconvinced that her grandfather abandoned them. Determined to find out what really happened to Rick, she desperately searches through his garage for clues to his whereabouts. Trying to protect his sister, Morty tries to make her understand just how selfish and uncaring Rick really is by showing her the corpse of his alternate self and his feral family left on the planet that Rick ruined. This episode is teeming with emotional issues, covering everything from Summer's loyalty to her grandfather, Morty and Beth's feelings of betrayal, and Rick's narcissistic reason for breaking out of prison to return to his family.
"He bails on everybody! He bailed on Mom when she was a kid! He — He bailed on Tiny Planet! And in case I never made this clear to you, Summer, he bailed on you. He left you to rot in a world that he ruined because he doesn't care!  Because nobody is special to him Summer, not even himself." Morty to Summer, trying to make her forget about Rick.
These were just a few of the many scenes that really stood out to me. I could talk for hours about the emotional power of this show and the incredibly real connections that it makes to real life issues; Jerry's crippling self-doubt, Beth's abandonment issues, Rick's alcoholism and profound self-hatred. Although I explored many of the darker scenes in the series, it is also beautifully balanced with touching moments of self-discovery, character development and some genuinely moving insight to suburban family life.
Truth be told, Rick and Morty is whatever you make of it. Some enjoy it simply for the raunchy humor and sci-fi nostalgia, others for the deep and complex relationships and character development. Some just like the testicle monsters and dick jokes. Whatever the reason, Rick and Morty has proven time and time again that it is one of the smartest adult cartoons on television.