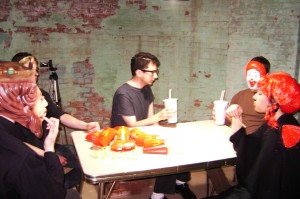 The recipe for the Eating, Cooking, and Culture Conference would sound something like this: A handful of food, a splash of culture, and a pinch of politics. Mix well.
At the Hefter Center on April 15 and 16, UW-Milwaukee's Center for International Education hosted their annual scholarly conference. This year's theme was Eating, Cooking, and Culture: the Politics and History of Food.
The conference was not only an examination of the ties between food and culture, but it was a networking event. Scholars exchanged business cards and asked for friend requests on social networking sites, such as Facebook, as they mingled together.
"I was just in the other room and a bunch of us were saying, 'Let's get together, let's keep this going.' It's an important sort of ongoing intellectual endeavor," said Larry Kuiper, co-organizer and Associate Professor of French at UWM. "A conference like this that has this many high-level people really will continue to have an effect for years and years."
The scholars traveled from all across the country to attend the conference, including from New York University and Notre Dame.
Two presentations focused on the difficulties that immigrant workers face in the American workforce. They discovered a link between the American dependency on immigrant workers and the quality and quantity of U.S. food.
While trying to keep up with the increased speed of production, immigrant workers are responsible for examining food to decide whether or not it is safe.
Another presentation concentrated on a 1965 cookbook called "The Gay Cookbook." The cookbook targeted gay, male audiences and was the first of its kind. Colorful illustrations and puns fill the book's pages while parodying male and housewife cookbooks.
Anne Lamb, UWM Student Services Associate and Alumna, attended the conference because she is "very concerned about food decisions families make."
"I pay more for my food because I'm a vegetarian and animals and workers are treated badly [at large corporations]," she said. "I do make a choice."
During lunch, UWM Peck School of the Arts students from Heather Warren-Crow's art class presented a multi-media project about the fast food industry. The students created a fake fast food chain called "Expanda Burger" and presented other art pieces as well.
There were also students dressed up as famous fast food characters such as Wendy from Wendy's, the Burger King, Colonel Sanders from KFC, Ronald McDonald, and Caesar from Little Caesars.
There were roughly 60 people registered for the conference. However, around 70 people filled the hall for a few of the presentations as people filtered in and out as the day progressed.
Food is a great topic," said Vice Provost and Director of the CIE Patrice Petro. "It brings together the social sciences, natural sciences, humanities, everybody."
Immigrant workers
One of the topics that kept popping up at the conference dealt with immigrant workers and their working conditions.
Paul Apostolidis from Whittman College and Kristin Pitt from UWM especially focused on the tragedies and difficulties of being an immigrant worker.
Apostolidis discussed Tyson beef processing factories and a few stories from its workers that he explores in his book, "Breaks in the Chain: What 'immigrant Workers Can Teach America about Democracy."
"Tyson has one of the most dangerous factories in the world in Pasco, Washington," he said. "One in four workers is injured on the job."
Apostolidis interviewed a few immigrant workers in his book and asked about their times working at factories in the U.S.
One worker shared a story about the day his daughter was born, but he didn't get to see her because his eyes were swelled up from the chemicals that were on the fruit trees he was working on."'Five of us had to go to the hospital that day,'" said the worker from Apostolidis's book.
Pitt followed later on with a discussion on the "frustrating" process for becoming a legal resident and the impact it has on immigrant workers. "It takes up to a minimum of 22 years for an illegal alien to become a legal resident, but it really takes well over that," Pitt said.
Pitt focused on linking mass deportations to mass food shortages. "Immigrant labor has been essential for produce and meat packing for the past century," she said. "Three-fourths of all crop workers in U.S. agriculture were born outside of the U.S."
Pitt finished her discussion talking about U.S. vulnerabilities and rethinking immigrant policies. She said, "Food is dangerous to you and to the people who make it."
Lunch art break
Heather Warren-Crow, teacher and mentor of the UWM Peck student project, came up with the idea to introduce food, globalization, and the social media into her curriculum and have her students come up with a presentation to represent all three.
The project included strings of the McDonalds logo roping off the path to follow, a poster displaying facts about industries around the world, a video displaying fake commercials and facts about the students' fast food restaurant "Expanda Burger," and a live reinterpretation of Van Gogh's "The Potato Eaters." 
One student said, "It was a group effort. Our teacher came up with the idea of creating a fast food chain and then we all decided on a name and came up with a song."
"The Potato Eaters" live reinterpretation included Wendy, Caesar, the Burger King, Colonel Sanders, and Ronald McDonald. The characters were sitting around a table all staring at each other and slowly eating McDonald's French fries, except Ronald McDonald who is staring at the ground.
"The Gay Cookbook"
As Pamela Robertson Wojcik's presentation title appeared on the screen, many chuckles and laughs filled the hall.
"What to Do With a Tough Piece of Meat, or What Makes Corned Beef Hash Gay?" was the title of Wojcik's presentation on Chef Lou Rand Hogan's "The Gay Cookbook" from 1965.
Wojcik is the Associate Professor of Film, Television, and Theater and Director of Gender Studies at the University of Notre Dame.
"It's explicitly gay," said Wojcik. "The book inserts the queer voice and resists the discourse of the 'closet.'"
The book is filled with illustrations and puns that are geared towards a gay audience. The cover illustrates a man dressed in drag holding a piece of meat over a grill and is "a parody of masculine BBQ."
One illustration depicts a naked man lying in a bowl full of food and holding a giant fork. "The food is sexualized and geared toward seduction," said Wojcik.
She also discussed the use of cookbooks in the 1960s. Many cookbooks were geared towards women who were providing for husbands. Men expected women to alter the food in cookbooks in some way to make it taste better.
"The Gay Cookbook" followed the structure of a woman's cookbook and recommended doctoring recipes.
Ending the Q&A afterwards, Wojcik closed with, "Nobody wants to think about the horrors of Tyson. Everybody wants to be in their food closet, but there is a need to be outed."