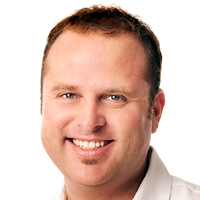 Andy Tarnoff's life changed over lunch.
In 2000, while having lunch with a friend, the young entrepreneur shared the struggle that he and other OnMilwaukee.com co-founders, Jeff Sherman and Jon Krouse, were enduring while starting up their online magazine. The graphic designer told him to talk to her husband.
Like many other investors at the time, "Joe" (the husband) was looking for Internet businesses to invest in. When Tarnoff came to him about his website, Joe was interested.
Another 14 years later, the online magazine is self-sustained and thriving. Last year, the company generated $1.5 million in revenue, and in 2012 it was ranked the best entertainment news outlet in the country — against high-profile competitors such as the Chicago a Tribune — by Editor and Publisher magazine.
Tarnoff recently shared the OnMilwaukee.com story with University of Wisconsin students as a guest in the JAMS 500 "Advanced Reporting" class.
After graduating from George Washington University in 1996 with a degree in international communications, Tarnoff moved back to Milwaukee, where he was born, and then accepted a job in public relations for a company in Seattle. It was then that he realized PR was not as glamorous or as high-paying as he thought.
"Basically my job was to tell people that putting towers in their back yards was safe and wouldn't give them cancer," Tarnoff said.
Initially Tarnoff wanted to create a sort of online yellow pages – an idea that hadn't been done yet in 1998 – of all the good places to go in Milwaukee. Articles appeared on their website as well, but did not take center stage until Tarnoff realized people were clicking on them more than he had expected.
Tarnoff officially started his first day of self-employment 16 years ago on the opening day of the Brewers when they were playing at Milwaukee County Stadium.
Tarnoff recalled how when he started the web site, he and his partners did not have a business plan.
"Every time we'd write a business plan, the internet would totally change," Tarnoff said.
Joe, the husband of Tarnoff's friend, invested $500,000 in the OnMilaukee.com project.
OnMilwaukee.com was one of the few companies that survived the "dot com bubble," a short window at the end of the 1990s when thousands of internet businesses were opening up and failing.
Tarnoff said his original plan was to build the site, get rich, then move to Mexico and drink tequila. But making OnMilwaukee.com into a successful business turned out to be a lot more difficult than he had envisioned, and it became his passion.
Unlike a lot of startups from the same time, Tarnoff and his co-founders were and continue to be frugal – no fancy cars, offices or furniture.
"We always ran it like a brick and mortar business," Tarnoff said. "You never know when the next Sep. 11 would happen and companies will stop buying advertising for five years."
According to Tarnoff, this type of media web site would not have worked out in other urban markets, which are dominated by the web sites of local daily newspapers.
"We were kind of working for the man and hating it, so with this business we didn't want to be the man," Tarnoff said.
Despite their standing as a progressive media outlet, Tarnoff says they still strongly embrace traditional journalism integrity.
"Even old newspaper people are surprised at how seriously we take that line between sales and news and editorial," Tarnoff said.