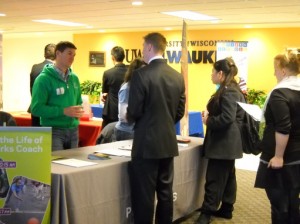 Abigail Cortez, 20, is standing in line with a friend waiting on a chance to talk with an employer. She's bright-eyed and smiling and nothing about her demeanor says that she's nervous. Cortez is a sophomore at UWM and is majoring in Global Studies with a certificate in international business. She's dressed professionally and has a handful of pamphlets from other employers in the room. Her new attitude fuels her mission to find a job.
"What bought me here was a little bit of a wakeup call," said Cortez. "I was realizing a lot of my friends were getting involved with their careers, especially with internships and job opportunities, and I wanted to get involved and get that personal job experience."
Cortez was among the 400 students who attended the Diversity Job and Internship Fair, held in the Union Ballroom at UWM. The Black Cultural Center and Career Development Center hosted the fair that included 68 employers such as BMO Harris Bank, Northwestern Mutual, Panda Express, and Target.
The purpose of the event is to give students an opportunity to talk with employers about possible job and internship opportunities.
Victoria Pryor, the student services coordinator for the UWM Black Cultural center said there were two major changes to the fair this year. One was a panel that featured employers from the business there, who talked about diversity in the workplace. The other change was the location of the fair.
"We did reach our goal and we felt it was a success," said Pryor. "Unfortunately this year we had to have it in the ballroom where we could only accommodate 68 employers. In previous years, we've had it in the Wisconsin Room, where we can accommodate more employers, but it was relatively the same."
Pryor also gave her reason for why students should attend the fair.
"It's a great opportunity to look at employers that are interested in having a diverse pool of candidates and who really have an interest in diversity in their organization.
The students weren't the only ones who were eager to learn about different job opportunities. Some of the employers shared their interest in students as well and why diversity is important to them.
"Diversity is… you can't even put a value on it," said Ryan Hathaway, a natural resource specialist from the Bureau of Land Management. "It's invaluable to a workplace to be successful."
Even though many of the students there were looking for internships, another group, recent graduates were looking for jobs.
"It's been pretty tough, "said Siddharth Kaushik, a 23 year-old recent graduate with an MBA degree. "I'm an international student and that makes it a bit more tougher because, most companies have to sponsor visas. I did get a couple of interviews so, I guess it's not that bad, but challenging."
Even though the economy has been difficult for some businesses, it has created many areas for others to grow.
"Business is very good," said Jason Dummert, senior vice-president of Axa Advisors. People tend to need more help in tough times than high-flying times. They get serious about their finances more when times are tough. That's where we come in."
Also at the event were volunteers from different departments at UWM, who were there to assist students if they needed help. They also understood the importance of job fairs.
"I think it helps them get an idea about the kind of jobs that are available, and it helps them to network and learn how to sell themselves to perspective employers," said Ramona Washington, a study abroad coordinator at UWM.
The fair reached a high in 2008, when many people started to feel the aftermath of the recession.
"We had over 1700 people who attended that career fair that year," said Pryor. "That's when everybody was doing career fairs, and Channel 12 wanted to partner with us. We normally don't go outside because, we're really trying to work with our students but we do invite other UW system students and Milwaukee area college students.