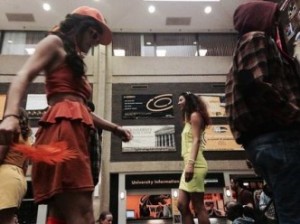 It started off as just a single beat on a drum, but the momentum quickly picked up, and it became louder, and faster as the time began to approach noon.
The Drummers of the UWM Dance Department in association with De La Buena were trying to draw a crowd to the 50 something odd seats that were set up in front of a stage, and curtains in the UW-Milwaukee Union Concourse. Curious onlookers stopped in their tracks as they heard the loud beat of the drums, and saw a variety of people in your not so typical of college clothing strutting down a runway.
This spring fashion event showcases Madam Chino's Milwaukee-Made Eco-Friendly Men and Women's spring 2014 Collection. The clothes shown off were made by veteran local eco-designer, and seamstress Vanessa Devaki Andrew (Madam Chino), along with the student-work of her sewing classes, that are held tri-annually at the UWM Studio Arts and Craft Centre. Madam Chino has been creating eco-conscious wearables for men and women of rescued t-shirts, flannels, and vintage fabrics for over 14 years in Milwaukee.
"I had absolutely no clue what was going on," sophomore Brianna Seybold said with a laugh, "I was heading home from a discussion, and couldn't avoid the commotion. I turned and saw one of the girls toss confetti out into the crowd, and I knew I had a few minutes to spare, and watch."
She wasn't the only one. About 20 folks took seats in the crowd. Some arrived early to ensure a spot, and others like Brianna Seybold had let their curiosity get the best of them as they shuffled into the seats in the last row, or took a spot overlooking the stage from the stairs and various levels of the union. It was the 9th annual Earth Day Runway Fashion Show, and also the kick-off event for Earth Week on the campus.
From dresses to skirts, and jackets and pantsuits the models paraded down the runway in a light, and fun way. They threw confetti, danced, blew kisses to the crowd, and strutted their stuff in a way that was careful to show off the reason they were here. The fashion show, and the goal of Madam Chino, was to show that recycling textiles with sewing skills is good for the environment, the economy, and as a way to stop the dangers of sweatshops that mass produce clothing.
Cait Ciaccio took part in the show this year. She had met Vanessa a few years ago, and has been walking in her show since. She models professionally now, but still knows just how essential local runway shows like this are to the community.
"Supporting local artists, and demonstrating their skill set to those still in school, and those considering furthering an independent artist career is super important," Ciaccio said.
Danielle Burren is another model from the show, who stresses the importance of UWM having events like this put on.
"They need to have this happen every year, if not more frequently in my opinion as it shows the importance of recycling old clothes and materials, and breathing new life into them," Burren said.
The models for this year's show did just that. They even donated their old clothes to Madam Chino to make new pieces, as soon as they stepped into the newly designed clothing that she had waiting for them.
Like Ciaccio, Burren also knows the importance of helping out those that are local. "The earth day runway emphasizes the importance of local artists, and their impact on the community, as well as the community involvement as a whole."
This event took place on April 21as part of Share The Earth, which is UW-Milwaukee's series of earth-friendly events that take place in the union each year for Earth week.