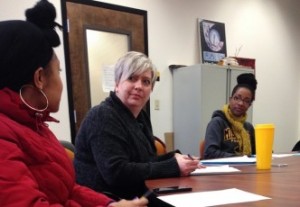 What started as an unstructured meeting for women students of color on the UW-Milwaukee campus has now become a safe place for students to share their feelings for the last seven years.
Sister Talk, sponsored by Sociocultural Programming, the Black Cultural Center, and the Women's Resource Center, has transformed through the years. When it first started, it was just people coming together in the Multicultural Student Lounge in the Union to talk. The Women's Resource Center offered more support for the group over the years.
The WRC became more involved with the group, which ended up giving it more structure. Sue McCarthy, who helps run the event as part of the WRC, helped bring in facilitators that lead the discussion in the meetings.
"The WRC arranges for the facilitators, so we had two facilitators, a lead facilitator and co-facilitator and we help find them and we help insure that they have the qualities and abilities to lead the group in a way that's going to be a good experience for the group members," McCarthy says.
The facilitator for the spring 2014 is Shaquita Jones. Before she became the facilitator, she actually had never been to a Sister Talk meeting; she was nominated for the position and got it.
"As a facilitator, I initiate really good discussion," Jones says. "So, essentially, I get people to talk about things we don't normally talk about."
The meetings aren't just for women of color though; allies are always welcome as well. Stephen Jansen, a graduate student at UWM, has been attending the meetings for a few months.
"I go because I guess I consider myself a feminist and I also go because I consider myself a women's ally and a supporter of women's rights issues, as well as, women's health and other things." Jansen says.
Discussion topics range between many different things. Jones comes with a topic in mind for the meeting and lets the discussion go from there.
"We've talked about relationships, being able to identify what a healthy relationship looks like, as well as an unhealthy one," Jones shares. "We've talked about self-empowerment, being organized as a college student who multitasks in their everyday life. We've talked about just family things or social issues that may arise."
With such an open discussion, feeling comfortable sharing with strangers becomes an issue. Sister Talk has created a solution to that: safe space.
"The idea for safe space is that we create an environment that people have a place where they can talk about things that are concerning them or maybe things that are more sensitive or that they have emotions about," McCarthy says. "We do make an emphasis on that so that students know it's a priority."
Jansen wasn't familiar with the safe space but thinks it's important to the meetings.
"I think it's a big deal because, kind of like the LGBT community, I think it's always important to have that kind of support network or that safe place that you can go to talk about anything," he says. "A lot of people don't have that."
The meetings have proven to be beneficial to the students who attend. Jones has become more confident as a woman of color after being a part of Sister Talk.
"It's helped me to essentially embrace who I am as a woman of color, to understand that I'm not like any other person on this campus, culturally speaking," she says. "We're different. And because we're different, it's okay for me to embrace that as opposed to me want to fit in, which means that I'm okay with being a woman of color."
Sister Talk meets in Bolton 196 every other Wednesday from 1-3 p.m. and is open to the public.