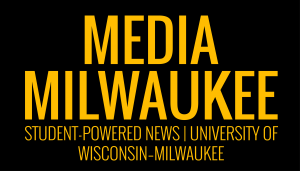 Media Milwaukee is again nominated for Best Website and UWM journalists won for investigative reporting, writing, video, audio and online stories in the 2016 Milwaukee Press Club Collegiate journalism competition. Ambitious class and team projects including How The Mississippi Valley Turned Red received many nominations. UWM students led the pack with 20 nominations, topping UW-Madison's 15 and Marquette's 14.
The featured speaker at the MPC Gridiron Awards Dinner in May will be celebrated political reporter David Fahrenthold of the Washington Post.
UWM journalists also will be well represented at the Midwest Journalism Conference in Minneapolis at the end of March. UWM won more than a dozen regional SPJ Mark of Excellence awards, competing against students at UW-Madison, Minnesota and private schools across the upper Midwest. Winners and Journalism Club members will be carpooling out for the awards luncheon and conference. First-place winners go on to the national SPJ competition.
In addition to the SPJ and MPC awards, Media Milwaukee student journalists won 14 Wisconsin College Media Association awards in February.
Milwaukee Press Club 2016 Collegiate UWM award winners:
WRITING
Best Investigative Reporting:     
Mary Jo Contino
 Media Milwaukee/UW-Milwaukee
 TRANSparency: UW-Milwaukee Transgender Locker Room Policy Remains Under Wraps
Best News Story:
Matt Campbell
 Media Milwaukee/UW-Milwaukee
 UW-Milwaukee Restroom Policy Brings Mixed Reaction
Best Long Feature Story:               
Keaton Walkowski
 Media Milwaukee/UW-Milwaukee
 It's Not the Water
Shana Wilson 
Media Milwaukee/UW-Milwaukee
 Against the Academic Odds
Best Short Feature Story:             
Matt Campbell
 Media Milwaukee/UW-Milwaukee
 Captain Jim Fickler: "Full of Life; Full of Fun"
Best Sports Story:            
Daniel Zielinski
 Media Milwaukee/UW-Milwaukee
 From Texas to Milwaukee: Zac Saddler's Journey to the UWM Men's Basketball Program
VISUAL JOURNALISM
Best Still Photograph/Photos:    
Sabrina Johnkins
 Media Milwaukee/UW-Milwaukee
 Westboro Church protest
AUDIO
Best News Story Single or Ongoing:        
Amanda Watter
 Media Milwaukee/UW-Milwaukee
 High School Students Learn About the Devastation of Suicide
Best Feature Story:         
Brandon Anderegg, 
Sabrina Johnkins,
 Monica Skipper
 Media Milwaukee/UW-Milwaukee
Milwaukee River Cleanup: Sights and Sounds
Jordan Garcia 
Media Milwaukee/UW-Milwaukee 
A Sweet Day for Students at Dessert Fest
VIDEO
Best News Story Single or Ongoing:        
Katarina Vergara, 
Gabrielle Barriere,
 Jordan Garcia
 Media Milwaukee/UW-Milwaukee
 The Milwaukee Vote: why the inner city did not turn out for Hillary Clinton
Best Program, Documentary or Special: 
Geoff Marshall, 
Joe Michelin, 
Somer Servais, 
Tamara Jarvi
 Media Milwaukee/UW-Milwaukee
 Parachute
Allie Mott
 Media Milwaukee/UW-Milwaukee
 Hot Dog and a Handshake
ONLINE
Best Use of Multi-Media:            
JAMS 320 class
 Media Milwaukee/UW-Milwaukee 
How Trump Turned the Mississippi River Valley Red
Geoffrey Marshall
 Media Milwaukee/UW-Milwaukee
 Milwaukee's Urban Farms: Defining Success
Best Local News or Feature Website:     
Media Milwaukee Staff
 Media Milwaukee/UW-Milwaukee
Best Blog:            
JAMS 320 reporting Staff 
Media Milwaukee/UW-Milwaukee
 Live Blog: Milo Yiannopolous Comes to UW-Milwaukee
Best Investigative Reporting:     
JAMS 500 Reporting Team 
Media Milwaukee/UW-Milwaukee
 Wisconsin High School Concussions, Sports Injuries Not Tracked
Emily Zantow, 
Pakou Lee, 
Rebecca Papenthien
 Media Milwaukee/UW-Milwaukee 
Investigating Milwaukee Gun Court
Best News Story:
Keaton Walkowski
 Media Milwaukee/UW-Milwaukee
 It's Not the Water