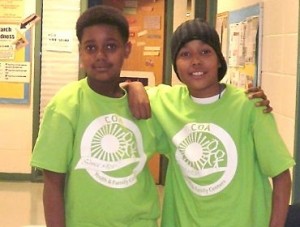 Greeting families with warm smiles, the president and vice-president of the COA Pre-teen Leadership Council welcomed 120 guests Friday night for Safety Night.
Not only did the boys get to show off their organizational and leadership skills to the Riverwest Community, but also promoted the important message of neighborhood and personal safety. Everything from dog fighting to healthy relationships to summer camp was discussed at the event, which also served as an alternative hang out for neighborhood youth that night.
While there were some material perks to attending Safety Night, like taking home a free bike helmet, carbon monoxide detector or enjoying dinner with members of the community, Alvin Fuller, vice-president of the Leadership Council, saw a larger mission for the night.
"The main goal of the Safety Night is to get people from doing bad things," he said.
When his brother was killed, Fuller learned the hard way the ramifications of "doing bad things." Before he even reaches his teen years, he is motivated to stay out of trouble and set a good example for his peers.
"I'm trying to make a difference in this world," he said. "I'm not trying to gang bang, or rob, or steal. I'm just a normal boy who likes basketball."
Christopher Payne, 10, president of the Leadership Council, also sees the importance of setting a good example and getting his classmates involved with COA, a 106-year-old organization formed to help Milwaukee families through educational, recreational and social work programs.
"If we go out we have to represent COA," he said. "We tell [kids] at school to come out, tell your parents, you can go to agencies that can help you out."
At Friday's Safety Night, Payne helped bring the agencies to the parents. Everything from bike safety to healthy relationship practices to dog fighting awareness was available for attendees to learn about.
While their children played in the gymnasium or enjoyed a hot dog, parents could gather information from the Riverwest Neighborhood Association, 5th District Milwaukee Police Department, Milwaukee Area Domestic Animal Control Commission, Children's Hospital and Mental Health America.
All of the groups were invited by the Leadership Council to celebrate Global Youth Service Day, an annual campaign that highlights youth groups improving their communities through service work and learning.
According to Safe Kids Wisconsin, accidental injury is the number one cause of death for children 14 years old and younger. Since 90% of those injuries are preventable, informing parents about car seat regulations and fitting children with proper bike helmets is just as important as providing children in the Riverwest community with more positive alternatives for after-school and summer activities.
Jeanne Diffley, Early Education Director at COA, reminded parents to always follow Wisconsin state law when putting their children in car seats.
"There is just a lot of numbers, so [parents] get kind of confused with, alright can they be out, is it 8 years old, but it's really 4 feet 9," she said. "We're just educating all the parents."